The expedition cruise line is taking guests deep into the northern wilderness
Hurtigruten Expeditions has expanded its 2023 Arctic Summer season with seven brand new adventures, taking guests closer to the local people and communities and deeper into the wilderness of the north.
Spanning 11 to 19 days, the new departures from June to September 2023 will take in some of the most spectacular areas above and beyond the Arctic circle on board the small-sized expedition cruise favourite MS Maud.
SEARCH HURTIGRUTEN EXPEDITION CRUISES HERE
Speaking about the new expeditions, Hurtigruten Expeditions CEO Asta Lassesen said: "We are thrilled to further expand our Arctic expedition cruise offering by introducing MS Maud on a series of best-of-the-best itineraries, handcrafted by our team of experts and based on our almost 130 years of Arctic experience. Working closely with the local communities, our small-ship expedition cruises take you where the big ships can't, closer to the people and nature of the north."
The new itineraries will depart from either Dover, UK, or Reykjavik, Iceland, and will take guests to Greenland, Svalbard, the British Isles, the Faroe Islands and Iceland.
With the addition of MS Maud to the Arctic region summer 2023, Hurtigruten Expeditions will offer a wider-than-ever selection of Arctic expedition cruises with five different ships exploring the Arctic.
RELATED:
MSC Cruises reveals MSC World Europa's onboard entertainment
Cruise lines unveil plans to electrify Port of Barcelona
Princess Cruises signs 5-year partnership with Xponential Fitness
Hurtigruten Expeditions' local connections, combined with its small-sized ships, fleet of zodiacs and Expedition Team of experts in science, adventure, history and photography deliver a unique way to explore wildlife, volcanoes, glaciers and the world's largest fjord system.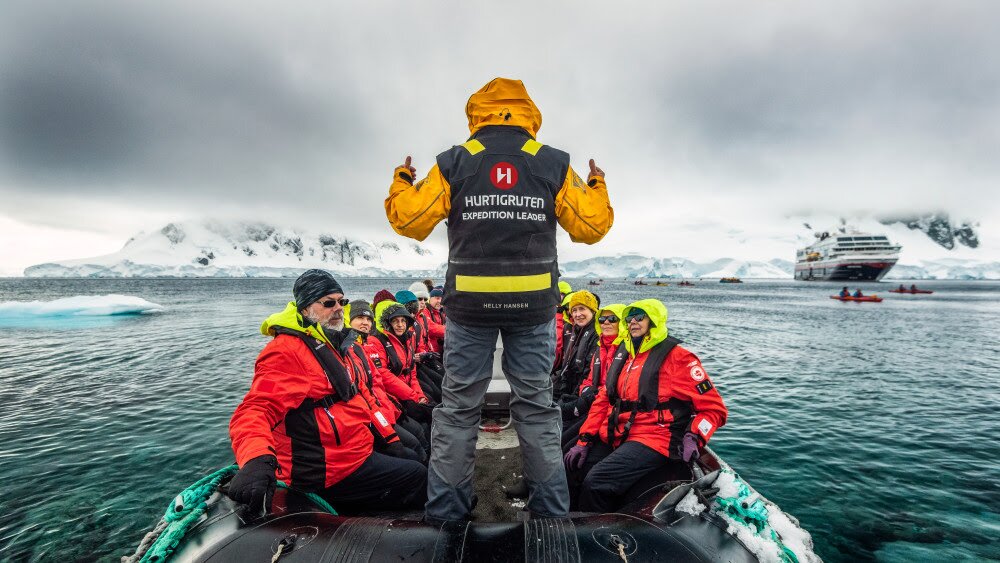 Expeditions are led by experts
Lassesen added: "From engaging encounters with the local communities to the vast wilderness and rich wildlife, our small-ship expedition cruises unlock one-of-a-kind experiences in some of the most unique areas of our planet.
"While exploring, our guests and crew not only create local value, but contribute to science projects that are vital to understanding and preserving the areas for future generations of explorers."
GET YOUR FREE 48-PAGE GCC TRAVEL & HOSPITALITY REPORT HERE
The new MS Maud Arctic adventures for 2023 include:
• 2 x True Arctic Expeditions
The 17-day cruises depart and arrive in Reykjavik, Iceland and visit the wild east coast of Greenland, Svalbard archipelago and the rarely visited Arctic volcanic island of Jan Mayen.
• 1 x 20-day Greenland Summer Explorer Expedition Cruise
With a flexible itinerary, this cruise explores icebergs, fjords, wildlife and communities along Greenland's west coast, including north of Disko Bay.
• 2 x Iceland Circumnavigation Expedition Cruises
This 11-day deep-dive departing from Reykjavik explores some of Iceland's most incredible sights, including a crossing of the Arctic circle.
• 2 x 12-day Island Hopping in the North Atlantic Expedition Cruises
This itinerary has stops in Iceland, the Faroe Islands, Shetland Islands, Orkney Islands and the British Isles. Being the first and last adventures of MS Maud's 2023 summer season, this cruise will depart or conclude in Dover, UK.
Expeditions can be extended with two- and four-day land adventures in Iceland.
For more information, visit www.global.hurtigruten.com