CruiseXplore's CEO outlines the challenges and goals of the Middle East cruise market in 2023
As a leader in the Middle East cruise market, Lakshmi Durai is at the forefront of industry developments and trends, and deeply passionate about training the next wave of cruise agents. We caught up with her to find out more.
Connecting Travel: What are the key factors shaping the cruise industry today?
Lakshmi Durai: Key factors include sustainability, technological advancements and the rising demand for unique travel experiences. Sustainable sailing is a major goal. Cruise lines are already taking initiatives to implement more environmentally friendly practices and investing in innovative technologies onboard ships. Cruise line members of Clia (Cruise Lines International Association) have committed to reducing the rate of carbon emission by 40% by 2030, and reaching net zero by 2050.
Another trend that we see is the technology development in cruise services and operations, right from booking and check-in processing to onboard amenities and entertainment. Over the past few years, cruise ships have embraced new technologies that are transforming travellers' experience on the high seas. Examples include wearable devices equipped with RFID (radio frequency identification) technology, and enhanced communication through designated apps, robots and voice-powered AI services.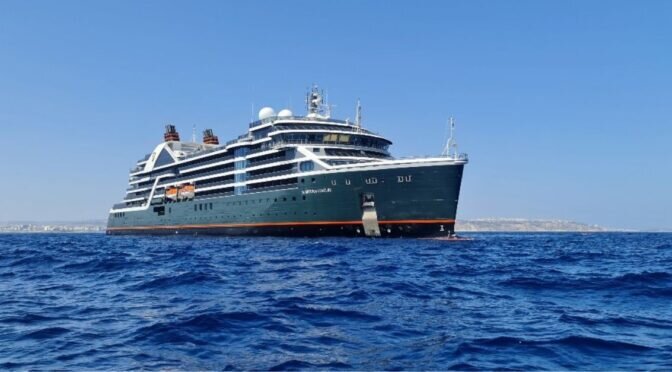 Seabourn Venture ultra-luxury expedition cruise ship
Another recent trend is the rising interest in unique and less-known destinations. We are seeing more cruisers interested in visiting smaller, off-the-beaten-track ports. Seabourn has launched new purpose-built expedition ships recently with very exciting itineraries to the Arctic, Amazon, Antarctica and Iceland. We're seeing good demand for these cruises from younger travellers, a segment of untapped potential.
GET YOUR FREE TRAVEL & TOURISM INSIGHT REPORT PRODUCED IN ASSOCIATION WITH DELOITTE
CT: What are your main goals in 2023/24?
LD: Our goal is to bring the unmatched and rich experiences of cruise vacations to more Middle Eastern guests with the help of our travel industry partners.
We must continue to educate the travel industry about the benefits of selling cruises and train them to sell the right cruise for each customer. Cruising is not a one-size-fits-all product. There are different categories of cruises: mainly contemporary, premium, ultra-luxury cruises, expedition cruises and river cruises. Selling the perfect cruise that matches the profile and style of each guest ensures that travel agents gain a good percentage of repeat business.
With the persistent training, education and support offered at CruiseXplore, we aim to see more cruise specialists selling worldwide cruises efficiently in the Middle East market.
RELATED:
Get 35% off cruises at NCL
Search all available cruises on the Connecting Travel cruise hub
30% off for every guest & kids sail for US$99 with Royal Caribbean
CT: How do you intend to achieve its goals?
LD: With the goal to ensure that agents are confident enough to offer the right cruise holidays to their guest, our training comprises product presentations, webinars, ship visits and onboard seminars.
We also provide our B2B cruise booking engine for the travel agents. This online booking engine is a great tool; agents can browse through various cruise options and make bookings directly online. In addition, we also have our CruiseXplore team supporting the agents with any queries regarding the ships, itineraries and the booking process.
We also contribute to events, such as the annual Dubai-based Cruise Travel Mart, where the agents get to meet different cruise line suppliers under one roof and learn more about selling cruise holidays.
CT: What are the biggest challenges to achieving those goals?
LD: Post-pandemic, we're seeing a lot of staff movement in the travel industry, and there are lot of agents in the market who are new to selling cruises. So, the education and training are an essential part of the on-going process to achieve our goal of developing more cruise specialists in the Middle East.
For more information, visit www.cruisexplore.com