The 22-deck ship will become a floating hotel for football fans during the FIFA World Cup Qatar
MSC Cruises, the world's third largest cruise brand, hosted the naming ceremony of its newest flagship, MSC World Europa, at the brand-new Grand Cruise Terminal in Doha, Qatar.
MSC World Europa is the most innovative and environmentally advanced cruise ship in the MSC Cruises fleet. Spanning 22 decks, with 2,626 cabins, MSC World Europa is billed as "an ultramodern urban metropolis at sea". During the FIFA World Cup in Qatar, it will act as a floating hotel for football fans along with two other MSC ships.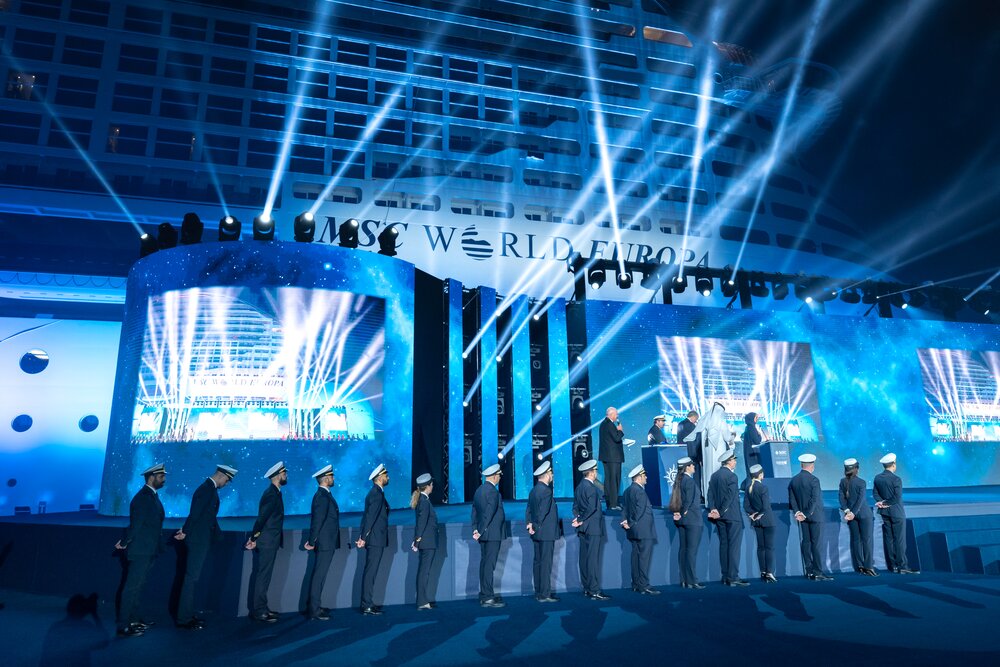 A long-standing maritime tradition, the official Naming Ceremony of the ship took place in the presence of the Master of the Vessel, Captain Marco Massa. The celebrations were hosted by comedian Hamad Al Amari and international singer-songwriter Matteo Bocelli performed for the gathered audience. The evening culminated in a firework display set against the striking Doha skyline, followed by a gala dinner in the ship's restaurants.
MSC World Europa – the first in MSC's World Class of ships – has 33 restaurants, bars and lounges, each with its own distinct style. It also features six swimming pools and MSC Cruises' most luxurious MSC Yacht Club to date.
RELATED:
Explora Journeys makes key appointments ahead of Explora I's maiden voyage
MSC Cruises to deploy Splendida on South Africa sailings
MSC Opera confirms third cruise ship hotel for football fans in Qatar
Together with partners Qatar Airways, MSC held the celebrations to demonstrate their commitment to Qatar and to support the growth of international tourism in as the wider Middle East region, where MSC Cruises is the cruise brand leader.
Pierfrancesco Vago, executive chairman, Cruise Division of MSC Group, said: "MSC World Europa is our most innovative vessel. She is the world's best performing cruise ship in terms of CO2 emissions per guest, running on LNG, the cleanest fossil fuel and, of course, Qatar's most renowned export."
"Over the years, we have proven our commitment to supporting Qatar's economic diversification, which is guided by Qatar National Vision 2030, and to further developing Qatar's profile as a global tourism destination.
"Qatar has a wonderful tourism offering to meet a huge variety of interests, and an array of destinations. In 2016, our own MSC Fantasia became the first major cruise ship to call at Doha. We have been reliable partners ever since. And today, we renew our commitment to Qatar by homeporting our most modern and innovative ship in Doha."
Pierfrancesco Vago
VISIT THE CONNECTING TRAVEL CRUISE HUB NOW
His Excellency Akbar Al Baker, chairman of Qatar Tourism and Qatar Airways group chief executive, added: "The naming ceremony of MSC World Europa is an important prelude to the FIFA World Cup 2022 and shows the enormous endeavour and collaboration necessary to deliver the best World Cup ever.
"While Qatar Airways is the global aviation gateway to Qatar, the marine industry is very important to tourism and the long-term economic and cultural connections it brings. As sustainability is vital to the future growth of aviation, MSC World Europa illustrates how the marine industry is addressing the challenges of efficiency and emissions reductions. "
MSC World Europa will spend her inaugural season in the Middle East offering 7-night cruises to Dubai, Abu Dhabi, Sir Bani Yas Island, UAE, Dammam, Saudi Arabia and Doha, Qatar. Her season will commence on 20 December 2022 with a special four-night sailing from Doha, Qatar to Dubai, United Arab Emirates.
Departing Dubai on 25 March 2023, MSC World Europa will head to the Mediterranean Sea for summer 2023, she will offer seven-night cruises calling the Italian ports of Genoa, Naples and Messina, as well as Valletta in Malta, Barcelona in Spain and Marseille in France.
To search all available cruises, visit www.connectingtravel.com/cruise-hub
Images by Ivan Sarfatti