Prima godmother Katy Perry elevates lavish ceremony with memorable performance
Norwegian Cruise Line officially welcomed the new, first-in-class Norwegian Prima cruise ship with a christening ceremony in Reykjavik, making history as the first major cruise to be christened against the dramatic backdrop of Iceland.
The ship's elected godmother, megastar Katy Perry, joked that she would rather be referred to as a "cool aunt" before giving a winning performance to an audience of VIPs in the ship's Prima theatre.
Emotional Tributes
Frank Del Rio, president and chief executive officer of Norwegian Cruise Line Holdings, thanked key players for their role in launching Prima, before thanking his wife, Marsha.
"I might cry for this one," said Del Rio. "My wife Marsha, she's been by my side for 52 years. Together we've christened 13 ships – including our very first vessel, The Regatta, back in 2003 – and she is godmother number one. And, while she may not be able to carry a tune like Katy, she's my wife. She's the love of my life and I adore her."
Harry Sommer, president and chief executive officer of Norwegian Cruise Line, also ended his speech by paying tribute to his wife.
Sommer said: "Saving the best for last, I want to take a moment to recognise my family. I'll start with my remarkable wife Sharon, who for some strange reason has decided to stand by my side for 33 years for which I'm forever grateful. She certainly looks beautiful tonight."
RELATED
Gallery: First Look around the new Norwegian Prima
Nick Wilkinson on selling NCL cruises
Inside the Ceremony
Norwegian Prima, the first of six ships in the new Prima Class, debuted to more than 2,500 guests.
Commenting on the launch location, Del Rio said: "As the industry's most spacious new cruise ship featuring only-available-on-Prima-experiences, she is continuing NCL's legacy of industry firsts. We wanted to launch Norwegian Prima in a location just as special and unique as she is, and Reykjavik's striking landscape is the perfect setting for such a milestone occasion. We thank the Reykjavik community for welcoming us with open arms."
Guests at the christening ceremony were treated to an eclectic performance by popular Icelandic musician Daði Freyr, frontman of Daði og Gagnamagnið, before Katy Perry took to the Prima theatre stage, which was transformed into a whimsical garden with Perry wearing a toadstool mushroom hat and bright red leather chaps. The powerhouse performed some of her greatest chart-topping hits including California Gurls, Teenage Dream, Roar and Firework.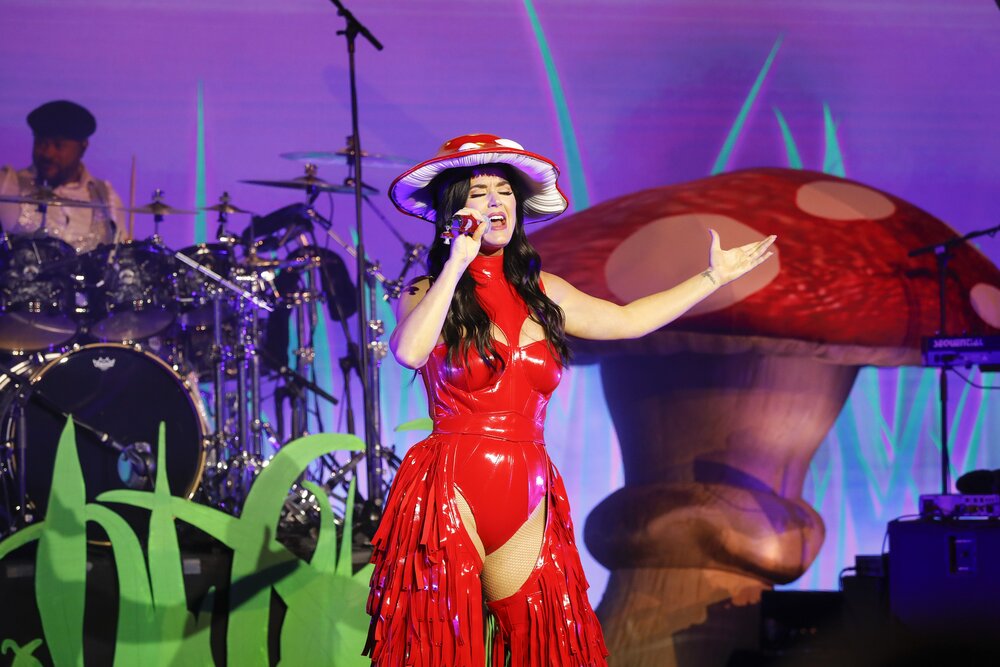 "It was so much fun to sprinkle some fairy godmother dust on Norwegian Prima and send her on her way to sail the high seas," said Katy Perry. "I always appreciate a family vacation and a once-in-a-lifetime experience, so I was happy to wish all the vacationing guests a happy bon voyage!"
Perry was on board with her partner Orlando Bloom celebrating their daughter Daisy's second birthday.
CLICK HERE FOR 40% OFF NCL CRUISES
About Norwegian Prima
Norwegian Prima is 294 metres long and weighs more than 143,535 tonnes with a capacity for 3,100 guests at double occupancy. The line claims the highest staffing levels and space ratio of any contemporary or premium cruise ship at sea, as well as the largest variety of suite categories.
Highlights of the new Norwegian Prima include the Prima Speedway three-level racetrack at sea; The Rush and The Drop dry slides; the 44,000-square-foot Ocean Boulevard outdoor walkway, which wraps around the entire ship; the multi-million-dollar Concourse outdoor sculpture garden, and infinity-style pools.
Norwegian Prima will depart on inaugural voyages to Northern Europe from the Netherlands, Denmark and England from 3 September 2022, before making her way to the US. She will then sail voyages to the Caribbean from New York City, Galveston, Texas and Miami in October and November before settling into her homeport, Port Canaveral, for the 2023-2024 cruise season.
Middle East and Africa region cruise agents can email NCL's Nick Wilkinson at nwilkinson@ncl.com to discuss sales; for more information, visit www.ncl.com