Bucket-list sailings depart from multiple destinations, including Abu Dhabi and Dubai
Billed as the world's leading food and destination-focused cruise line, Oceania Cruises is offering travellers once-in-a-lifetime festive season voyages aboard one of seven of its small luxury ships.
With more than 40 sailings departing from Abu Dhabi, Dubai, Miami, Lima, Sydney and Singapore during the 2023-24 and 2024-25 holiday seasons, guests have multiple options.
This collection of diverse itineraries spans exploring the pristine beaches of the Caribbean, discovering the vibrant energy of Latin America, and enjoying exotic Polynesian islands, as well as embarking on exciting Arabian adventures.
---
---
Headlining this 2023-24 season is an exotic 12-day Caribbean Wanderlust adventure aboard the line's new ship, Vista, starting and finishing in Miami and calling on the tempting islands of Dominica, St Lucia and beyond, departing 18 December 2023.
Other highlights include Sumptuous Arabia, a 10-day cruise from Abu Dhabi to Mumbai, aboard Riviera, departing 29 December 2023. In the following season, the 21-day Sheikhs to Shrines cruise from Abu Dhabi to Singapore, aboard Riviera, will travel to the ornate Hindu temples of India to the tropical paradises of Southeast Asia, with overnights in Mumbai, Yangon and Singapore, departing 22 December 2024.
Oceania Cruises' intimate ships will be festooned with enchanting decorations, glittering lights, festive garlands, elegantly dressed trees and showstopping gingerbread villages. On-point entertainment will include a reading of 'Twas the Night Before Christmas, visits from Santa Claus and his helpers and carol singing.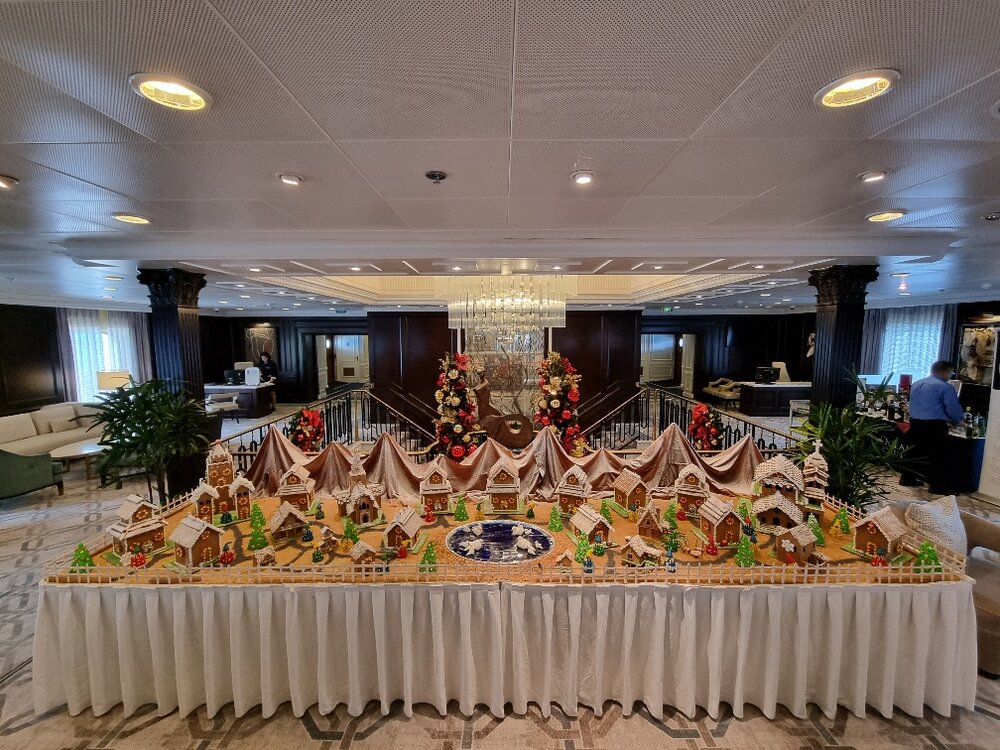 Gingerbread galore
New Year's Eve ship-wide entertainment will include countdown parties with a special Champagne toast to mark the midnight hour, and a decadent gala brunch on New Year's Day, featuring lavish desserts.
President of Oceania Cruises, Frank A Del Rio said: "Cruising aboard a luxurious ship replete with celebratory menus, glistening decorations and festive entertainment is an extraordinary way to spend the holiday season. In addition, our collection of festive itineraries explores enticing locales the world over, creating memories to last a lifetime."
---
RELATED:
Oceania Cruises announces new Mediterranean sailings for 2024
Oceania launches Simply MORE pricing programme
Oceania Cruises launches rare wine collection
---
2023-24 Festive Season Voyage Highlights
Gems of the Leewards
12 days from Miami to Miami aboard Insignia
Raise a glass to the holidays amid the inviting Leeward Islands of the Caribbean, a dazzling combination of wave-kissed beaches, yacht-strewn harbours, dramatic landscapes and a captivating dash of European sophistication. Departs 17 December 2023.
Caribbean Wanderlust
12 Days from Miami to Miami aboard Vista
Departing from Miami, revel in the sun-splashed pleasures of the Caribbean on this revitalizing holiday season escape to the carefree islands of the Eastern Caribbean to Dominica, St Lucia and beyond. Departs 18 December 2023.
Legendary Latin America
24 Days from Lima to Buenos Aires aboard Marina
Celebrate the joyous spirit of Latin America, from the otherworldly deserts of Peru to the multifaceted sophistication of Uruguay and Argentina, on a journey punctuated by an extraordinary passage to Antarctica. Departs 18 December 2023.
Awe of Australia
14 days from Sydney to Bali aboard Regatta
Revel in the myriad delights of Australia's eastern coast – think renowned vineyards, cutting-edge galleries, the iconic Gold Coast, the Great Barrier Reef and more – as you sail towards Indonesia and the abundance of beauty that is Bali. Departs 21 December 2023.
Sapphire Seas Holiday
12 days from Miami to Miami aboard Sirena
Revel in the joyous Caribbean this holiday season in festive destinations such as the playful Dominican Republic, très-chic St Barts, breath-taking Dominica, bountiful Barbados and luminescent Guadeloupe. Departs 22 December 2023.
Tropics of Capricorn
24 Days from Singapore to Papeete aboard Nautica
For nearly a month, weave around the Tropic of Capricorn and discover a constellation of verdant islands and Australian gems. Snorkel the Great Barrier Reef, delight in rich Polynesian traditions or simply float peacefully in a crystalline lagoon. Departs 28 December 2023.
Sumptuous Arabia
10 Days from Abu Dhabi to Mumbai aboard Riviera
Marvel at the desert cities of Oman and the UAE, where sleek architecture sits beside sumptuous palaces and mosques. Relish an overnight stay in vibrant Mumbai and a visit to remote Sir Bani Yas, home to more than 17,000 free-roaming exotic animals. Departs 29 December 2023.
---
GET YOUR FREE TRAVEL & TOURISM INSIGHT REPORT PRODUCED IN ASSOCIATION WITH DELOITTE
---
2024-25 Festive Season Voyage Highlights
Hidden Caribbean Coves
10 Days from Miami to Miami aboard Vista.
Trade gray skies for radiant light on this illuminating jaunt throughout the sun-dappled Caribbean, with ample opportunities to hike verdant peaks, snorkel gin-clear waters, sample local rums, sail a catamaran or simply relax on an idyllic beach. Departs December 17, 2024.
Mangroves of the Maya
14 Days from Miami to Bridgetown aboard Sirena
Celebrate the holidays in the joyful Caribbean and in the lands of the Maya, exploring impressive ancient pyramids and delicate coral reefs. In Costa Rica, observe mischievous monkeys, and in the Dutch Antilles admire the candy-colored architecture. Departs 21 December 2024.
Antarctic and Patagonian Joy
24 days from Lima to Buenos Aires aboard Marina
Experience the extraordinary as you weave among the spectacular Chilean Fjords, venture to Antarctica's icy reaches, mingle with penguins in the Falkland Islands and hit the town in vibrant Buenos Aires, where you'll enjoy an overnight stay. Departs 21 December 2024.
Festive Caribbean
14 days from Miami to Miami aboard Insignia
Create unforgettable holiday memories on this wide-ranging exploration of the sparkling Caribbean, from the colourful Dutch Antilles and Barbados' rum distilleries to the joyous energy of Puerto Rico and the idyllic cays of St Vincent. Departs 22 December 2024.
Sheikhs to Shrines
21 Days from Abu Dhabi to Singapore aboard Riviera
Uncover exotic lands that range from the beguiling sandy expanses of the UAE and the ornate Hindu temples of India to the tropical paradises of Southeast Asia, with overnights in Mumbai, Yangon and Singapore adding to the sense of exhilaration. Departs 22 December 2024.
Wonders of Australia
20 Days from Sydney to Perth aboard Regatta
Experience Australia's spectacular northern coastline, where the Great Barrier Reef shimmers just offshore, fascinating Aboriginal culture endures, and a frontier spirit permeates everyday life. Guests will enjoy overnight stays in Bali and Perth. Departs 22 December 2024.
Beyond the Panama Canal
14 Days from Miami to Los Angeles aboard Nautica
Ring in the new year with an incredible passage through the Panama Canal, bookended by stops in Cartagena, a UNESCO World Heritage site, and lush Puntarenas. Round out the cruise to Los Angeles with an exploration of Mexico's luminous west coast. Departs 23 December 2024.
For more information, visit www.oceaniacruises.com