Sarah Hedley Hymers experiences the first Marriott beach resort in the UAE
After a soft opening in December 2022, Marriott Resort Palm Jumeirah officially opened in Dubai with a fabulous party.
Launching on Palm Jumeirah in the month after Atlantis The Royal made its headline-grabbing debut with Beyoncé at the helm must have been daunting, but Marriott did a good job.
Hosted by COO Sandeep Walia and GM Gerrit Schmitt, alongside hotel owner and chairman and founder of AA Al Moosa Enterprises, Abdulla Al Moosa, the opening gala dinner, served on the hotel's open-air terrace, was awash with Laurent-Perrier and seafood platters of cool crustaceans served on three-tier ice platters, while an acrobat pirouetted in mid-air, suspended by an enormous balloon.
Gerrit Schmitt, Abdulla Al Moosa and Sandeep Walia
Other wonderfully luxurious touches included the goodie bags containing Bose portable speakers, and in-room gifts for those lucky enough to stay over. Monogrammed towels, Seafolly sarongs and Sun Bum suntan lotion were all packed into cute beach bags, reflecting the retail experiences available at the hotel boutiques – and the amount of thought that went into making guests feel thoroughly spoiled.
When celebrations elevated to an after-party at Above Eleven, the hotel's slick rooftop bar overlooking the sparkling Dubai Marina skyline, guests with flutes of equally sparkling drinks in hand became giddy with the glamour of it all. My fellow revellers – including international media and affluent investors – were up until almost 3am, delighted to be part of Marriott's moment.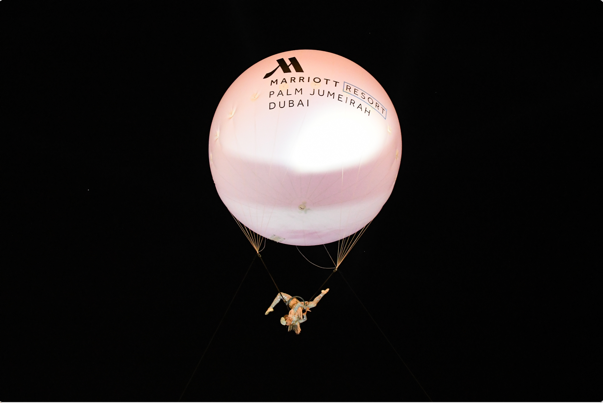 Sky-high launch party entertainment
Thankfully, Connecting Travel made it onto the VIP list, which meant I could stay over for a couple of days, and I took the opportunity to explore the resort to the fullest. Here are some of the experiences I'd heartily recommend to fellow travellers.
F&B: The dulce de leche ice cream at Cucina Gelataria is such wonderful sweet 'n' salty indulgence. The neighbouring Cucina restaurant has the vibe of Central Perk, the coffee shop featured in Friends. It also has a pork licence. My fellow diners and I tucked into charcuterie, creamy pork ravioli and plates of sausages on seasoned spinach. There were some more well-known Italian classics on the menu, too, but we appreciated the variety and originality.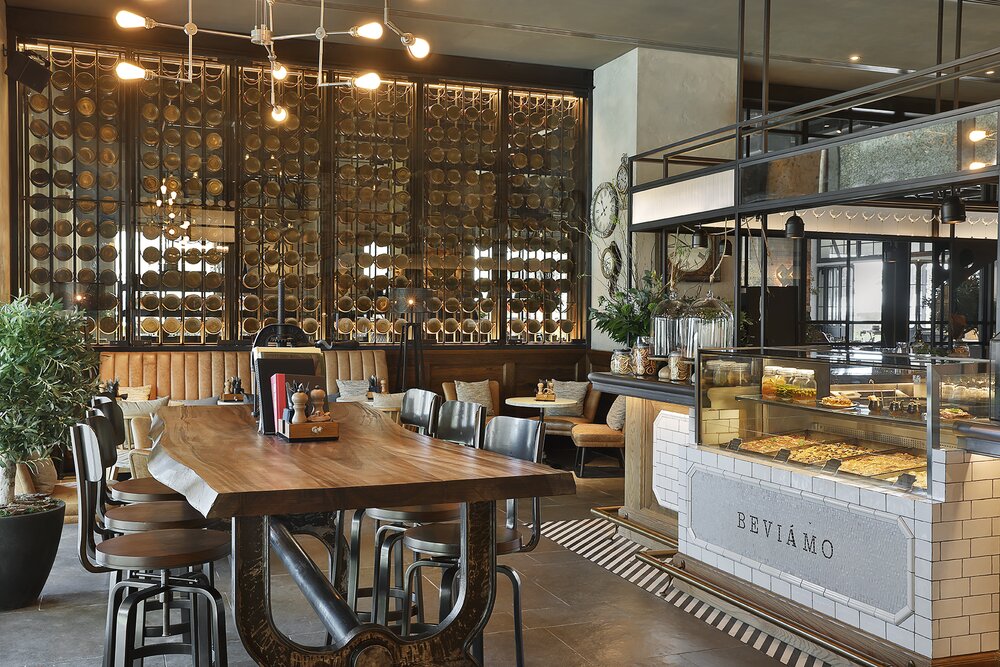 Cucina
Myami, a poolside cafe overlooking the famous West Beach promenade, is a people-watchers paradise. Pull up a deck chair and witness the procession of Dubai visitors from all corners of the globe, along with one of the expertly crafted cocktails. How delicious does the 'Tipsy Flamingo' sound, made with jasmine vodka, peach and lemongrass cordial, rhubarb liqueur, lime and sparkling wine?
Just across the colourful promenade, you'll find beachside eaterie Señor Pico, a purveyor of perfect frozen margaritas, if you want to continue your bar crawl, as well as classic Mexican comfort food.
FYI: Daily buffet breakfast is served in all-day diner Levantara (order the expertly cooked poached eggs). Club M, the executive lounge, also does eggs to order with a smaller more exclusive buffet.
Coming soon is high-end Korean steakhouse Smoki Moto, complete with tabletop barbecues
Facilities: All the restaurants are a mere hop and skip from the hotel's extra-long pool and Bal Harbour beach club, made all the more inviting with its selection of FatBoy beach chairs, hammocks and trendy cabanas. Testament to the resort's thoughtfulness, compliment suntan lotion is provided on tap.
I finally settled in a spot by the pool's swim-up bar in front of some massage jets. Utter bliss.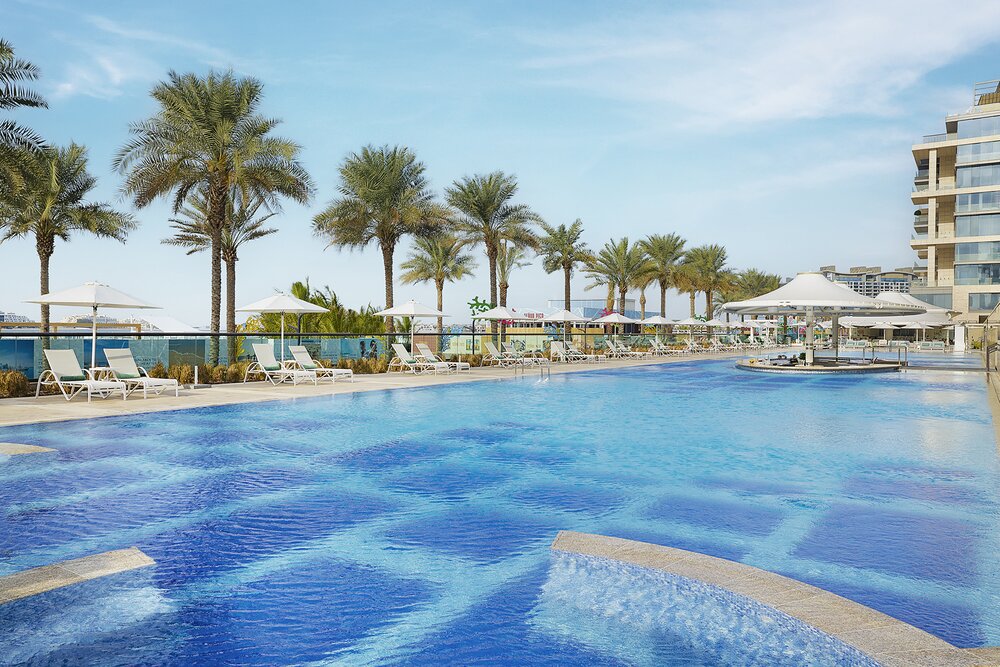 Another place to unwind is Saray Spa. The Couple's Suite deserves a special mention, containing its own jet pool and a waterbed for post-massage relaxation.
Other facilities include a large gym, a hair salon and an onsite tour operator offering all the popular UAE excursions with trusted third parties.
Rooms: I felt so at home in my Palm Sea View suite. The rooms are comfortable with pillow menus, coffee machines and kettles, sofas and armchairs and a smart TV, which can stream your personal content, so you can literally watch Netflix and chill.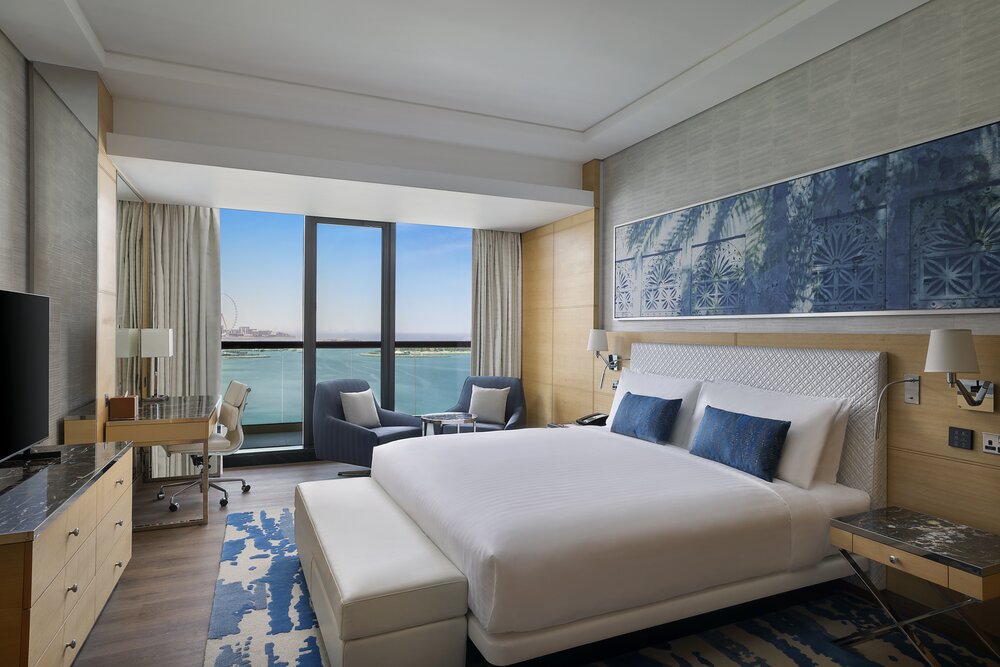 King Room
Marble bathrooms feature a double-sized walk-in shower and a separate soaking tub. The hotel's This Works toiletries are full-sized to reduce single-use plastics clogging up landmines, and complimentary, glass-bottled, locally filtered water from Marriott's Dubai-based bottling plant is provided. Balconies are furnished with a table and chairs so you can sit back, sip aperitifs and enjoy the views.
Parents will be happy to hear interconnecting rooms are available, and there's a jolly kids' club with a paddling pool.
You'll find bespoke children's menus at the restaurants, if you can get kids past the gelateria. Good luck with that!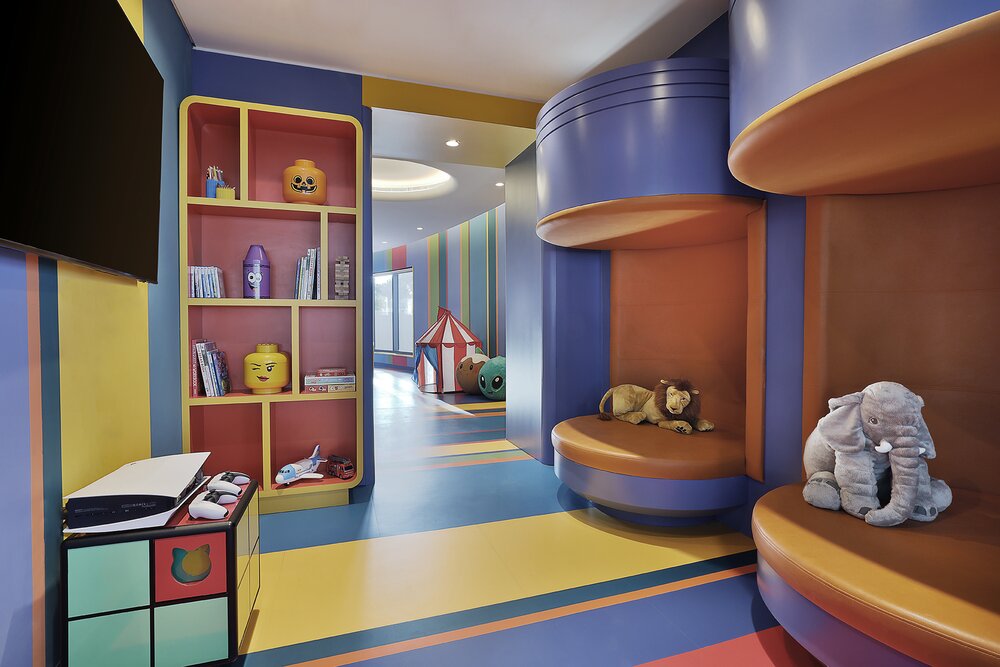 Kids' Club TV Room
I envisage residents enjoying weekend breaks here while international holidaymakers luxuriate in week-long stays, never leaving West Beach and its parade of popular bars and never-ending stream of joggers, rollerbladers, pram pushers and partygoers. If I was coming on a 'sun, sea and sand holiday' to Dubai, this is where I'd want to be.
Marriott Resort Palm Jumeirah's 'Kids All Inclusive' package starts from AED1,500 per room, per night for two adults and two children. For more information, visit www.marriott.com/en-us/hotels/dxbpj-marriott-resort-palm-jumeirah-dubai