From Saadiyat to Yas, Sarah Hedley Hymers explores island life in the UAE capital and finds elevated culture and adventure
The term 'island-hopping' may conjure scenes of backpacks, flip-flops and boats laden with tourists looking for sun, sea and sand, but in Abu Dhabi – an archipelago of more than 200 islands – the choice of isle experiences is far more diverse, from cultural immersion to adrenalin highs.
While its popular neighbour Dubai is fast-paced, Abu Dhabi operates in a tangibly slower gear.
Larger than all the other six emirates that make up the UAE put together, Abu Dhabi boasts vast stretches of pale sandy shorelines lapped by turquoise waters, often without a jet ski or banana boat in sight. Revel in its laidback luxury, enjoy long languid afternoons of reflection and lose yourself in architectural landmarks dedicated to the appreciation of the arts, or spike your adrenaline on a white-knuckle theme park rides.
For a two-centre stay with a heady dose of culture and thrills, here's an itinerary spanning two of Abu Dhabi's most famous islands, Saadiyat and Yas.
Saadiyat Island: Sun, Sea and Art
Home to an ocean-side Gary Player-designed golf course and waters frequented by dolphins and Hawksbill turtles, 27-square-kilometre Saadiyat Island is an art hub. Just 20 minutes from Abu Dhabi International Airport, it's easy to get to. The hard part is deciding which of its impressive five-star hotels to stay in.
I opt for Jumeirah at Saadiyat Island Resort (www.jumeirah.com/en/stay/abu-dhabi/jumeirah-at-saadiyat-island-resort). Dramatically poised on an incline, its main entrance leads to a hall of gleaming white marble and a wave of blown-glass sculptures forming a blue wave suspended from the ceiling.
Comprising a cluster of towers and villas, the 293-key resort is free of plastic straws and single-use plastic bottles. Guests are given aluminium water bottles on arrival and encouraged to refill at water stations around the pool, while filtered water is served in glass bottles in both rooms and restaurants.
The health-conscious retreat has an upscale spa and a huge gym housed in its own block, complete with a comprehensive selection of the latest exercise machines.
Room categories range from the entry-level Resort Deluxe Room to the whopping Five Bedroom Duplex Beachfront Villa, perfect for parties
In pursuit of peace and quiet, I book a Panormanic Ocean One Bedroom Suite, which curves around the right tower, maximising my expanse of therapeutic coastal views.
The resort has three restaurants. Sea-facing all-day diner White delights with a breakfast smorgasbord of virtue and indulgence, from green juice to French toast. Mare Mare offers a taste of Italy, and Tean – like three restaurants in one – serves crowd-pleasing dishes from Lebanon, Turkey and Greece. It's a veritable lesson in kebab geography. Tean's fig pavlova with orange blossom cream and Emirati honey sounds tempting but is sold out.
After an afternoon being cradled by a plump sun lounger, napping and digesting, my batteries are recharged and I'm ready to consume some art.
The Jean Nouvel-designed, lattice dome-capped Louvre Abu Dhabi (www.louvreabudhabi.ae), best described as an architectural "symphony of concrete, water and reflected light", is just a 15-minute drive from the hotel. The first international outpost of France's most famous museum was born of US$1.3 billion agreement between the UAE and France's cultural authority, Agence France-Museums.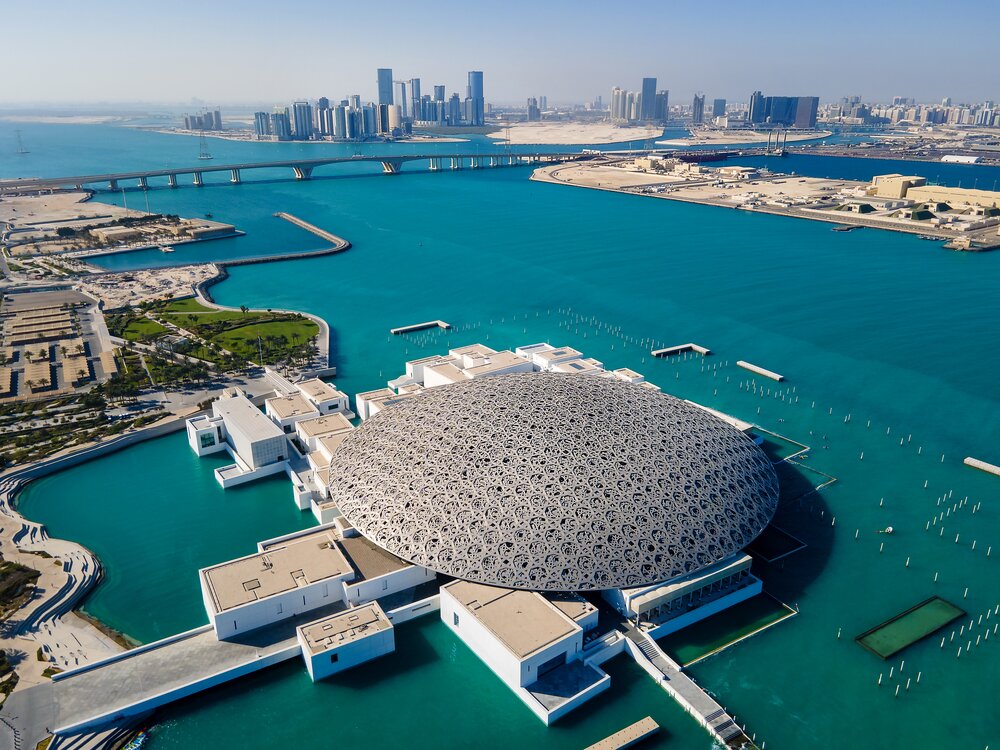 Louvre Abu Dhabi

Much like the original, it presents artefacts spanning human history from around the globe. I'm drawn to the nested sarcophagi of Princess Henuttawy – a Pharaoh's daughter – set in a cartonnage case that envelopes her in a golden cocoon, dramatically presented in a deep black case like buried treasure. It's so perfectly preserved it looks like a movie prop.
Among the prestigious paintings on loan, Monet's 'Houses of Parliament, Sun Through the Fog', curdles up a wave of homesickness for London. For a moment I'm lost in time and nostalgia, and memories happy and sad. Good art will do that to you.
If you lean towards contemporary art, make your way to nearby Manarat Al Saadiyat (manaratalsaadiyat.ae/en), a ground-breaking new space housing collections from established and up-and-coming artists. There's a palpable sense of pushing boundaries – like the moment before a balloon bursts – with works sourced from an Emins- and Koons-inspired generation, many of whom study at the local New York University Abu Dhabi.
Poking a nose into taboo topics, one gallery exposes the impact of absentee fathers in traditional Emirati polyamorist families
I'd only ever thought about the potential challenges faced by wives sharing a husband. Never before had I considered the effect on their children, and here I am reading a wall of thoughts and feelings on social anxiety and abandonment from Arab children living in polygamous homes. A newfound empathy emerges. Again, good art will do that.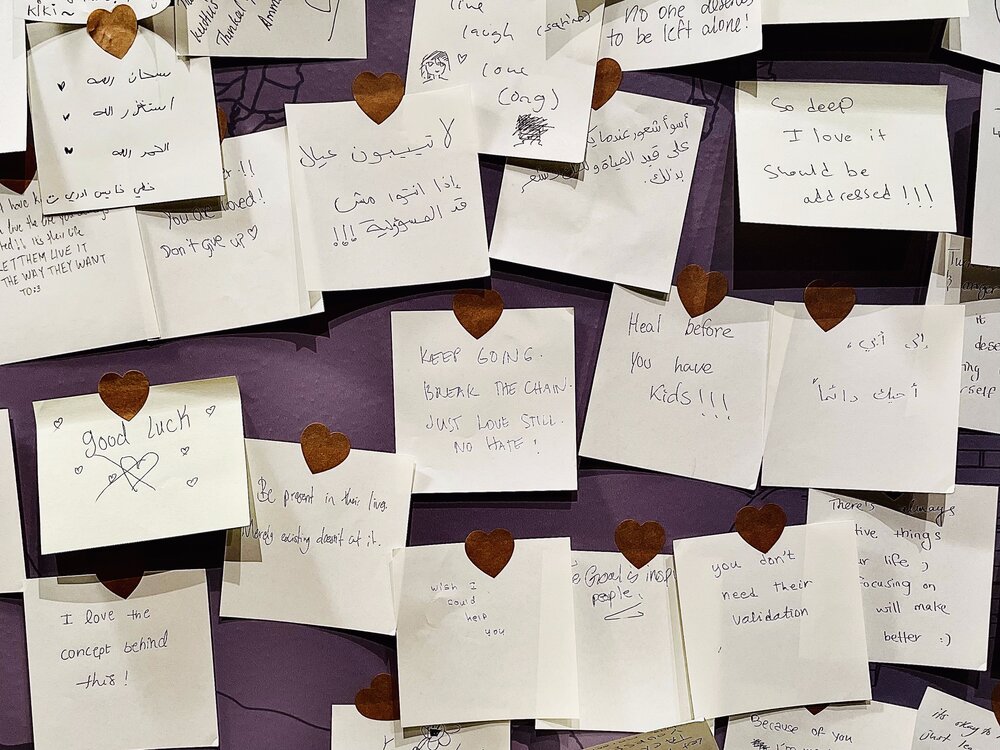 Notes on polygamy
Elsewhere, temporary exhibitions showcase international artists. Today, Yang Jaemoon is taking centre stage with his ghostly timelapse photography capturing the grace and movement of traditional Korean dance.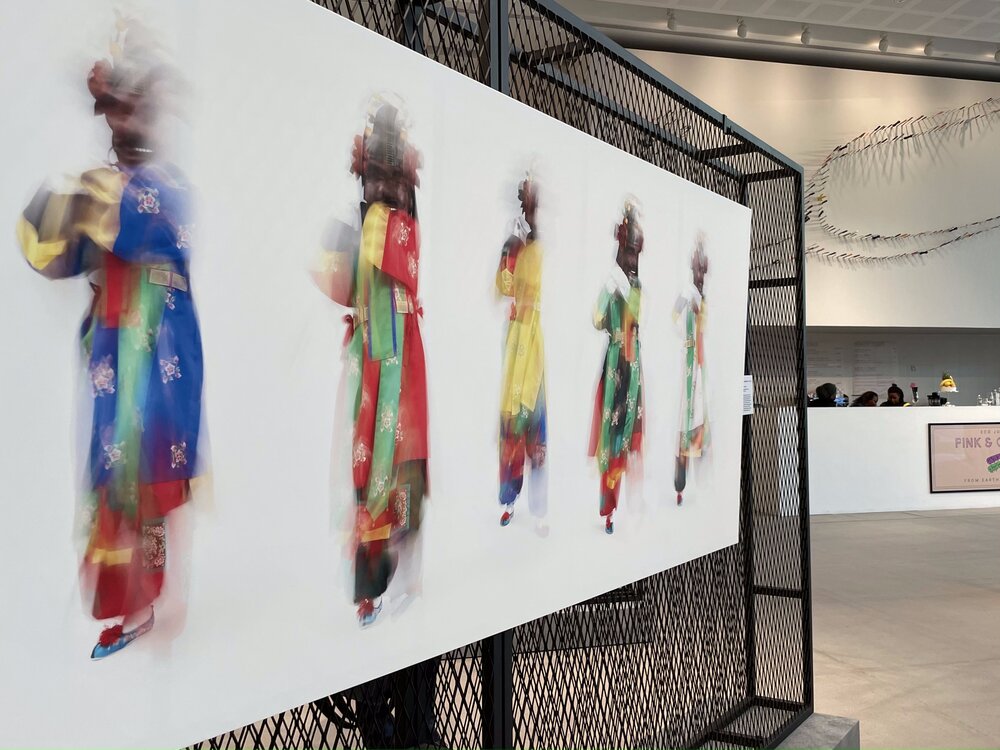 Yang Jaemoon
And then I find myself in the Instagram-friendly Doodles Room, featuring floor-to-ceiling doodles, a concept by the current resident artist, Emirati Hend Almurid. It feels like stepping inside a distracted mind. Its aim is to inspire the creation of further art in the form of photography featuring the visitors themselves, so I partake.
The Doodles Room
For dinner, Buddha Bar Beach (www.buddhabarbeachabudhabi.com) is the island's most popular social hive, serving fashionable Peruvian-meets-Japanese sharing plates, mixology and music from a resident DJ at weekends.
---
COMING UP: Saadiyat Island will be home to the Frank Gehry-designed Guggenheim Abu Dhabi and the Natural History Museum Abu Dhabi, slated to open at the end of 2025, while the futuristic Zayed National Museum and a religious complex bringing together a mosque, church and synagogue at one site to promote 'human fraternity' is scheduled to open at the end of 2022.
---
Yas Island: Adrenaline Highs and Entertainment
After a 1am finish at Buddha Bar and a leisurely, bitter-sweet farewell to the fabulous breakfast buffet served at White restaurant, I head to my next destination, Yas Island. Even the name sounds like an affirmation. Yasss!
The cab ride from Saadiyat takes just 30 minutes. 'Good afternoon' reads the doormat as I check into the architectural masterpiece W Abu Dhabi – Yas Island (www.marriott.com/en-us/hotels/auhwh-w-abu-dhabi-yas-island).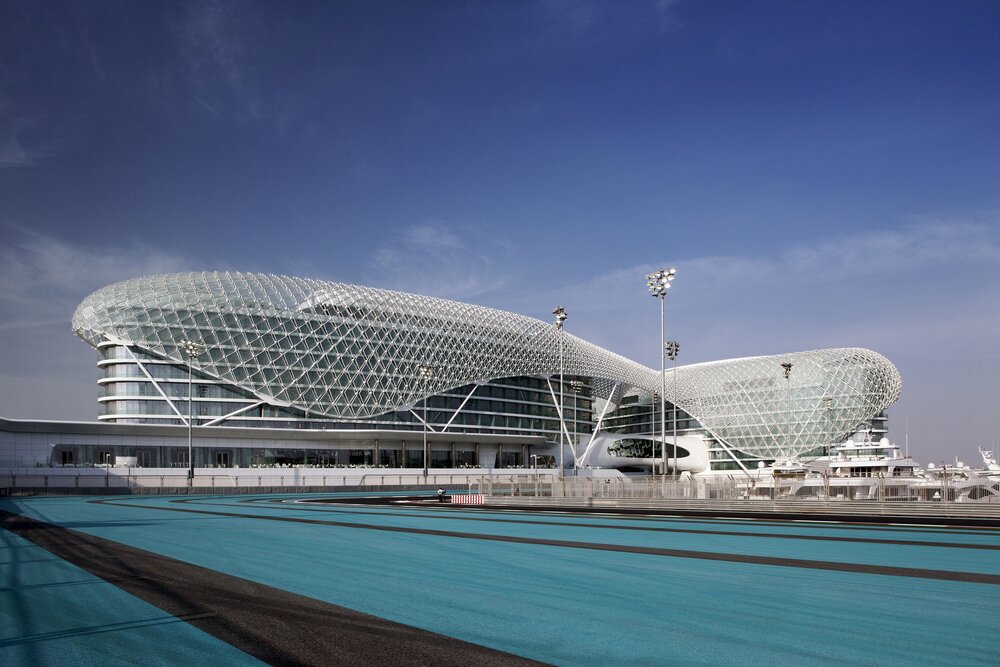 W Abu Dhabi – Yas Island
This curvy, futuristic 499-room hotel straddles the UAE's famous F1 racecourse and is surrounded by a marina. The Formula One Grand Prix takes place in Abu Dhabi each November and there are celebratory parties on the marina's super-yachts that attract the world's most written-about socialites.
The rest of the year, guests can get behind the wheel themselves at Yas Marina Circuit (www.yasmarinacircuit.com/en) for a selection of exciting racing experiences.


Drive a Caterham Seven, an Aston Martin GT4, or even a motorbike around the F1 track
I prefer to sit back and watch. Cars race around the track as I sip cocktails at the impossibly glamorous Wet Deck rooftop bar. Many a celebrity has popped a cork here. The hotel is also home to Indian Angar and Italian Amici restaurants, and Garage, a warren of differently styled dining rooms with a taco truck in the middle.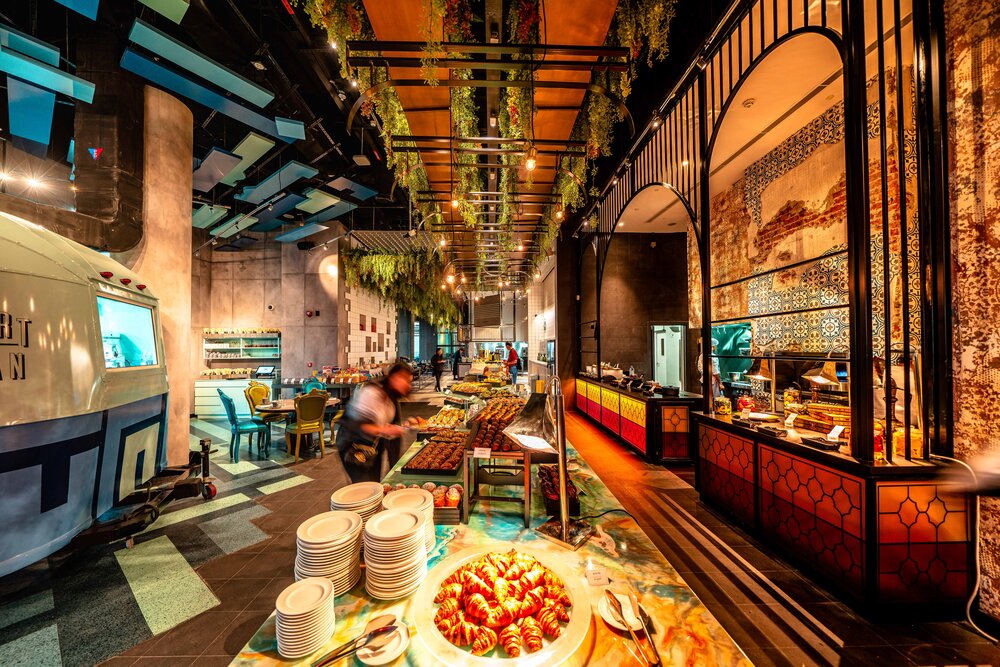 Garage
The W loves a narrative. The doormats are changed three times a day by diligent staff, from 'Good morning' to 'Good evening'. Ahead of my arrival, a hotel scribe has daubed the mirrors and glossy white laminate surfaces in my room with cute welcome messages, but metaphorically speaking my Wow Suite has 'after-party' written all over it.
With a wraparound balcony overlooking a hairpin bend on the track, the views are pricey. Costing around US$25,000 a night with a minimum stay of three nights during F1, you'd need a winner's salary to stay here then, but there are deals to be had outside of peak season.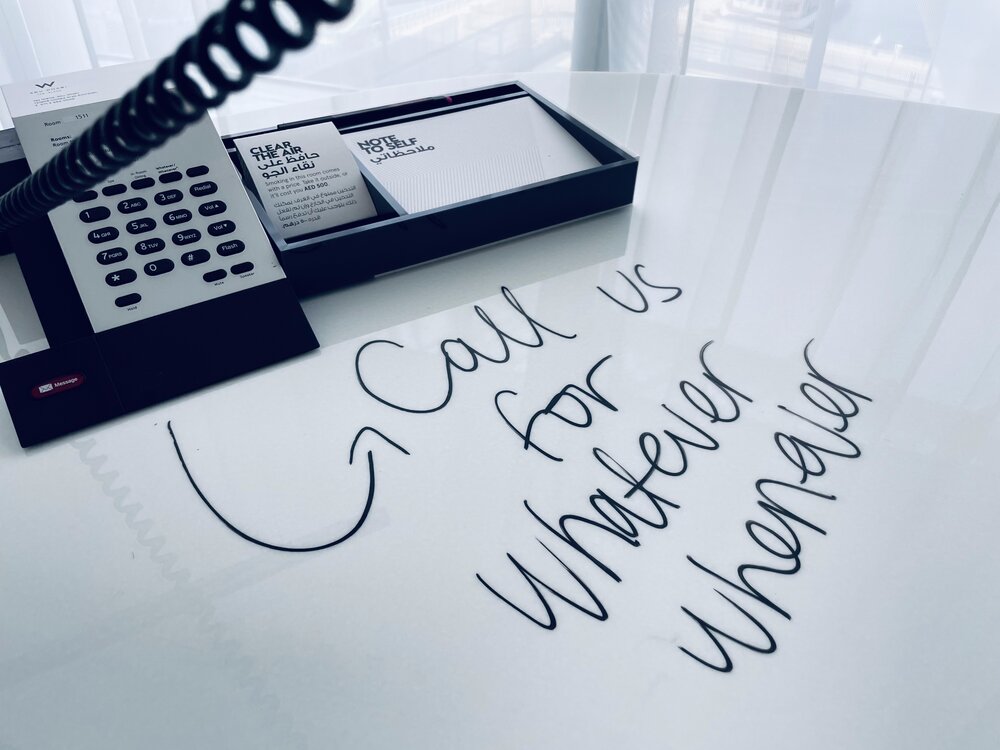 W Abu Dhabi – Yas Island Wow Suite
The fast-paced entertainment doesn't end there. Yas Island is also famous for its theme parks. Ride the world's fastest rollercoaster, the Formula Rossa, at Ferrari World Abu Dhabi (www.ferrariworldabudhabi.com) or ride the waves and slides at Yas Waterworld Abu Dhabi (www.yaswaterworld.com). With the Arabian sun beating down, I beat a retreat to Warner Bros World Abu Dhabi (www.wbworldabudhabi.com), a weather-proof indoor park with a host of superheroes and cartoon characters on the loose. Wile E Coyote is the star of the 'Fast and Furry-ous' coaster, while 'Batman: Knight Flight' offers a virtual ride through Gotham City where Poison Ivy and the Joker are waiting to cause havoc.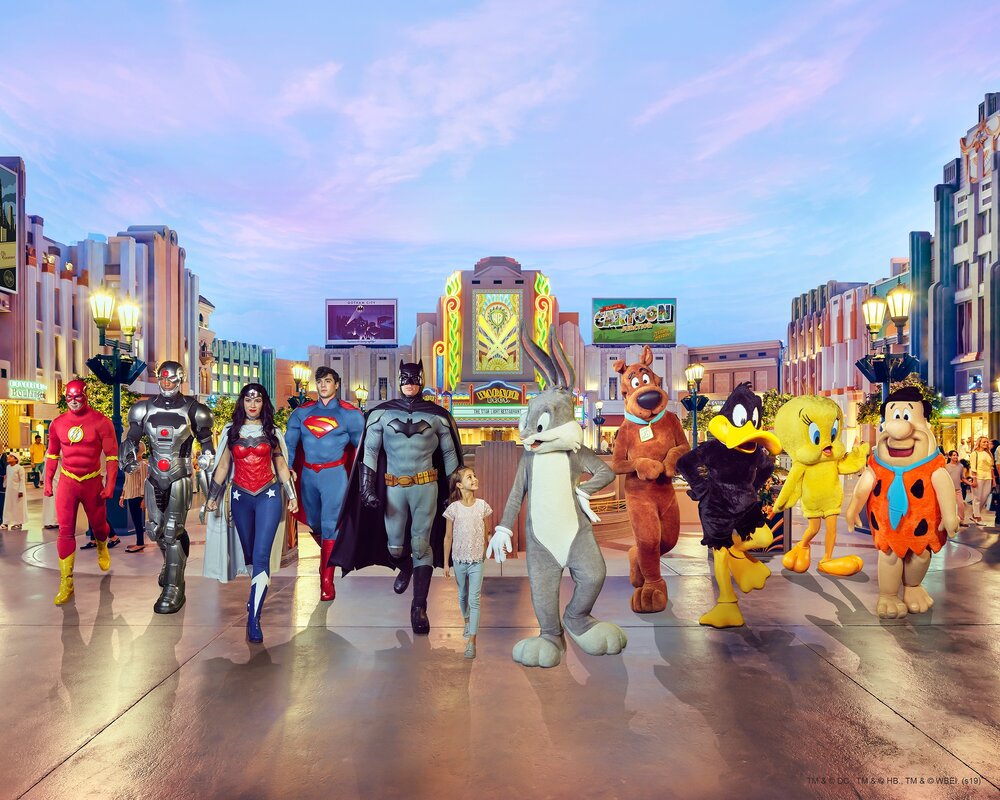 Warner Bros World Abu Dhabi
A serene antidote to adrenaline thrills with the cast of Looney Toons is The Lighthouse (thelighthouse.ae) on Yas Bay Waterfront, just 10 minutes' drive away.
The name is inspired by Virginia Woolf's To the Lighthouse and her "lingering breakfasts" with her Bloomsbury cohorts
Founded in Dubai in 2017, this is the fourth branch of the restaurant and concept store has its own podcast and positions itself at "the intersection of food, creativity and design".
You can find high-end, style-conscious holiday souvenirs here while brunching on fried chicken and waffles with maple-glazed bacon and poached eggs. Brunch is served from 12pm to 4pm, Saturday and Sunday. Interiors have a calming brasserie-meets-library vibe with a central Art Deco-style bar serving impeccable cocktails; kick-off brunch with a bloody good Bloody Mary.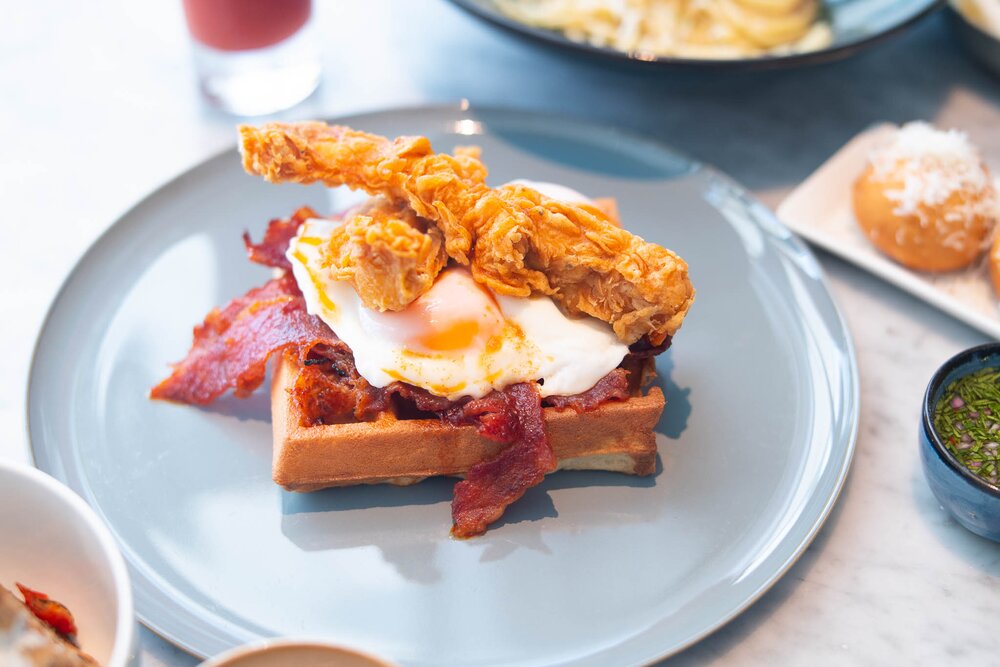 The Lighthouse brunch
Afterwards, you can take a stroll – or even take in a show. The Yas Bay Waterfront is a dining and entertainment hub with a 3km, palm tree-lined boardwalk on the south shore of Yas Island. Neighbours include Café Del Mar beach club, White Abu Dhabi nightclub and Etihad Arena (www.etihadarena.ae/en), the Middle East's largest indoor entertainment venue.
The diversity of programming is impressive. In October 2022 alone, the arena will host the NBA Abu Dhabi Games 2022, the league's first in the Arabian Gulf; Disney on Ice Presents Mickey & Friends; UFC 280: Oliveira Vs Makhachev, the Ultimate Fighting Championship's #280 mixed martial arts contest, and India's classical star AR Rahman Live In Concert. Pick your event and plan an itinerary around it.
---
Travel Agents' Notes: Combining stops on both Yas and Saadiyat helps to keep guests occupied with the best both islands have to offer. Culture and adventure, combined with luxury, sun, sea and sand will keep even the most active guests entertained for four to seven days. Golf and spa sessions are also popular at both locations. As part of another two-centre stay, either island is a winning two-day add-on for travellers visiting Dubai, which is just an hour away by car.
---
For all the latest news and information on Abu Dhabi, sign up to the Connecting Travel newsletter here