Multimillion-dollar renovation takes popular Maldivian resort to new heights and depths, discovers Laura French
I'm snorkelling metres away from the world's biggest shark – a phrase I never thought I'd hear myself say. But this isn't the start of a Jaws script, and thankfully I'm not making friends with a great white.
Instead, I'm in the company of a whale shark – a 7-metre gentle giant that glides serenely along beneath me, its graceful tail swishing behind with the flow of the water, its big rectangular head leading the way as it scouts out the locale.
I'll admit, I didn't really know what a whale shark was until about an hour ago, when resident marine biologist Natalia talked us through the ins and outs of the biggest fish on Earth, a now-endangered creature that apparently weighs "the equivalent of five African elephants", making it the second-heaviest animal on the planet, after the blue whale.
Seeing one of these friendly beasts in real life is nothing short of surreal, and I'm mesmerised by its slow movements and by the sheer silence around me, interrupted only by the sound of my own breathing and the crackle of fish nibbling.
We follow it for the next five minutes until it gradually descends into the deep, disappearing into a cloud of blue, dissolving like an ethereal vision I'll likely never see again.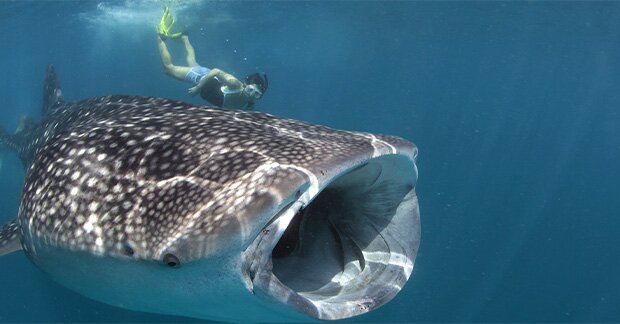 The New-look Conrad Maldives Rangali Island
I'm at Conrad Maldives Rangali Island – once the first internationally branded resort in the Maldives and a long-standing hotspot for whale sharks, thanks to its westerly position in the South Ari Atoll.
It's one of several wildlife encounters I have on a visit to this iconic resort, which reopened in February 2022 after a multimillion-dollar makeover. It and now boasts renovated overwater villas, a refreshed spa and several refurbished restaurants, as well as a new teens' club and gym.
"We started the renovations at Conrad Maldives Rangali Island in 2019 and continued through the pandemic, with 2022 marking the final chapter," says general manager Carla Puverel. "We refurbished all 50 of our overwater villas on Rangali Island, adding plunge pools to the outdoor decks and reimagining the design, drawing inspiration from nature. We also renovated the spa and three restaurants and added a new gym and a teens' club, and we are looking forward to relocating the dive centre too. With more travel borders reopening, the timing of the relaunch has worked out perfectly; we're ready with the best product to cater to the evolved needs of our guests."
Located in the South Ari Atoll and reached by a 30-minute seaplane flight from Malé, the 150-villa resort is spread across two islands connected by a bridge. Rangali is adult-only, with a handful of restaurants and thatched-roof overwater villas perched on a lagoon, while Rangali-Finolhu is family-friendly, with a shared pool, watersports centre, dive centre and several two-bedroom options among its beach and water villas.
There are 12 restaurants – from a show-cooking Japanese spot to Rangali Bar, which hosts live musicians and DJs in the evenings
The vibe is laid-back through and through – think golf buggies whisking you along sandy jungle trails and snow-white, cerulean-water beaches that look like they've come straight off a postcard.
Restoring the Reef
The following evening, I find myself surrounded by spinner dolphins flipping and twirling around our boat, as the metallic waters glimmer beneath a ruby sunset sky. Another night, I spot a manta ray dancing in the water by the shore, showing off its pearly white belly as it somersaults beneath us, and every day I see George and Georgette – the island's resident herons – patrolling the shore on spindly legs.
All this life relies on the reef surrounding the island, and during a morning coral-planting workshop, we do our bit to help restore coral bleached by high sea temperatures caused by climate change and exacerbated by a particularly strong El Niño in 2016.
RELATED:
Flydubai to add a second daily Maldives route in 2023
Minor Hotels to open Avani property in Maldives in 2023
Resort Review: Inside the new Oblu Select Lobigili, Maldives
After a talk from Natalia, during which I learn that corals are actually living animals powered by algae inside, we're led out on a snorkelling trip over the house reef, passing parrotfish, turtles and the outline of an eagle ray, before threading tiny pieces onto a string to grow on an undersea frame.
We're told it takes up to two years for the coral to grow to a point where it can then be attached to the reef to help revive it, marking one of several efforts at the resort to help reverse the damage.
Underwater Dining and Overwater Spa Experiences
Despite that damage, the island certainly isn't short on marine life, and you don't even have to dip into the water to see it. The resort made history with the world's first undersea restaurant, Ithaa, in 2005, and while enjoying a five-course tasting menu, I watch white-tipped reef sharks swim over my head, patterned surgeonfish dart past and colourful angelfish glow out from an expanse of pure azure.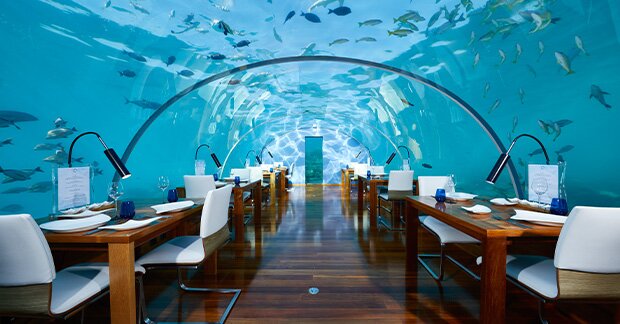 Ithaa
At the just-renovated Overwater Spa, I indulge in a massage in a glass-floored treatment room while gazing down at yet more fish, and learn about the spa's new features. These include a brand-new indoor and outdoor lounge and a residency by visiting wellness practitioner Ranjith Saj.
Spa treatments include an Ayurveda immune booster, Ayurvedic healing therapy and a warm bamboo massage
At the resort's other wellness centre, set off the tip of Rangali-Finolhu Island, The Spa Retreat's Mandhoo Restaurant is set on stilts above the gentle waves, and serves dishes that feature many ingredients grown on the island.
Overwater Villas with Underwater Bathrooms
Back in my overwater villa, I admire colourful schools in the lagoon below, the steps leading straight into the water from my private deck. It's The Muraka that really astounds, though. This two-floored suite hit the headlines in 2018 for having the Maldives' first underwater bedroom, with an initial price tag of US$50,000 a night, but its starting price has since come down to a vaguely more wallet-friendly US$10,000.
It's nothing short of entrancing. We're welcomed into the huge, two-bedroom upstairs floor before descending in an underwater lift to reach the real treasure. Here a glass-walled, tunnel-shaped room glows blue like a real-life aquarium, fish swimming past the bed as the water ripples above, multicoloured lights illuminating the scene by night like an undersea disco.
I sit, taking it all in, for a good half-hour, hypnotised by the fish swimming to and fro
I'm lulled into a peaceful daze by the sway of the water, transported to another world entirely, which is how I've felt throughout my entire trip here – and why I'm determined to come back again one day, to sleep under the sea, to see its house reef in full glory and to befriend another whale shark in these vast, enchanting waters.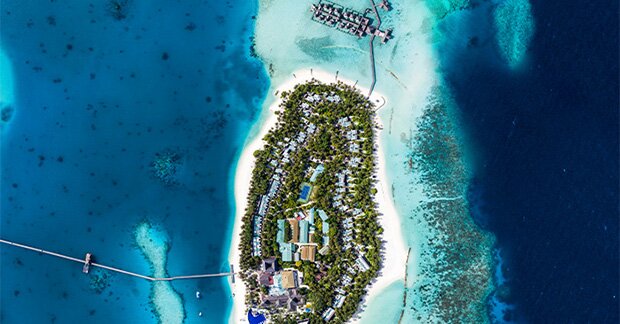 Beach villas start at from US$488 per night. For more information, visit conradmaldives.com