As one of the most romantic – and sustainable – forms of travel, it's time to hit the tracks, says Erica Bush
Some say the journey is the destination and that has never rung more true than on board a luxury train.
Stylish carriages decked in polished wood, seamless service, endless champagne, and candle-lit cars that rumble through the darkness with nothing but the rails ahead of them – the romance of rail travel has endured for decades.
Now, with affluent consumers set to embrace the art of slow travel in the wake of the pandemic, high-end train companies are gearing up for a healthy revival – and travellers are truly spoilt for choice.
From rolling through wine regions to steaming past snow-capped peaks, here's a roundup of luxury rail journeys to send affluent clients on.
1. Venice Simplon-Orient-Express, A Belmond Train, Europe
Perhaps the train most synonymous with luxury rail travel is the Venice Simplon-Orient-Express, one of travel's most sought-after experiences. Hop aboard and enjoy all manner of iconic itineraries to European gems such as Paris, Milan, Istanbul and Budapest in opulent carriages restored to 1920s grandeur. White-gloved porters whisk clients' luggage from platform to private cabin or suite, where crisp linens, plush furnishings and art deco furniture transport them to an era of timeless glamour. In the dining carriage, French chef Jean Imbert offers seasonal dishes and sommelier-paired wines, while the lively Bar Car 3674 is the place to be for cocktails, live piano performances and a midnight 'brunch' of lobster rolls and truffle club sandwiches. belmond.com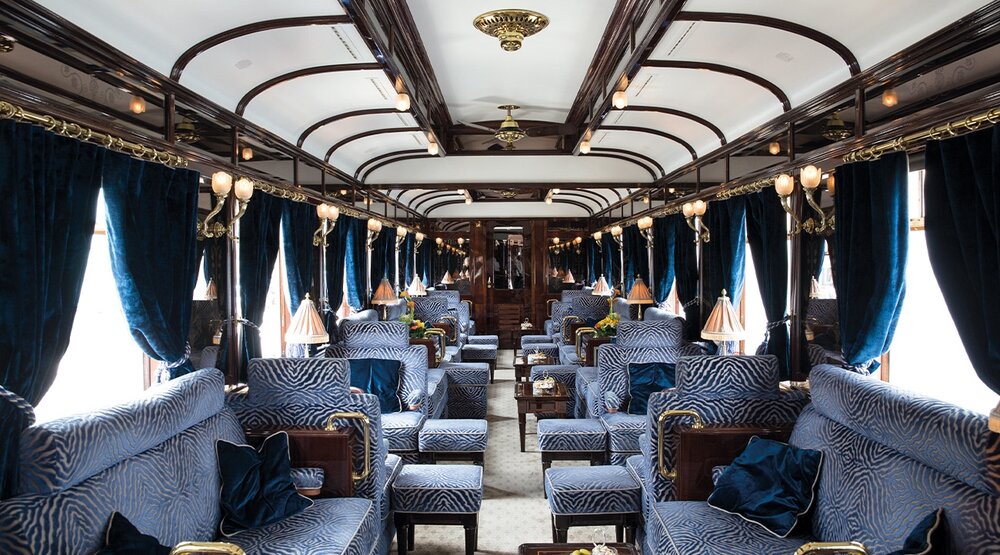 Venice Simplon-Orient-Express, A Belmond Train

2. Rocky Mountaineer, North America
Spacious, glass-domed train coaches set the scene for the much-loved Rocky Mountaineer, which offers four rail routes across North America. Three routes connect Vancouver to the Canadian Rockies towns of Banff, Lake Louise and Jasper in western Canada, while a fourth, newly launched route travels between Denver, Colorado and Moab, Utah, in the southwest United States. Affluent clients will want to travel in the Gold Leaf category, where a bi-level coach with oversized glass windows will afford them a front-row seat to their surrounds. The upper level has spacious seating, while a dining area on the lower level serves gourmet meals championing local ingredients. An exclusive, outdoor viewing platform brings passengers even closer to the action and attentive trains hosts are on hand to top up champagne and offer stories about passing landmarks. rockymountaineer.com
3. The Ghan, Australia
Snaking across Australia's vast interior between the country's northern and southern coasts, The Ghan was named after the cameleers who founded the trail into the Red Centre of Australia more than 150 years ago. The train embarked on its first journey in 1929 and today the cross-country track stretches an impressive 1,851 miles, taking in the verdant greenery of Katherine and Darwin, the crimson-coloured MacDonnell Ranges and the vast, pastel-hued South Australian plains. Beds are divided into Gold Service and Platinum Service, the latter of which offers more cabin and en suite space as well as chauffeured transfers and access to an exclusive dining carriage. Clients wishing to maximise their trip can enjoy stops in Alice Springs and Katherine, where off-train experiences include helicopter tours and gorge cruises.
journeybeyondrail.co.au
4. Rovos Rail, Africa
Established in 1989, Rovos Rail offers an insight into a simpler time of train travel, where modern utilities such as radios and televisions weren't required. A fleet of six vintage trains, hauled by either diesel or electric locomotives, operate a network of bespoke train journeys lasting from 48 hours to 15 days, with destinations including South Africa, Zimbabwe, Namibia and Tanzania. The brand's Trail of Two Oceans route, which it launched in celebration of its 30th birthday in 2019, runs from Dar es Salaam to Lobito in Angola and marks the first time in history a passenger train has travelled the east-to-west copper trail. Each train carries a maximum of 72 passengers across 36 suites, the largest of which is the Royal Suite, which occupies half a train car and features a Victorian-style bathtub. As the train rumbles on, guests can make use of the dining car, lounge car, small gift shop, smoking lounge and observation car with an open-air balcony and sofas set next to big-picture windows. rovos.com
5. Seven Stars in Kyushu, Japan
Japan's first luxury sleeper train, Seven Stars in Kyushu launched in October 2013 and travels at a gentile pace across the seven prefectures of Kyushu, the southwesternmost of Japan's main islands. A two- and four-day option are on offer, designed to showcase the seven major attractions of the island, which include nature, food, onsens, history and culture. The train – also made up of seven cars – holds just 30 passengers across 14 suites decorated with walnut floors and sliding glass doors adorned with flowers and birds. Prospective passengers be warned: demand for this train is so high, the company selects applications by lottery. cruisetrain-sevenstars.jp
6. Maharajas' Express, India
A recent entrant to the luxury market, the Maharajas' Express is operated by the Indian Railway Catering and Tourism Corporation and offers five routes across northwest and central India. A range of itineraries are available between October and April, including an eight-day Heritage of India journey that takes guests from Mumbai through to Udaipur, Rajasthan, Jodhpur and the medieval city of Bikaner. The train has capacity for 84 guests and offers four types of accommodation. All cabins and suites have their own en suite bathroom and individual climate control, while suites, including the Presidential Suite, are also equipped with a mini-bar and a bathtub. Two fine dining cars, Rang Mahal and Mayur Mahal, offer gourmet dishes served on gold-edged plates, with drinks washed down in Swarovski glasses. Lounge car the Rajah Club is well stocked with books and board games and there's also a bar and souvenir shop. the-maharajas.com
7. Glacier Express, Switzerland
Steaming through the three cantons of Valais, Uri and Graubünden, the Glacier Express takes in all the key sites of the Swiss Alps, including glitzy ski resort St Moritz, the alpine village of Zermatt, the Albula Line with the Solis and Landwasser viaducts and the Rhine Gorge. Dubbed the world's slowest train, the Glacier Express is all about drinking in the alpine vistas. Cuisine on board is suitably 'slow' too, with seasonal and local dishes freshly prepared on board and served to passengers' seats. First and Second Class cars have recently been renovated, while the train's top carriage, Excellence Class, was relaunched in 2019, offering a guaranteed window seat, a seven-course tasting menu, exclusive access to the dedicated Glacier Bar and concierge service. glacierexpress.ch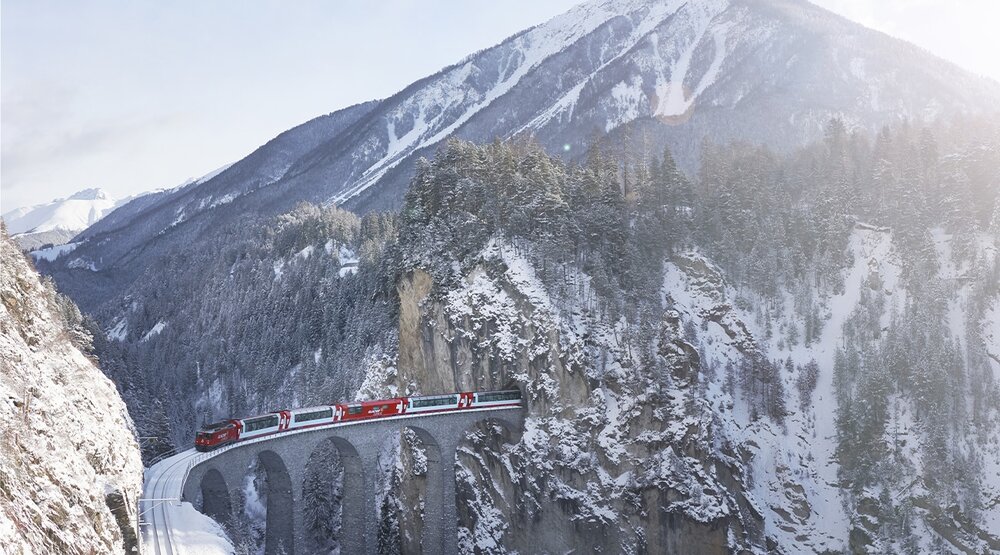 Glacier Express
8. The Blue Train, South Africa
Named for the coat of royal blue lacquer that encases each carriage, The Blue Train traverses the rich and diverse landscapes of South Africa, with a star-studded line-up of past guests including Nelson Mandela, Paul Simon, Margaret Thatcher and Kylie Minogue. The brand's origins date back to 1923 but The Blue Train as we know it today features two trains and two routes: the 31-hour Pretoria to Cape Town route, which runs weekly and can accommodate 82 guests, and the one-way, 19-hour Pretoria to Hoedspruit in Kruger National Park, which takes place on selected months of the year with capacity for 54 guests. bluetrain.co.za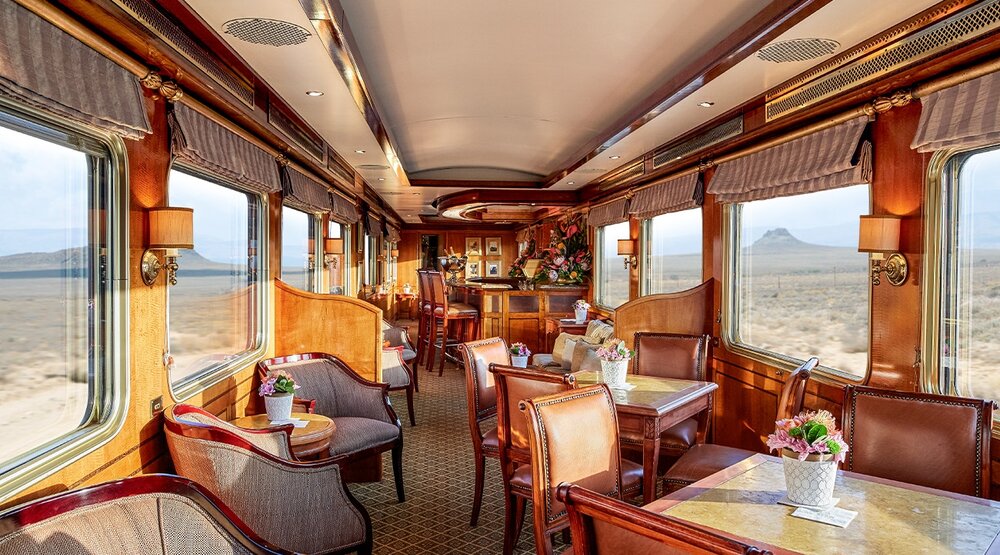 The Blue Train
9. TranzAlpine, New Zealand
The world-famous TranzAlpine train criss-crosses the breathtaking landscapes of New Zealand on a daily route from Christchurch to Greymouth. The train is most famed for the section between the small town of Springfield and the township of Arthur's Pass – considered to be a masterpiece of railway engineering – but the delights truly abound with key sights including the aqua-blue Waimakariri River Gorge; the ascent to the high plains of Craigieburn, which sees the train negotiate 15 tunnels and four dramatic viaducts; and the 5.2 mile-long Otira Tunnel. The train's Scenic Class carriage features roomy, reclinable seats set against panoramic windows, glass shelves and skylights, which along with cleverly spaced seating promise wide-ranging views. Foodie clients should upgrade to Scenic Plus Class to enjoy a tasting menu. greatjourneysofnz.co.nz
10. Royal Scotsman, A Belmond Train, UK
Clients needn't travel far and wide for a luxury rail experience: some of the very best lie right on our doorstep in the UK. The Royal Scotsman is a fitting example, made up of 10 mahogany-clad, Edwardian-inspired cars that offer all the luxuries of a high-end hotel. Private, en suite cabins adorned with tweed furnishings and Highland wool provide the ultimate cosy enclave as the rugged Highlands roll by. Two wood-panelled dining carriages, Raven and Swift, celebrate the produce of Scotland's rich and fertile lands (think steamed Scottish mussels, pigeon and roasted halibut). There's even a Bamford Haybarn Spa. The Royal Scotsman accommodates up to 40 passengers and offers a range of Highland adventures. belmond.com