Collinson joint CEO David Evans on the travel trends shaping the Middle East in 2023
The year 2022 marked a return to form for travel and tourism, and while global costs are rising, this isn't stopping people from taking vacations and exploring the world. Indeed, 2023 appears promising, with millions of travellers already planning trips and a projected 20% increase in global tourism earnings. And while 2022 was the year of recovery, 2023 is poised to be the year of reinvention.
While most of the world was accessible due to government restrictions in 2020 and 2021, this year has finally seen a true resurgence in travel as more countries drop all pandemic-related travel restrictions. According to the World Travel & Tourism Council (WTTC), the Middle East region saw a similar year-on-year rise of 28.1% last year, representing a further boost of US$47 billion.
According to IATA, air traffic was up by 114% in the MENA region last year, which was an impressive feat given the remaining staffing and operational constraints, not to mention closed borders in some destinations. Clearly, after a couple of years of restrictions, people are ecstatic to finally be able to plan journeys to their desired destinations.
WANT A NEW CAREER IN TRAVEL? CLICK HERE
The travel industry is experiencing a renaissance, which is expected to continue throughout 2023 and here are the trends shaping the industry.
Travel Trend 1: Off-grid Travel
Many travellers are eager to escape their devices' constant distractions and reconnect with nature. The new generation of travellers will seek vacations that allow them to disconnect from reality. People are now interested in learning survival skills, such as building a fire or foraging for food while on their off-grid vacation, which adds to the adventure. If you want to go off the grid, the Middle East is the place to go. Visitors to the region can expect a variety of activities, including camping under the desert stars, floating in the salty waters of the Dead Sea, and visiting the world's wonders.
Travel Trend 2: Luxury Travel
The concept of luxury has evolved over time, and travellers are no longer afraid to look for luxury trips or demand the luxury experience. Younger travellers, in particular, plan to overspend.
Mid-range hotels are reducing standard offerings by eliminating breakfast benefits and housekeeping services, making true luxury hotels stand out even more than they did previously.
According to an Expedia study, 80% of travellers between 18 and 34 are willing to pay to upgrade their experience
Travel Trend 3: More choice
A greater variety of options leaves room for tailoring and personalising trips. The continued growth of ancillary revenues in travel supports the view that the brands giving their customers a variety of propositions will be the ones winning out over the next 12 months. It's why Collinson is always looking at how we can diversify our range of lounge services and travel experiences for our 40 million global Priority Pass Members.
Most recently, we've added exciting new lounge options like Game Space – the first gaming lounge in the Middle East at Dubai International – and a new sleep 'n fly lounge at Doha Hamad International Airport.
RELATED:
WTTC unveils world-first global Travel & Tourism climate footprint data
Short-term rentals are boosting tourism, says WTTC
Travel and Tourism sector poised for strong recovery says WTTC
Travel Trend 4: Bucket-list Trips
Travellers are planning to splurge on bucket-list trips in 2023. Many people have realised that life is too short to put off dream destinations for "someday" and they're ready to make their travel fantasies a reality "right now".
Travellers are willing to spend more money to maximise their vacation and ensure that every experience is worthwhile. The Middle East is home to some of the most enticing and exotic destinations, including Dubai Miracle Garden, Morocco's Blue City, Saudi Arabia's AlUla desert oasis, and Oman's Wadi Ash Shab in the Al Sharqiya region.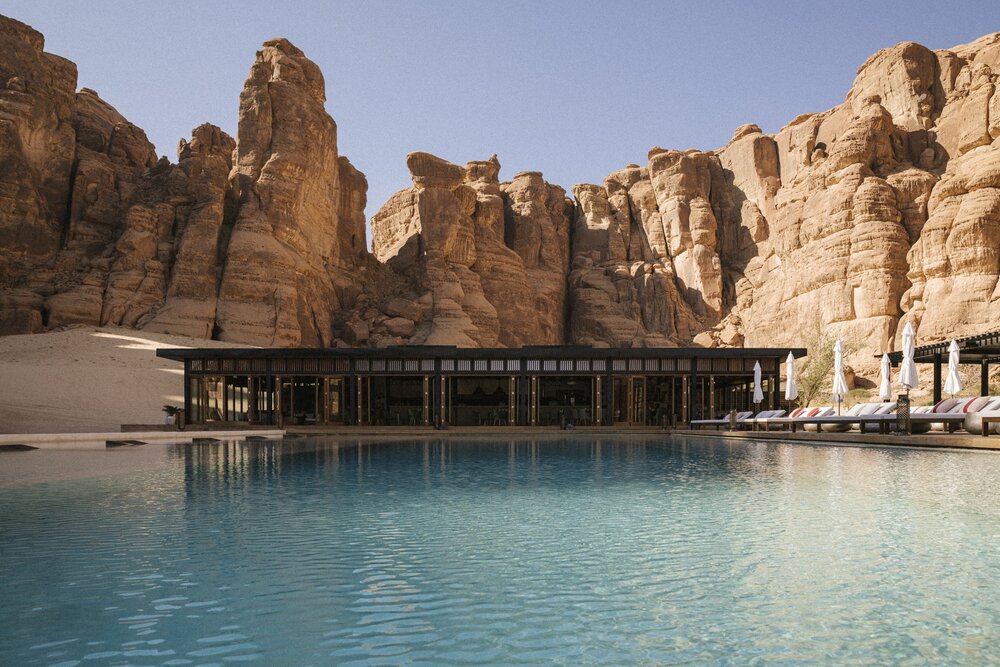 AlUla Tama restaurant
Despite significant operational challenges and inflation in 2022, travel is returning to pre-pandemic levels. We expect travellers to visit all corners of the globe, even if it means occasionally splurging and planning ahead.
Travel Trend 5: Sustainable Travel
Last but not least, once you arrive at your destination, there will be a renewed emphasis on travelling responsibly throughout 2023.