Sarah has ranked among the top 10% of Travel Counsellors worldwide
Sarah Pickford has been working as a Travel Counsellor out of Dubai for more than a decade. In 2019, she reached 'Gold Travel Counsellor' status, placing her in the top 10% of all Travel Counsellors worldwide in terms of turnover. Connecting Travel met with the powerhouse to find out what her working days involve and how she continues to grow her business.
Connecting Travel: What are the highlights of being a Travel Counsellor?
Sarah Pickford: The best thing about being a Travel Counsellor is working for myself. Having been an employee for a lot of years, it's nice to not have a boss. I've not got to ask permission to take a lunch break or a holiday. I have the flexibility to come and go as I please and travel a lot, and to be able to work while I'm travelling. Nothing gets in the way of what I do. The Travel Counsellor platform is brilliant, so whether I'm in Spain or at my mum's house in the UK, or even on a cruise ship, I can work wherever I am.
CT: How many fam trips do you take per year?
SP: At the moment, probably six; one every other month. But it isn't always the same. You know, during years one and two as a Travel Counsellor, I maybe only took one or two trips a year. And then, there was a time a couple of year ago when it seemed like I was going away constantly. It really just depends on what other things I've got going on in my life, how busy I am, and also what the suppliers want us do.
WANT A JOB THAT INVOLVES LOTS OF TRAVEL? BECOME A TRAVEL COUNSELLOR
CT: Is it true that the more you travel, the better you become at your job?
SP: I get mocked a lot for how much I travel. My response is always that I'd be a useless travel agent if I never travelled anywhere. I think it's really important to gain experience of travel so that I can explain to my customers what they are going to get at a property, resort or country. It's so much easier to sell it when you've been there and experienced it yourself. You know what your customers like and you go to find things out to them.
100%, I'm better at what I do and continue to get better at what I do because of how much I travel.
CT: What made you decide to join Travel Counsellors as opposed to operating as an independent agent?
SP: It's important to note that I am an independent travel advisor. I buy access to Travel Counsellors systems, but I'm still fully independent. I'm not affiliated to any particular hotel, resort or business. It's licencing that I buy from Travel Counsellors and I buy into it because of Travel Counsellors' collective buying power, which gets better contract rates from suppliers, as well as the protection it provides. I know the suppliers that they've chosen on our behalf are fully vetted, and that they're sound in terms of health and safety and financial security, so I can keep my customers safe. That's really important to me. If I was completely independent and not affiliated to Travel Counsellors, I'd have to do that vetting for myself.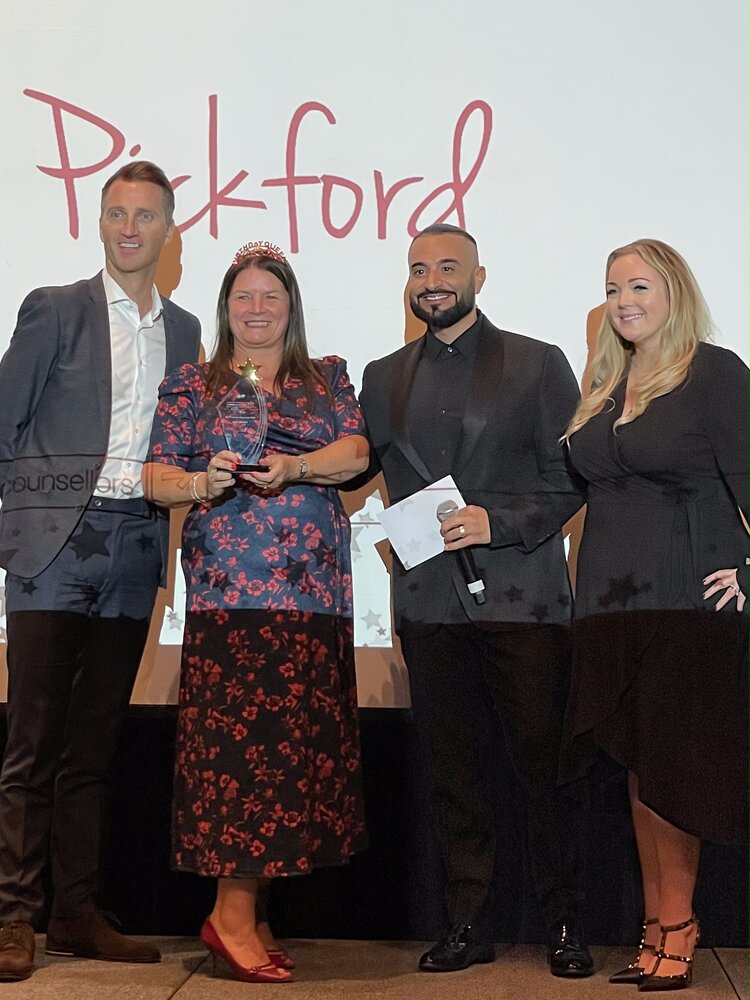 Award-wining Sarah Pickford
CT: Which suppliers are vetted by Travel Counsellors?
SP: Absolutely all of the various suppliers, from destination management companies to transfer companies. Taking transfer companies as an example, using Travel Counsellors-approved transfer companies means you know they're fully licensed and insured, that their tyres have been checked and that their vehicles have had an MOT. You can go online and find a driver anywhere, but you can't guarantee safety – but with Travel Counsellors, I can.
CT: What does a typical day as a Travel Counsellor look like for you?
SP: One of the best things about being a Travel Counsellor is flexibility. I don't have any two days that look the same. I do a lot of corporate travel as well as leisure travel, so I work normal office hours. I'm "at my desk" and available to clients between 8am and 6pm Monday to Friday. My day starts with me setting up my desk and computer, but I might not be at my desk, I might be in a coffee shop on my laptop. I might be somewhere working on my phone, which is just a little computer. I've always got that flexibility. I might be seeing customers, or I might be travelling to a different destination or hotel. No matter where I am, my days are spent talking to clients, seeing clients, creating quotes and processing payments.
RELATED:
Travel Counsellors GM Holly McCann explains how to travel for a living
Travel Counsellors' rebrand
Couples driving last-minute holiday demand, says Travel Counsellors
CT: What advice would you give to anyone who's thinking about becoming a Travel Counsellor?
SP: Grasp it with both hands! It's about confidence, you know, it's not rocket science. You don't need to have travelled the world to become a Travel Counsellor, but you do need to be passionate about travel, good at research and have enough confidence to be able to talk to customers about destinations. You've also got to see it as a business. It's not a get-rich-quick scheme. You've got to work hard. If you put in the time and effort, you'll succeed. If you're not driven enough, then it won't work.
CT: Where do you find your customers and how do you continue to source new business?
SP: Mainly by talking to people. In fancier terms, you would call it networking. I go to a lot of professional networking sessions and I'm in a number of social and professional networking groups, such as F&F [Fun & Focused] and Female Fusion, a platform for female entrepreneurs, and we meet up. If you're talking to people about your business, or about travel in general, you're networking.
If you're not able to talk to people confidently and passionately about what you do, you can't network effectively and people will never have the confidence to trust you to book their holiday. That's what it's all about. The business model is based on repeat business and referrals. I don't advertise. My customers do my advertising for me.
For more information or to book travel with Sarah Pickford, visit www.travelcounsellors.ae/sarah.pickford; to find out how to become a Travel Counsellor, visit people.travelcounsellors.com/ae
---
Travel Counsellor Gillian McLornan on how she made travelling her business