Travel platform partners with Al Jalila Foundation and the Brest Friends cancer support group
In support of Breast Cancer Awareness Month, Dnata Travel and its Emirati travel brand, Rehlaty by Dnata Travel, are highlighting pink-themed travel destinations.
Both brands will also make a contribution for every booking made in October to the Al Jalila Foundation to support breast cancer research and treatment in partnership with Brest Friends, the first breast cancer support group in the UAE. Established by Dr Houriya Kazim, the UAE's first female surgeon, the support group enables patients and survivors to meet monthly to learn, share experiences and offer support. The two organisations have been working closely together to become forerunners in raising awareness of the importance of early detection, furthering patient support and investing in local research.
Meerah Ketait, Head of Retail and Leisure UAE at dnata Travel, commented: "We are committed to supporting important causes and local organisations that contribute to the health and welfare of the communities around us. We hope that our donation and initiatives will help make a difference this Breast Cancer Awareness Month."
GET YOUR FREE 48-PAGE GCC TRAVEL & HOSPITALITY REPORT HERE
Al Jalila Foundation CEO Dr Abdulkareem Al Olama added: "Breast cancer is the most common cancer among women, with one in eight women being diagnosed in their lifetime. Studies show that the average age of diagnoses is 10 years younger in the UAE than elsewhere in the world. These statistics reaffirm the critical need for research to keep up with the latest advances in treatment to save patients' lives. We would like to thank Dnata Travel and our other local partners, who continue to support us in making significant advances in advancing research and patient treatment support in the UAE."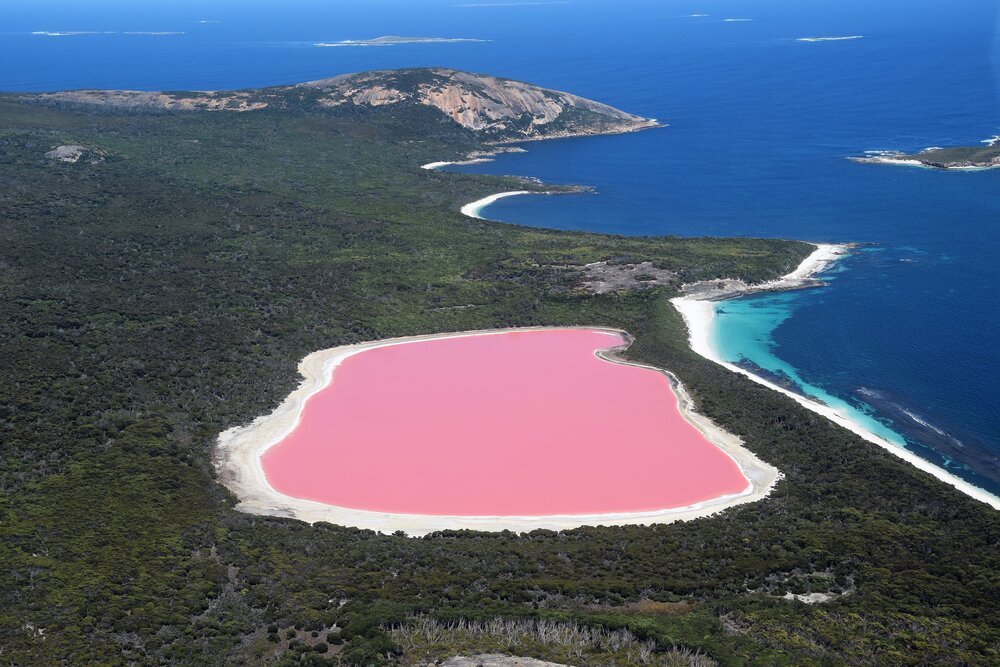 Lake Hillier
Pink-themed travel destinations in Dnata Travel's special offering this month include the palace of Hawa Mahal in India's Pink City of Jaipur; the colourful, cliff-side village of Riomaggiore in Cinque Terre, Italy; and Lake Nakuru National Park in Kenya, frequently dotted by thousands of pink flamingos.
To find out more about the work of the Al Jalila Foundation, visit www.aljalilafoundation.ae, or for more on or to join the Brest Friends support group, please send an email to brestfriends@outlook.com.
To find out more about Dnata Travel turning 'pink' this October, visit @dnataTravel