The world's tallest building also tops the list of the highest revenue-generating landmarks
According to research conducted by global luggage storage app Bounce, Burj Khalifa in Dubai is the 8th best-loved landmark in the world, with 16,730,000 annual visitors.
The tallest building in the world, Burj Khalifa stands at 828 metres tall and surpasses the second tallest building in the world by almost 150 metres.
With almost 17 million visitors and an average entry fee of US$37, the Burj Khalifa generates roughly US$621 million each year from ticket sales, making it the number revenue generator among landmarks.
RELATED:
Dubai's Burj Khalifa named among world's most beautiful viewpoints
Burj Khalifa most popular landmark online
Dubai on track to be the world's most visited destination according DET
Bounce analysed the world's landmarks based on a variety of factors, including annual visitor numbers, entry prices, Tripadvisor ratings and Instagram posts to find the world's most loved landmarks.
The top 10 most loved landmarks:
1. Niagra Falls, Canada
2. Taj Mahal, India
3. Grand Canyon, US
4. Golden Gate Bridge, US
5. Statue Of Liberty, US
6. Great Wall of China, China
7. Eiffel Tower, France
8. Burj Khalifa, UAE
9. Banff National Park, Canada
10. Colosseum, Italy
GET YOUR FREE 48-PAGE GCC TRAVEL & HOSPITALITY REPORT HERE
Niagara Falls topped the list with complimentary access, a perfect 5/5 rating on Tripadvisor and more than 3 million Instagram posts. The landmark sits on the border between Canada and the United States and offers some of the most breathtaking views of natural waterfalls in the world.

The second most loved landmark in the world is the Taj Mahal in India. More than 6.5 million people visit the Taj Mahal each year, and the landmark was the subject of 23 million Google searches over the last 12 months.

Rounding out the top three is the Grand Canyon. An Instagram favourite, the 277-mile-deep natural formation has appeared in more than 4 million Instagram posts to date and an excess of 6 million people visit it each year.

Earning a score 5/5 on Tripadvisor, 15 million annual visitors and 3 million posts on Instagram, The Golden Gate Bridge is the longest and the tallest suspension bridge in the world, a wonder of the modern world and a triumph of American engineering.

Free to visit, the Statue of Liberty sees 4 million visitors each year and over 12 million searches on Google. A gift from the French in 1865, the Statue of Liberty was intended as a celebration of America's newly found democracy after the American Civil War. It now stands proud in New York City as a universal symbol of freedom.
Landmarks expected to generate the most revenue were also ranked, with Burj Khalifa topping the list thanks to high ticket price and visitor volume.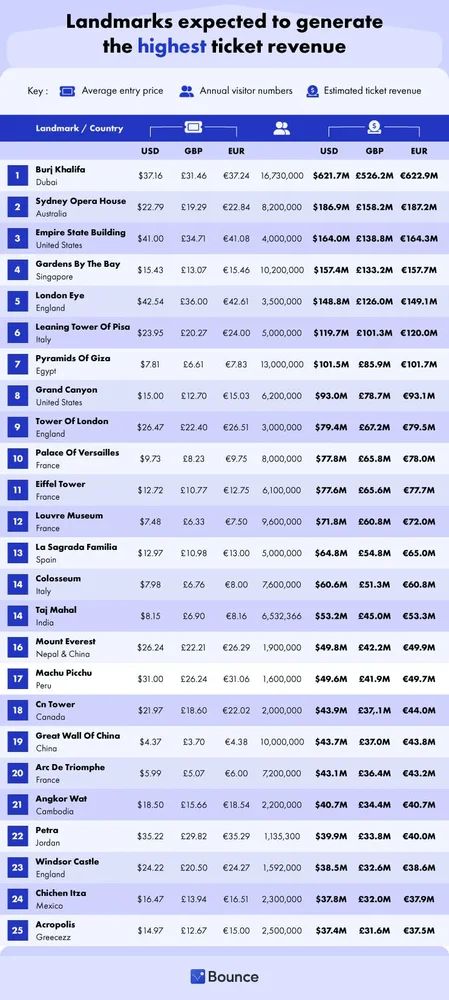 For more information, visit www.usebounce.com