The head chef of DRIFT Beach Dubai on how the arrival of renowned is shaping Dubai's F&B scene
Born in Paris, Sylvain Noël's family moved to La Rochelle, a fishing port in the west of France on the Atlantic coast to open restaurants. From a young age, Noël was immersed in the hospitality business. He learnt a lot about the quality of fresh products on trips to the market with his father and used to sit in the kitchen, watching the chef cook for hours. After deciding that he wanted to cook for a living, he began an apprenticeship, spending half of his time in culinary school and the other half in restaurants.
Connecting Travel: How did you get your break in the business?
Sylvain Noël: Through hard work, passion and determination. A chef should always have a strong love and be motivated for the work they do and every dish they create. Also, through communication and teamwork, and finding ways to address any problems that customers or employees may ever have.
RELATED:
Interview: Folly's Mario Scanniello keeps it simple
Interview: Natasha Sideris on Flamingo Room's regional expansion
Interview: Grant Marais on joining the Gates Hospitality team
CT: You could probably work anywhere in the world – why did you pick Dubai?
SN: I was part of the team at Nikki Beach, opening new branches across the world, including Marbella, Cabarete and then Miami Beach. I then got the offer to open Nikki Beach in Dubai, and after 15 years in the USA, I was excited for a new challenge, especially in this part of the world. Friends and family have always asked me, "What's next?", as I love exploring new cultures and countries. Since then, I haven't looked back. It has been seven years and I really enjoy living in this vibrant city with all the excitement and opportunity it brings.
CT: How would you describe Dubai's F&B sector?
SN: I believe that the force of Dubai compared to other markets is really the diversity of its culinary offering. You can now find any type of cuisine, at any level and price point – which is outstanding. Also, the UAE is now catching up in terms of exporting homegrown brands to markets around the world, including London, Bodrum or Mykonos. In terms of the gaps, the industry in general needs to be more aware of sustainability, implementing farm to fork dining experiences and supporting local farms. At DRIFT, local ingredients definitely play an important role when creating new dishes. They are usually fresher, more cost-effective, and naturally, much more sustainable as they are grown right here in the UAE. I like to work with fresh produce as it reminds me of my childhood. I would spend hours trying to make new dishes with my father, learning about the importance of fresh, organic ingredients, many of which I had chosen myself at the market earlier that day. Therefore, I try to adapt the same concept at DRIFT, and normally change dishes on the menu depending on the season, and what is available locally.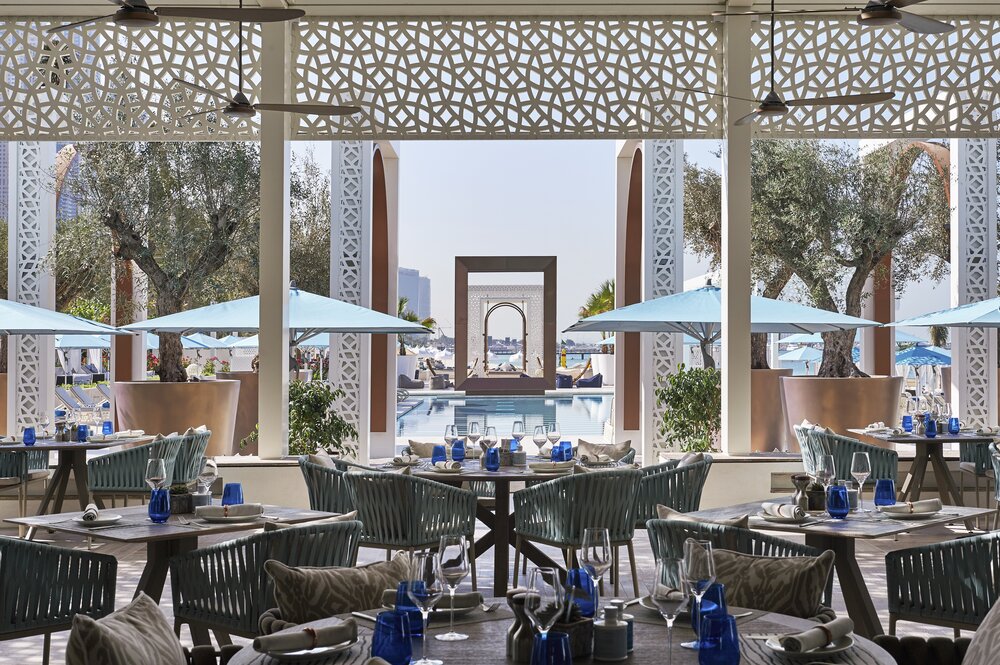 DRIFT Beach interiors
CT: What are some food trends that you're seeing emerge in the region?
SN: Every year we are seeing more food trends come into play. As the market in Dubai is so competitive, residents and tourists alike always want something new. I always keep myself informed, but I believe that every Dubai chef will be focusing more on the ingredients, and their quality and origins, and the execution of every dish. Also, with the launch of prestigious guides such as The Michelin Guide and Gault & Millau, Dubai is now better recognised as a culinary destination. This will push chefs and restaurants to always be on top of their game.
CT: Would you say confidence has returned to the market?
SN: I would say yes. Between 2021-22, we have never seen DRIFT so busy. I believe the main reason is due to how well the UAE authorities handled Covid-19 and the post-pandemic situation. Also, the way Dubai is successfully positioning itself globally is resulting in an influx of tourists from all markets.
GET YOUR FREE 48-PAGE GCC TRAVEL & HOSPITALITY REPORT HERE
CT: What sets DRIFT apart from its competitors?
SN: In the hospitality industry, it is proven that service is the main contributor to guest satisfaction. As we are an award-winning beachfront destination in a prime location, it's crucial that we go the extra mile when it comes to service, and continuously strive to provide effortless luxury experiences every day of the year. That way, we can continue to retain customers and cultivate loyal guests. Also, DRIFT stands out due to its location and accessibility, as guests have direct access to a private beach and pool right in the heart of the city. Plus, our food and beverage offering is unique, and constantly remains at a high standard. A long day at the beach will always work up an appetite and at DRIFT Restaurant, we offer a menu which is an innovative take on classic Provençal cuisine. An emphasis on the finest organic ingredients, freshness and simplicity delivers a culinary indulgence, complemented by an innovative cocktail menu.
We also have a clear concept as at DRIFT, we create a laid-back luxury experience that fulfils several goals: indulging in utter relaxation with the sound of the sea, discovering an innovative take on classic Provençal cuisine and reconnecting with friends and family while enjoying delicious drinks and listening to live music.
CT: Do you have any new developments coming up that you can share?
SN: Absolutely, we have a lot of interesting and exciting projects in the pipeline for 2023, both in Dubai and abroad. However, unfortunately I cannot reveal anything just yet, so stay tuned!
For more information, visit www.driftbeachdubai.com