Latest figures mark a return of 85% of the city's 2019 record number of visitors
New York is on track to attract 61.7 million visitors in 2023 after a rebound in 2022.
NYC & Company, the city's official destination marketing organisation, revealed the city had visits from 56.4 million travellers in 2022, a 71.4% increase over 2021.
The figures for last year broke down to 47.4 million domestic visitors and 8.9 million international visitors, the latter more than treble the previous year when Covid restrictions affected travel to the US.
The figures mark the return of 85% of the city's 2019 record number of visitors and tourism is credited with fuelling the economic recovery of the city, as the sector supports around 410,000 jobs across leisure and hospitality, and more than US$40 billion in direct visitor spend or around US$60 billion in total economic impact for the year.
GET 50% OFF CRUISES WITH NCL'S NEW YEAR CRUISE SALE
New York mayor Eric Adams said: "New York City is not coming back—we are back. After being the hardest hit of any city in the country during the height of the Covid-19 pandemic, nearly 57 million travellers visited the greatest city in the world this year [2022], and that's because every day we show more creative energy and success.
"And thanks to a booming tourism industry, our city continues to be a vital economic engine that supports the nation's overall recovery. We can't wait to welcome even more visitors in 2023, but I have one message for them all: spend money!"
Several factors contributed to the city's tourism rebound in 2022 to pre-pandemic patterns of travel activity. These include the steady increase in midweek business travel, the resumption of airline routes, continued investment in the city's infrastructure during the pandemic, and new tourism offerings and events across the city's five boroughs to encourage tourism spend.
The number of hotel room nights sold is forecast to reach almost 32 million room nights, just 20% below 2019's record levels, following steady growth in 2022.
New York is now among the top 25 US markets and was the highest performing hotel city in the US in November and December last year.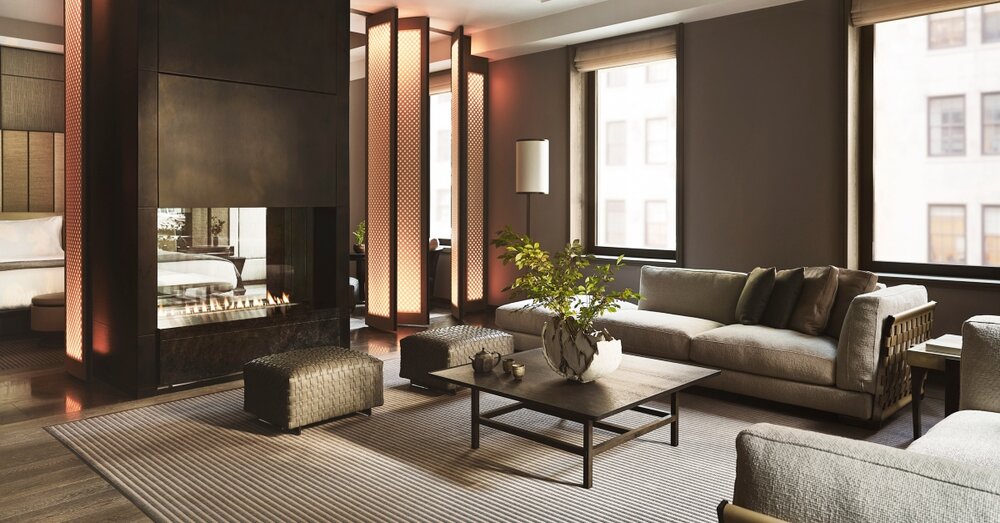 Inside the new Aman New York
For the week ending December 10, hotel demand recovered to 96% of the 2019 benchmark with more than 800,000 room nights sold. Hotel occupancy was more than 90% and the average daily rate (ADR) was more than $400 US dollars, which translates to a recovery of 124% of 2019 rates.
NYC & Company president and chief executive Fred Dixon said the city was resilient and there was every reason to be optimistic about tourism, adding: "With $40 billion US dollars in direct spend and a 71.4% increase in visitations, New York City as a destination has clearly demonstrated that its recovery pace is among the strongest in the country and that normal visitation patterns are returning."
Tourism accounts for 9% of the city's jobs and ongoing investment in transport, hotels, arts and attractions in the coming years will ensure growth continues, said NYC & Company Board chair and The Shubert Organization executive vice president Charles Flateman.
RELATED:
Aman New York to welcome guests
Etihad to fly to New York twice daily
Tourism and hospitality-related jobs in accommodations, restaurants, shops, museums, theatres, transport and attractions across all five boroughs saw a steady improvement of around 13% last year, although this remains below pre-pandemic levels. As of October 2022, there were more than 410,000 people employed in the full leisure and hospitality sector, 9% of all jobs in the city.
New York remains the largest point of entry to the US. International visitors, which account for nearly half of visitor spend, rebounded in 2022 with arrivals triple the number in 2021, at a total of nearly 9 million travellers.
In 2022, New York City's five largest international markets were the UK (754,000), Canada (656,000), France (607,000), Brazil (520,000) and Spain (413,000).
Ongoing investment across New York City's five boroughs to support ongoing tourism growth include multibillion-dollar improvements at LaGuardia, Newark-Liberty and John F. Kennedy airports; a new Moynihan Train Hall; and an expanded Javits Center to host business meetings and conventions.
More than 11,000 hotel rooms will be added to the city's accommodation portfolio in the next three years while the city will also benefit from major events in the coming years, including the celebration of the 50th anniversary of the birth of hip-hop beginning in 2023 and the hosting of the FIFA World Cup in 2026.