The pledge was announced by chief executive Harry Sommer at the delivery of the line's newest vessel in Venice
Norwegian Cruise Line will dedicate 10,000 cabins on Prima's inaugural season to the trade to "help them succeed" in selling it.
The pledge was announced by chief executive Harry Sommer at the delivery of the line's newest vessel – the first in its Prima-class – at the Fincantieri shipyard in Venice on Friday 29 July 2022.
Sommer expressed his appreciation for agent partners when asked how important they will be in selling Prima, which makes its maiden voyage in August 2022.
"The trade will be absolutely vital [in selling Prima]," he said. "The trade community continues to be our single-largest distribution source and we partner with the trade all over the world.
"We have salespeople in the United States, Europe, Middle East, Asia and South America to provide real-time support to our trade partners."
He added: "We're setting aside 10,000 cabins on Prima's inaugural season specifically for trade partners both here in Europe and the United States, because we are committed to doing everything we can to help them succeed.
RELATED:
New Carnival Cruise Line ship to make Southampton debut
Carnival Cruise Line's full US fleet is back in service
Mask-free cruising from March
"They are entrepreneurs around the world who all have unique business models and unique ways to generate demand and interest among customers, and that's what allows us to win together."
Sommer added agents who have a thorough understanding of NCL's product are the best at selling, which is why he is keen for as many agent partners as possible to experience Prima first-hand.
"Our travel partners that do well with us are the ones who spend time with their guests," he said. "There are different types of models [in the cruise industry], and when it's all about price point, we won't win; we're not going to win against cruise lines offering US$250 or US$350 seven-night cruises. Where we'll win is with the travel partners who can communicate with their guests and describe our product to them.
"When a guest comes to an agent and says they want to go on a cruise to the Med, those who talk about price first will sell a lot of MSC, but agents who talk about the product first will sell a lot of NCL."
GET YOUR FREE 48-PAGE GCC TRAVEL & HOSPITALITY REPORT HERE
Norwegian Prima will be the first major cruise ship christened in Iceland when it commences its eight-day inaugural voyage in Reykjavik on 27 August 2022, sailing to Amsterdam.
It will be followed by a further five Prima-class ships, all built at the Fincantieri shipyard, with the second, Viva, scheduled to launch in summer 2023.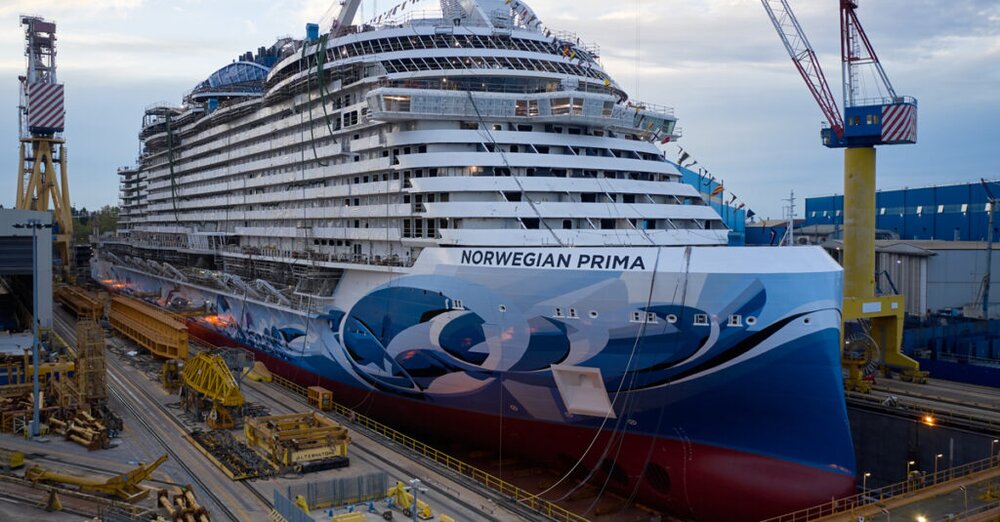 NCL Prima under construction
Luigi Matarazzo, general manager of the Merchant Ships Division of Fincantieri, said: "We're glad to work with Norwegian Cruise Line to create a world-class series of ships, and it's a proud day seeing the first of the six Prima Class vessels delivered today.
"Norwegian Prima is packed with world-firsts, never-before-seen features, and extraordinary attractions you would never expect at sea."
For more information, visit NCL