Radisson RED's new sustainable design hotel is in Oslo's sustainability district
Radisson Hotels Group has announced the opening of Radisson RED Oslo Økern, a new sustainable design hotel in Oslo, Norway.
Situated in the buzzing sustainable community of Økern Portal, 15 minutes from Oslo Central Station, Radisson RED Oslo Økern joins the area's collection of sustainability-focused businesses. Neighbours include Northern Europe's biggest rooftop garden where herbs and vegetables are grown for use by the hotel and surrounding restaurants.
In addition, the Økern Portal community has its own energy wells that produce 90% of the heating for the entire development.
Radisson Hotel Group area senior vice president for Northern & Western Europe, Tom Flanagan Karttunen said: "This is the perfect location for our second Radisson RED property in Norway, following the opening of Radisson RED Oslo Airport earlier this year. Radisson RED's creative approach works in harmony with Økern Portal's green spaces and sustainable initiatives, and offers the best city views from its rooftop bar and outdoor terrace."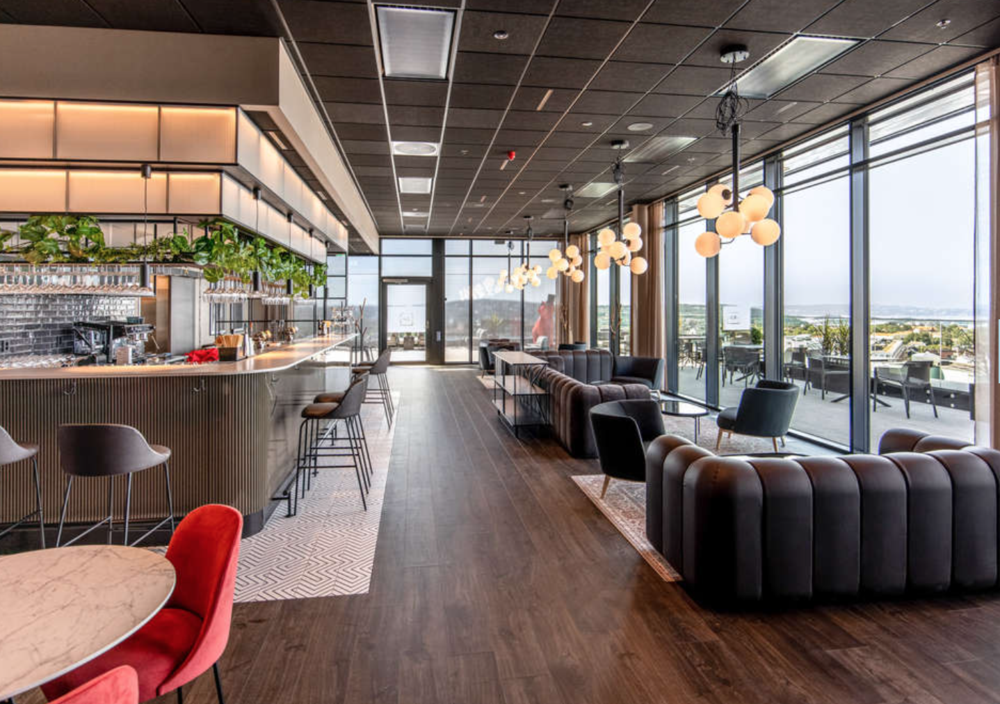 Radisson RED Oslo Øker dining
The Radisson RED Oslo Økern hotel has been certified with an Excellent rating from BREEAM, one of the world's leading science-based systems to determine the sustainability of buildings.
It considers a building's low impact design and carbon emissions, adaptation to climate change, ecological value and biodiversity protection.
RELATED:
Radisson Blu Hotel, Amman Galleria Mall opening in Jordan
Radisson unveils new learning programme for Saudi nationals
Radisson Collection brand to debut on Croatia's Adriatic coast
The hotel features 204 guest rooms. On the hotel's 12th floor, guests can enjoy a panoramic view of Oslo from the hotel's RED Rooftop bar and outdoor terrace. DJs play sets on Friday and Saturday evenings.
The hotel's other facilities include 13 meeting rooms, with the largest room able to accommodate 120 guests.
The hotel has an A class energy rating, meaning its energy level will not exceed 140 Kwh/sqm.
Radisson RED Oslo Økern general manager Jørgen Holte said: "I'm proud to open this exciting new hotel concept in Oslo. We know sustainability is a key focus for travellers today and we are always looking to develop innovative hotel experiences. Radisson RED Oslo Økern combines sustainability initiatives, Radisson Hotel Group's 'Yes I Can! Service', and Radisson RED's playful twist on the conventional, which we are sure guests will enjoy."
For more information, visit www.radissonhotels.com/en-us/hotels/radisson-red-oslo-okern