From airlines to cruise lines, the industry unites in thanking the monarch for her service
Jacobs Media Group (JMG), the parent company of Connecting Travel, has expressed its deepest sadness at the loss of Her Majesty Queen Elizabeth II.
JMG chairman Clive Jacobs said: "Receiving the Queen's Award for Excellence in 2020 was one of the proudest moments in my business career. The Queen has been a role model for so many and an inspirational figure who united people both in the UK and from around the world. She will be sorely missed."
In the Middle East, the UAE declared a three-day national mourning period.
Sheikh Mohammed bin Rashid Al Maktoum, vice president of the UAE and ruler of Dubai, said: "We join the world in mourning the passing of Her Majesty Queen Elizabeth, a global icon who represented the finest qualities of her nation and people. Her incredible lifetime of service and duty to the United Kingdom is unparalleled in our modern world."
Flags will be flown at half-mast in the country until Monday 12 September.
On Friday 9 September, Jebel Ali Port in Dubai hosted a 96-round gun salute in honour of the Queen Elizabeth II – one round for each year of her life – conducted by a UK Royal Navy ship.
On Saturday 10 September, UAE residents were invited to offer their condolences in a book presented on board the Queen Elizabeth 2 Hotel. Permanently moored in Mina Rashid, the retired British ocean liner was launched by the Queen herself in 1967.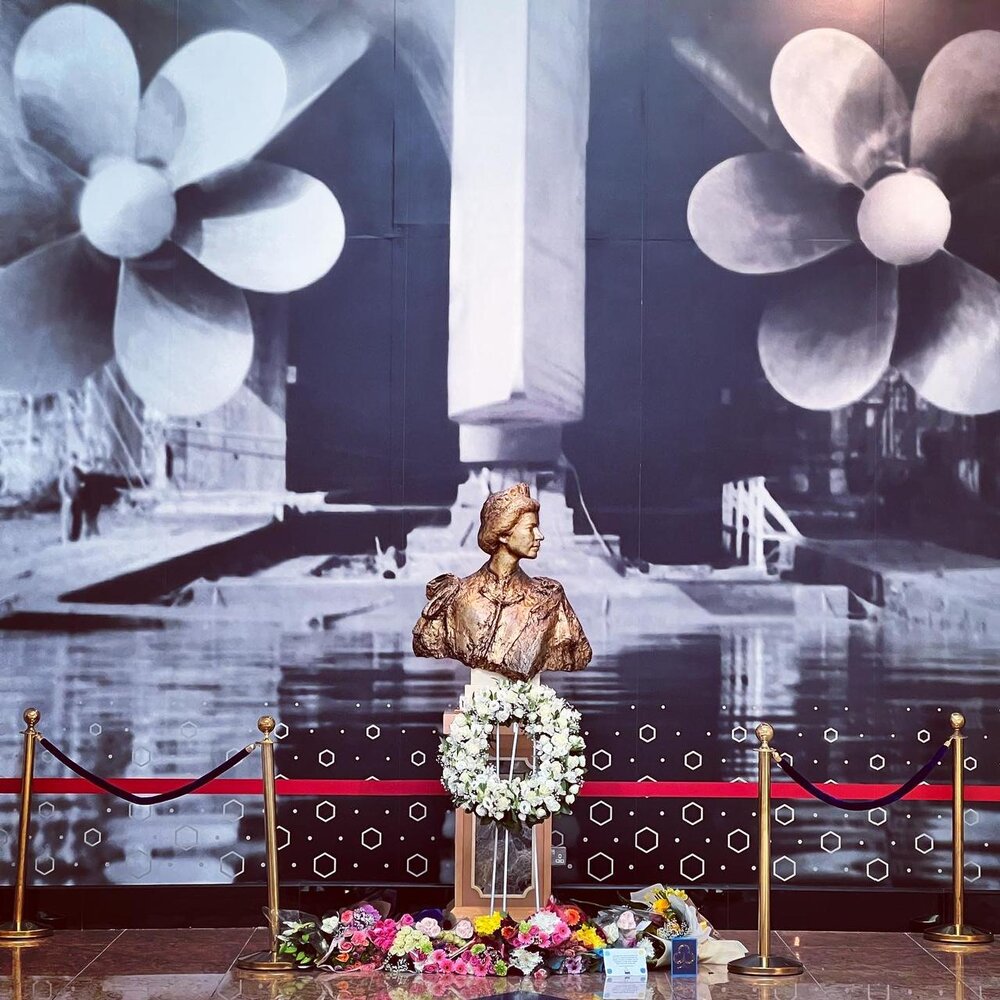 Tribute on board QE2, Dubai (© Lindsay Davidson)
Airlines, airports, agencies, cruise lines and industry bodies from across the travel and tourism sector also paid tribute to Queen Elizabeth, who passed away at Balmoral in Scotland yesterday afternoon, 8 September 2022.
The Queen's state funeral is expected to take place at Westminster Abbey within two weeks, with the exact day to be confirmed by Buckingham Palace.
King Charles III, the new monarch, said his mother's death was a moment of "greatest sadness for me and all members of my family". He is expected to address the people of the UK today at the start of a period of national mourning.
The national flag-carrier British Airways issued a statement saying: "We are deeply saddened to hear of the loss of Her Majesty the Queen. At this terribly sad time, our thoughts are with the entire British Royal Family and the nation, as we grieve her immeasurable loss. We are deeply honoured and proud to have flown Her Majesty on a number of occasion, moments which we will always cherish. Her Majesty has for so long shown immense resilience and encouraged us to stand together with the United Kingdom, to thank her for her service and bid her a final farewell."
A Heathrow airport spokesperson echoed the sentiments, saying: "We're thankful to have shared many key milestones with Queen Elizabeth II during her life, including welcoming her warmly in 1952 when she arrived back from Kenya as our Queen. The world has lost an irreplaceable person and our country, one of its greatest."
Heathrow reps also tweeted: "We offer our condolences to the Royal Family and the British public at this time."
The UK's new transport secretary Anne-Marie Trevelyan said on Twitter: "My whole life has been filled with Queen Elizabeth II, a woman of such extraordinary courage and optimism, always radiant and loving, a beacon to us all on what resilience and devotion to duty looks like every single day. Her death is heartbreaking. May she rest in peace."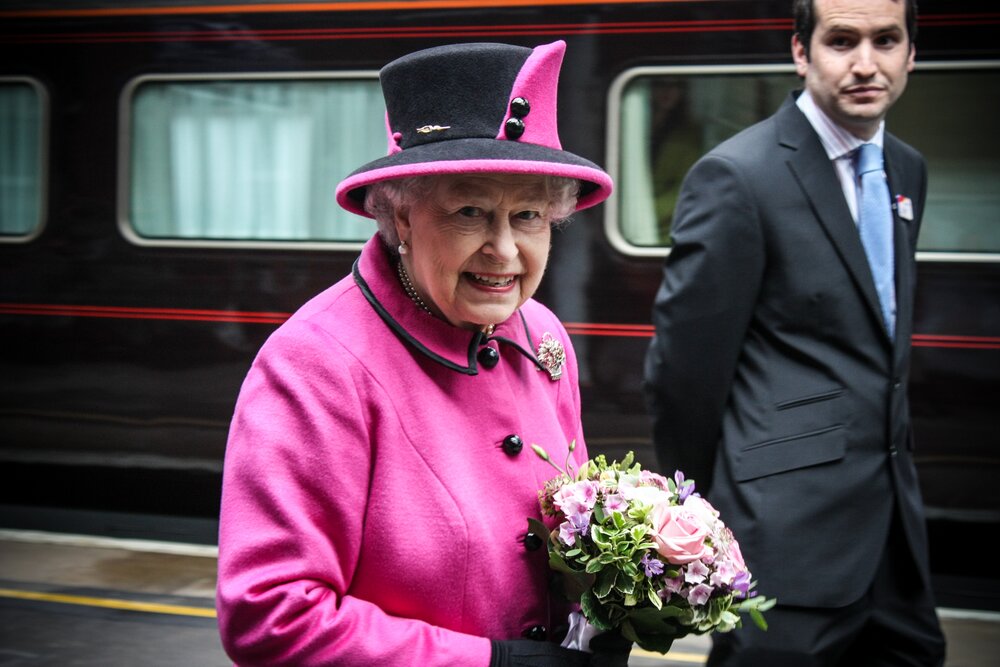 Salisbury Train Station
The Civil Aviation Authority also expressed its condolences and tweeted a picture of the Queen in her younger days boarding a flight.
Travel Counsellors said: "It is with profound sadness that we acknowledge the passing of Her Majesty Queen Elizabeth II and offer our deepest condolences to the Royal Family. We are deeply grateful for her service to the nation over so many years and extend our heartfelt sympathy to the Royal Family."
Virgin Atlantic's statement said: "Her Majesty Queen Elizabeth II was an extraordinary figurehead, flying the flag for the United Kingdom around the world during a reign like no other. Rest in peace, Your Majesty."
Meanwhile, Virgin Group founder Sir Richard Branson said the Queen had redefined leadership – living a "life of service, standing for the best of British values, providing grace and consistency in an ever-changing world".
A statement from the pilots' union, Balpa, said: "The queen was our sovereign for more than half the time humans have been flying. She had a unique view of the world and truly valued global connectivity. Balpa joins with others around the world in thanks for her service."
National tourist boards VisitBritain and VisitEngland issued a joint statement, saying: "We are deeply saddened by the passing of Her Majesty The Queen and our heartfelt thoughts and prayers are with the Royal family at this time."
Julia Simpson, World Travel and Tourism Council president and chief executive, said: "WTTC, its members and the global travel and tourism community are deeply saddened to hear of the death of Queen Elizabeth II. The Queen has been the most incredible force for good. She won the hearts and respect of people and nations around the world. Our sincere condolences to the Royal Family and our heartfelt tribute to Her Majesty the Queen for a lifetime of devotion and dedicated service."
Abta posted a message on its website, saying: "The extremely sad news of death of Her Majesty The Queen marks the end of a long and glorious reign. The loss will be deeply felt not just by millions at home, but also across the world in the many countries that the Queen visited during her reign. Our deepest condolences are with the Royal Family."
Eurostar posted a tribute on LinkedIn, saying: "We are deeply saddened to hear of the death of The Queen and our thoughts are with The Royal Family. We're proud that The Queen was present at several key moments in our journey so far. Today, we're sharing the fond memory of The Queen attending the launch of our very first train in May 1994."
Travel communications specialist Lotus tweeted a picture of a young queen with Prince Philip boarding a BOAC flight. The company said: "Lotus is saddened to hear of the loss of our truly remarkable monarch, Queen Elizabeth II. She served with dignity & wisdom and will be greatly missed. She showed us how travel boosts our understanding and empathy of people from other nations and we champion this legacy."
Cruise industry body Clia said: "We are deeply saddened by the passing of Queen Elizabeth II. She was a wonderful ambassador for cruise and our thoughts are with her family at this time."
P&O Cruises had two ships named by the Queen. The company said: "P&O Cruises and its staff both ashore and at sea express deep regret at the news of the death of Her Majesty The Queen. Her Majesty will always be remembered at P&O Cruises not least for the fact that she named two of the company's ships, Oriana and Britannia."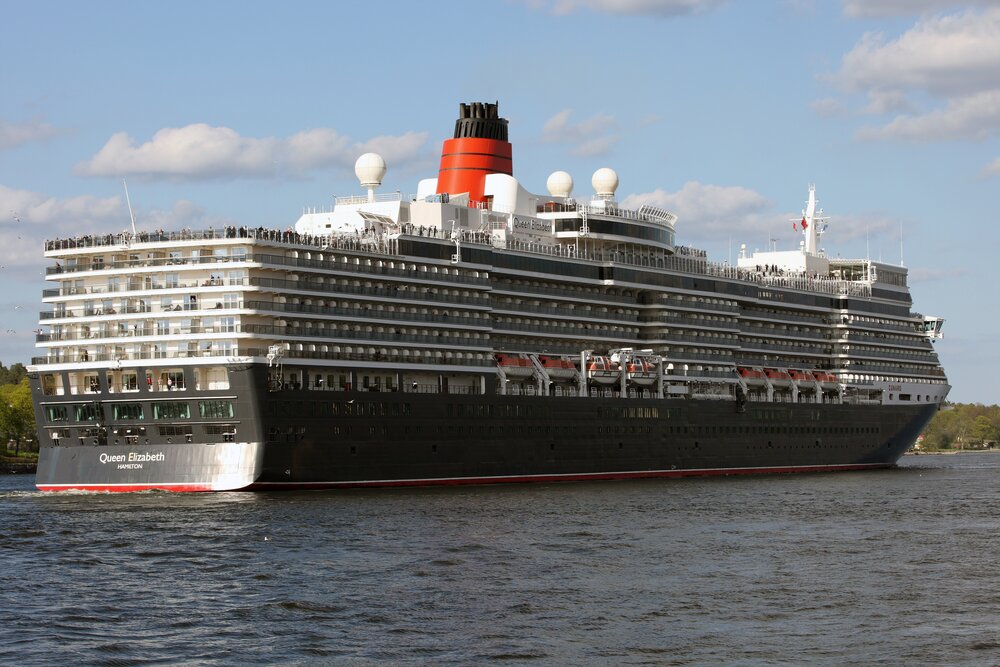 Cunard Queen Elisabeth
Sister brand Cunard said: "All at Cunard are deeply saddened at the news of the death of Her Majesty The Queen. Her Majesty had a long association with the company dating back to 1938, which included her naming four ships. For that Cunard will be forever grateful to The Queen."