The country hopes to welcome 8 million visitors
Official figures showed Vietnam saw more than 3.6 million arrivals in 2022 with a return of inbound travel following the pandemic. On the back of the recovery, the country have projected that it will welcome more than double the number of visitors in 2023.
New hotels set to open in 2023 include the Nobu Hotel Danang, Avani Cam Ranh and Mandarin Oriental Saigon.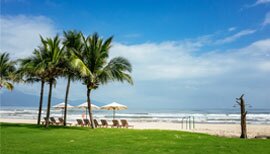 Vietnam boasts beautiful beaches
Vietnam Tourism Advisory Board chairman Kien Tran Trong said: "Last year's strong visitor numbers speak for themselves, and are a testament to the quality of product that Vietnam has to offer tourists.
"After a quieter couple of years due to the pandemic, it's been a pleasure to welcome back such a large number of tourists to the country, so that we can continue to show our visitors all Vietnam has to offer.
"In 2023, we look forward to continuing to welcome international travellers to our destination, as we continue to focus on improving our tourism offering throughout the year."