Regional holiday hot spots are ranking more highly than Europe or Asia
Online travel marketplace and travel app for flight bookings in the Middle East and North Africa (MENA), Wego has revealed its 'Middle East Traveller Destination Leaderboard', which showcases the relative popularity of global destinations with Middle East travellers.
The data to determine the destination rankings was compiled from the tens of millions of searches made in the first quarter of 2023 by Wego users.
Egypt retained its position as the top destination for international travel for MENA travellers in Q1 2023, followed by Saudi Arabia. Rounding out the top three is India. India is a major source market for foreign talent and labour for the Gulf region.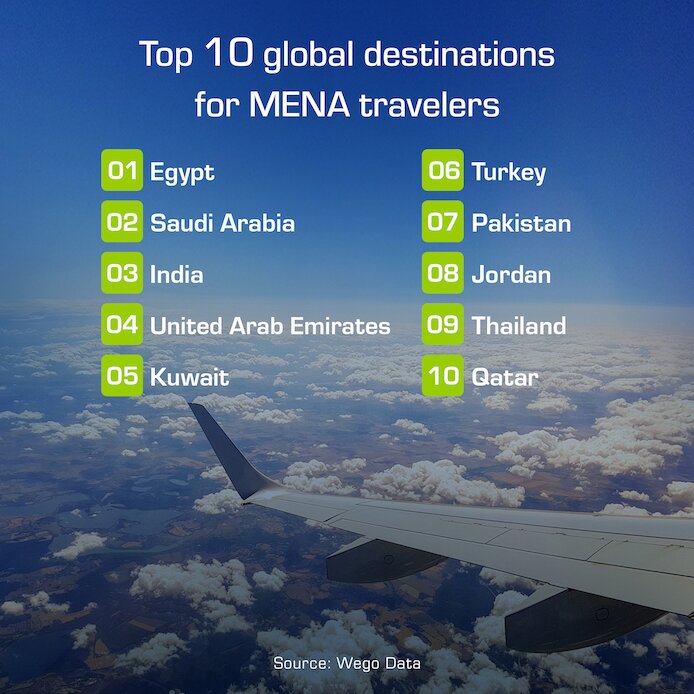 Wego top destinations for MENA travellers
Looking at a decade worth of travel data, regional travel destinations are growing faster than long-haul. Indonesia, Malaysia, Philippines, and USA dropped out as top 10 destinations while Kuwait, Pakistan, and Jordan are now among the top 10 destinations for MENA travellers.
Outside of the top 10, the UK remains the dominant European destination for Middle East travellers. This summer, Georgia and Azerbaijan are expected to challenge the UK once again as Arab travellers look to replace the Gulf summer heat with a more moderate summer.
A dynamic change in the European market involves Italy, which has steadily climbed up through the ranks from eighth spot in early 2022 to currently competing with Germany for second place.
RELATED:
Wego partners with Japan to boost inbound winter tourism from Saudi
8 Global travel trends that will shape the market in 2023
Bahrain Tourism and Wego partner to drive tourism
Among the Middle East destinations, most countries have retained their rankings during the second quarter of 2023. KSA and Egypt continue to dominate the top two spots with UAE firmly in third.
Turkey and Pakistan have been moving in opposite directions. In 2022, the depreciating lira attracted bargain hunters to Turkey en masse. Complicating matters was the major earthquake that hit the country in February and the prolonged news cycle that made travellers delay or cancel travel plans to the country.
Pakistan on the other hand has been gaining ground in recent months helped by additional flights and fewer travel restrictions.
WANT A NEW CAREER IN TRAVEL? CLICK HERE
While most Asian destinations retained their relative positions among each other, Asia's drop in popularity versus the rest of the world continues to be the most noteworthy artefact of the pandemic. As China and the rest of Asia finally ease social and travel restrictions, Wego projects that Asian countries are going to bounce back and reclaim their 2019 positions.
Wego CCO and MD, MENA and India, Mamoun Hmedan said: "We're excited to share our MENA destination report for this quarter. Our data shows that Egypt remains the top destination of choice for MENA travellers for what the country offers from a mix of history, culture, and adventure for every type of traveller.
"We also observe that the UK continues to rank as the top European destination out of the Middle East. At Wego, we are proud to connect travellers with the best of the countries, and we look forward to continuing to work with leading partners to promote their unique tourism offerings."
For more information, visit www.wegotravel.co.uk
Don't Miss...
Royal Caribbean Arabia's Mohamed Saeed on 2023's best-selling cruises and incentives for agents