Royal Caribbean is catering to evolving consumer preferences to remain competitive, says Saeed
Mohamed Saeed is at the helm of the world's largest cruise line in the Middle East. With Royal Caribbean's biggest ever ship set to sail this summer, we talked to the Royal Caribbean Arabia managing director about how to cater to changing customer preferences and sell ever higher volumes of cabins.
CONNECTING TRAVEL: What are the main factors shaping the cruise industry in the Middle East today?
MOHAMED SAEED: Factors such as consumer preferences, economic conditions, demographics and travel trends all affect the demand for cruises. Economic conditions shaped by current changes in disposable income levels, employment rates and consumer spending patterns in the region all impact the sector.
Technology is rapidly changing the cruise industry, too, impacting aspects such as ship design, onboard amenities and guest experiences with mobile apps, high-speed internet connectivity and seamless booking processes. These advancements are enhancing the overall guest experience and attracting new consumers to Royal Caribbean.
Trends such as increased interest in experiential travel, sustainability, wellness and multigenerational travel are also influencing the cruise line product offering. Royal Caribbean understands and cater to evolving consumer preferences to stay competitive in the market.
Other impacting factors may include the regulatory environment, and geopolitical and global events. We stay attuned to these factors and adapt our strategy accordingly to thrive.
The Middle East is still a novice market; the presence of other cruise lines, alternative forms of travel, and emerging destinations can impact the cruise industry.
CT: What are Royal Caribbean's key goals in 2023/24?
MS: As the sole Middle East representative for RCL group brands, Royal Caribbean Arabia's goals and KPIs are driven by sales revenue, booking volume, market share, customer satisfaction, brand awareness and partnerships with travel agencies, tour operators and other partners in the Middle East market.
Increasing sales revenue for outbound cruise travel from the Middle East, achieving higher numbers of passenger bookings compared to previous years and gaining market share is the somewhat more strategic goal as we work on maintaining Royal Caribbean International's position as the number one choice for family cruises in the Middle East.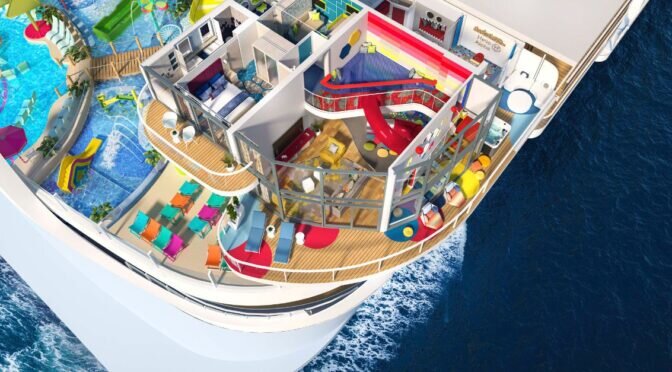 Family fun is at the core of RC cruises
Customer satisfaction comes from seamless booking processes via our technology, call centre support system, and our friendly and effective troubleshooting team members, and it leads to repeat business and positive word-of-mouth referrals.
Increasing visibility in the region has always been key for us, too; brand recognition, brand recall and social media engagement is valuable.
Employees job satisfaction, product diversification and cost efficiency are also in our goals 2023/24.
RELATED:
Get 35% off cruises at NCL
Search all available cruises on the Connecting Travel cruise hub
30% off for every guest & kids sail for US$99 with Royal Caribbean
CT: So, what are the biggest hurdles to achieving these goals and hitting KPI targets?
MS: The industry is highly competitive, with numerous cruise lines vying for market share in the region. Competing with fellow cruise liners, as well as other travel and leisure options, can be a challenge.
Economic and geopolitical factors, from economic downturns to fluctuating currency exchange rates, can impact consumer spending and their travel preferences and willingness to book cruises.
It's almost like starting from scratch post-pandemic, educating consumers about cruise lines' high standards on safety and illness prevention measures onboard
Building and maintaining trust with travellers, addressing safety concerns and managing potential negative perceptions about cruise travel is another a challenge.
Managing the operational aspects of cruise sales, such as inventory management, pricing, availability and service delivery can be complex, and keeping partners motivated and driven to include cruise products in every pitch to their network of clients is an ongoing endeavour.
Then there's marketing.Creating effective marketing and having the right offers that meets Middle East market demand can be challenging, especially as cruise lines create more global campaigns that might not meet local market needs. Customising is often required.
GET YOUR FREE TRAVEL & TOURISM INSIGHT REPORT PRODUCED IN ASSOCIATION WITH DELOITTE
CT: How do you plan to overcome these hurdles?
MS: The strategic approach is to conduct thorough market research year-on-year to understand the preferences, needs and behaviours of our target audience. This helps tailor the right cruise products and marketing efforts to align with customer expectations. Customised add-ons to the cruise product offering, such as halal culinary catering onboard, can help meet Middle East culture preferences.
To maintain strategic partnerships, we reward strong relationships with agents, and we build strong customer relationships through exceptional, personalised customer service, loyalty programmes and referral incentives, and we seek customers feedback to stay current.
Satisfied and loyal customers are more likely to recommend your cruise products to others and become repeat customers
Diversified marketing channels that include a mix of online and offline channels, social media, search engine marketing, email marketing, print media and event sponsoring helps us to reach and engage audiences, and we offer seasonal promotions, discounts and incentives to stimulate demand during off-peak seasons.
It's also essential to invest in ongoing training and development programmes for your sales team to enhance their skills and knowledge of selling cruise products in the region. Reward them with sound and clearly structured incentive programmes to boost their morale and productivity.
Equally, we embrace innovation and technology to enhance the customer booking journey and streamline operations. This may include implementing a new online booking engine in future, or the use of mobile apps, chat bots on WhatsApp and VR [virtual reality] experiences to improve customer engagement or further simplify the booking process.
To work with Royal Caribbean Arabia, visit https://www.connectingtravel.com/cruise-hub/royal-caribbean-international
Don't Miss...
Royal Caribbean Arabia's Mohamed Saeed on 2023's best-selling cruises and incentives for agents