Limited offer valid on bookings made between 14 November and 5 December 2023
Oceania Cruises has launched its Black Friday sale with savings of up to US$5,475 per stateroom on more than 100 global voyages in 2024.
The Black Friday sale offer includes itineraries in the Mediterranean, Northern Europe, Asia, Africa, Australia and South America that range from seven to 34 days in length.
All Black Friday savings include Oceania Cruises' simply MORE value promise, meaning almost everything is included in the voyage fare, including airport transfers, vintage Champagnes and shore excursion credit (up to US$1,600 per stateroom; credit varies by voyage length).
Oceania Cruises president Frank A Del Rio said: "This incredible offer is valid for just three weeks, making this the perfect time to plan your adventures for 2024. Our Best-Ever Black Friday Sale is brimming with exciting global voyages to choose from, whether you're exploring somewhere completely new or revisiting well-loved favourites, your perfect vacation at sea awaits you."
Featured sailings and savings include:
Asian Gulfs & Deltas – savings of up to US$3,495 per stateroom
Ship: Riviera
Itinerary: Bangkok to Hong Kong
Departing: 12 February 2024 (14 days)
The brochure says: In addition to six unforgettable days in vivid Vietnam, including overnight stays in Saigon and Hanoi, revel in the extravagant temples, famed street food and electric atmosphere of Thailand, Singapore and Hong Kong.
Baltic Autumn – savings of up to US$1,453 per stateroom
Ship: Sirena
Itinerary: Stockholm to Copenhagen
Departing: 26 September 2024 (10 days)
The brochure says: Cherish charming landscapes and sophisticated capitals lining the Baltic Sea, including Helsinki's intriguing design scene, bucolic Kotka and Riga's art nouveau architecture.
RELATED:
Oceania Cruises announces new Mediterranean sailings for 2024
Oceania launches Simply MORE pricing programme
Oceania Cruises launches rare wine collection
Asia & Africa Explorer – savings of up to US$4,716 per stateroom
Ship: Nautica
Itinerary: Singapore to Cape Town
Departing: 11 April 2024 (28 days)
The brochure says: During four unforgettable weeks, experience the world less travelled on this sailing through Malaysia, Thailand, the Seychelles and South Africa, with overnight stays in Phuket, Kuala Lumpur, Cape Town, Colombo and Mahe.

Ionian & Adriatic Seas – savings of up to US$1,844 per stateroom
Ship: Vista
Itinerary: Valletta to Venice
Departing: 21 April 2024 (10 days)
The brochure says: Witness antiquity's grandeur as you wander the astonishing classical monuments of Athens and delight in the picture-perfect streets of Mykonos, Kotor and Dubrovnik.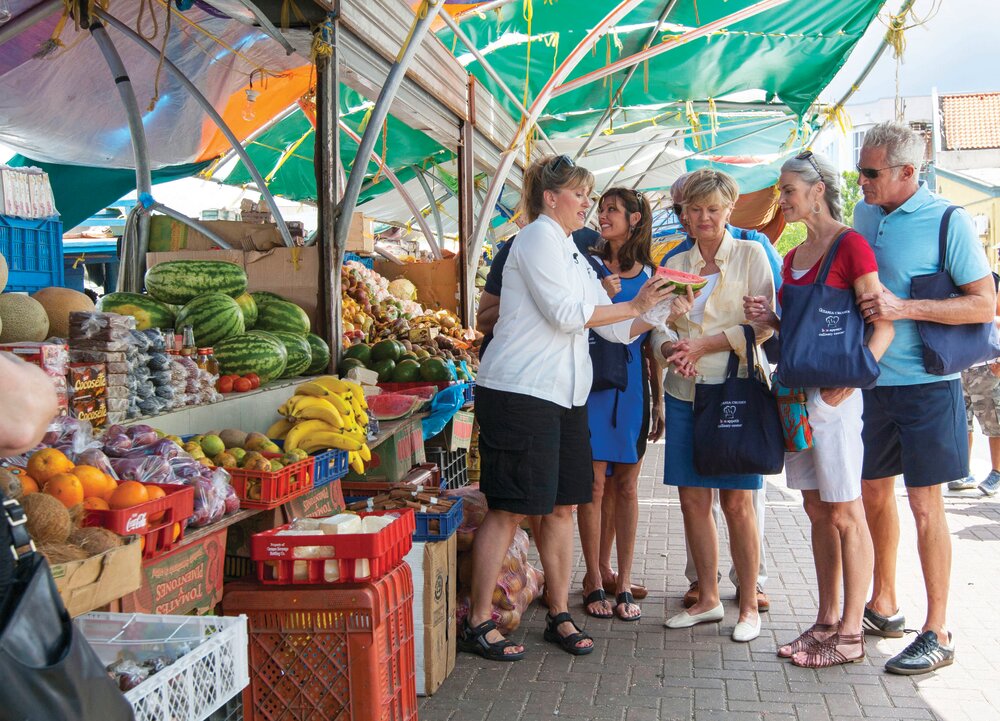 On shore culinary tour
Essential Alaska – savings of up to US$1,034 per stateroom
Ship: Regatta
Itinerary: Vancouver to Seward
Departing: 13 May 2024 (7 days)
The brochure says: Experience the very best of spectacular Alaska, including Ketchikan's brightly painted Creek Street district, Skagway's striking mountainous backdrop, Juneau's inspiring frontier history and the breathtaking beauty of Hubbard Glacier.

Dunes to Renaissance Gems – savings of up to US$5,484 per stateroom
Ship: Riviera
Itinerary: Dubai to Rome
Departing: 14 May 2024 (34 days)
The brochure says: This grand voyage begins with eight relaxing days at sea for the chance to fully relax and settle in before cruising to iconic ports including Dubrovnik, Venice, Barcelona and Monte Carlo alongside lesser-known destinations such as the Sicilian ports of Taormina and Palermo as well as Cagliari on the island of Sardinia, plus the charming Greek gems of Corfu and Katakolon.
In the Path of Cartier – savings of up to $1,640 per stateroom
Ship: Nautica
Itinerary: Boston to Montreal
Departing: 17 October 2024 (11 days)
The brochure says: Much like the fearless 16th-century explorer Jacques Cartier, you'll be awestruck by the autumnal beauty of Atlantic Canada and the St. Lawrence River, where cosy harbours such as Sydney and Saguenay star beside regal Halifax and Quebec City.
BUILD YOUR OWN TRAVEL BUSINESS. JOIN TRAVEL COUNSELLORS' NEXT EVENT TO FIND OUT HOW
Kiwi & Aussie Majesty – savings of up to US$4,100 per stateroom
Ship: Regatta
Itinerary: Auckland to Sydney
Departing: 8 December 2024 (14 days)
The brochure says: Become a Kiwi connoisseur with seven enlightening days roaming New Zealand's North and South Islands as well as the stunning fjords of Milford Sound. In Australia, visit bewitching Tasmania and explore Melbourne's European boulevards and many cultural attractions with an overnight stay.
Antarctic & Patagonian Joy – savings of up to US$4,307 per stateroom
Ship: Marina
Itinerary: Lima (Machu Picchu) to Buenos Aires
Departing: 21 December 2024 (24 days)
The brochure says: Experience an extraordinary festive season as you weave among the spectacular Chilean Fjords, venture to Antarctica's icy reaches, mingle with penguins in the Falkland Islands and hit the town in vibrant Buenos Aires, where you'll enjoy an overnight stay.
For more information, visit www.oceaniacruises.com