The line will raise standard minimum salaries and revise social security cover
Signalling a first in France's cruise sector, Ponant and the International Transport Federation (ITF) have signed an agreement aimed at addressing social issues regarding Ponant's non-EU seafarers working under the Maritime Labour Convention.
From recruitment conditions to wages, including social security cover, working hours and contract terminations conditions, all the topics have been approached and the agreement is in line with the 'Explore to Inspire' roadmap led by Ponant CEO Hervé Gastinel.
RELATED:
MSC Cruises' first LNG-powered ship to be named in Doha
Norwegian Cruise Line updates SailSAFE protocols
Quark Expeditions launches season with new ship Ultramarine
Benefits that will apply from 1 January 2023 aboard Ponant ships include overtime being counted from 44 hours (instead of the current 48 hours), standard minimum salaries raised for operational staff, an extension to the sick leave period and a raise in death and disability compensations.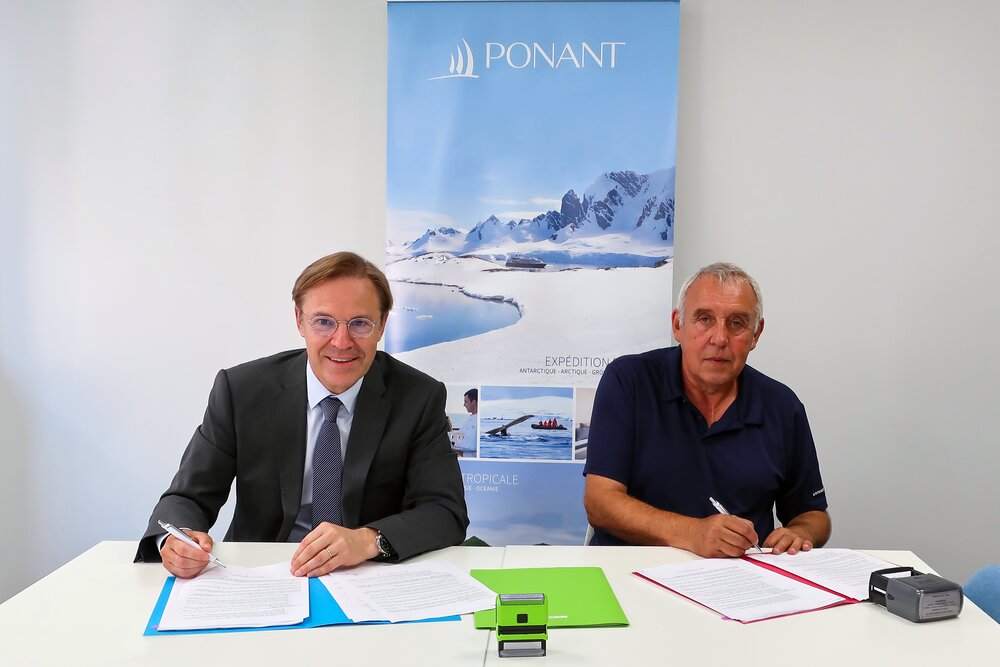 Pascal Pouille & Hervé Gastinel
The ITF agreement, negotiated by both François Vielfaure, Special Advisor for Marine Operations, and Thomas Verdier-Fuentes, Fleet Crewing Director, is a milestone on this maritime company's CSR road map, the central pillar of which is focused on employees.
GET YOUR FREE 48-PAGE GCC TRAVEL & HOSPITALITY REPORT HERE
Commenting on the announcement, Ponant human resources director Thierry Le Carpentier said: "Ponant is above all a human adventure, firmly anchored in four core values: goodwill, responsibility, pioneering spirit and expertise. Acutely aware that it's thanks to our employees' commitment that Ponant maintains its course, despite the health and economic crises rocking the world, the Human Relations and Resources and Operations teams strive constantly to improve wellbeing at work, skills development, and inclusion."
Ponant CEO Hervé Gastine added:. "This agreement is a major commitment that positions Ponant at the best social level, on an international scale. Our seafarers can be proud of it."
For more information, visit www.ponant.com