Connecting Travel's sister publication Aspire hosted 25 agents an AmaWaterways fam trip. Erica Bush reports
We stand, mesmerised, in the half-light of the cathedral, gawking at the clock. It rises before us, nearly 20 metres tall, its many cogs and parts moving in perfect synergy. It's hard to know where to look: there's a planetary dial, a perpetual calendar, clock dials measuring mean solar time and central European time, and a display denoting the positions of the sun and the moon.
Luckily, we've arrived in time for the main event: a procession of figurines representing Christ and the Apostles – a spectacle that occurs every day at half past noon. The object of our attention is the astronomical clock inside Strasbourg's Cathédrale Notre-Dame – the most visited cathedral in France after Notre-Dame in Paris. It was unveiled in 1843 and is the third clock to sit on this site – previous iterations date back to the 14th century.
Its sophisticated mechanisms, the brainchild of countless artists, mathematicians and technicians, are so spellbinding we stand and stare for at least 20 minutes. Sunbeams streak in through stained glass windows as our guide, Minnie, talks us through each component, a wide smile across her face. She is endlessly enthusiastic about her hometown of Strasbourg and on a whistle-stop walking tour of the city, we soon understand why.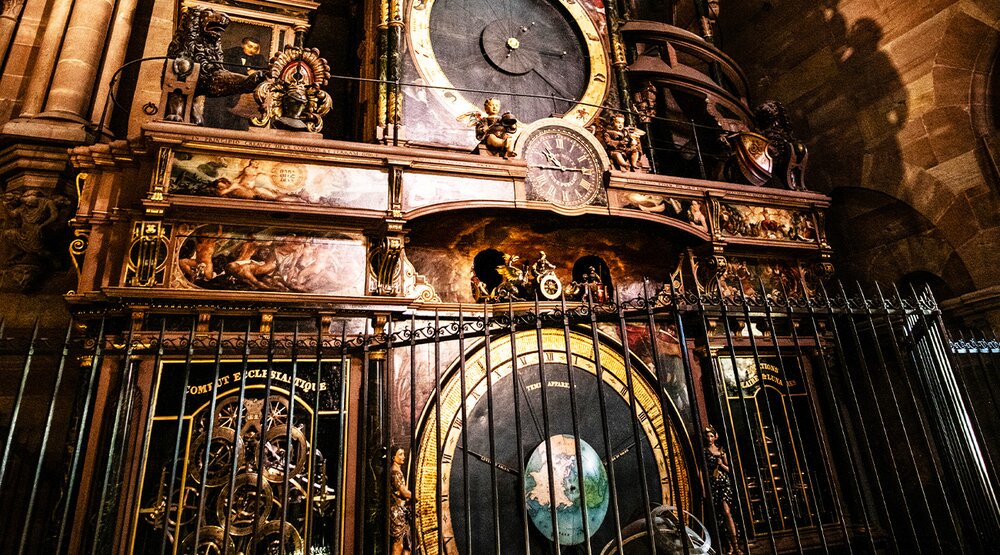 The capital city of the Grand Est region, formerly known as Alsace, in northeastern France is enveloped in Christmas cheer during a visit in late November. Shops bursting at the seams with chocolate, biscuits and pastries seemingly line every cobblestone street, while Alsatian restaurants adorned in fairy lights welcome passers-by in from the cold. The smell of bredele (Alsatian Christmas cookies) wafts down narrow lanes in the quaint area of Petite France, where pretty bridges criss-cross peaceful canals and well-preserved half-timbered homes such as the Tanners' House – which was built in 1572 – reside.
Christmas-mad clients will be well catered for in Strasbourg, a city that markets itself as the 'capital of Christmas' and hosts the oldest festive market in France, Christkindelsmärik, which sees more than 300 wooden chalets pitch up across the city's squares.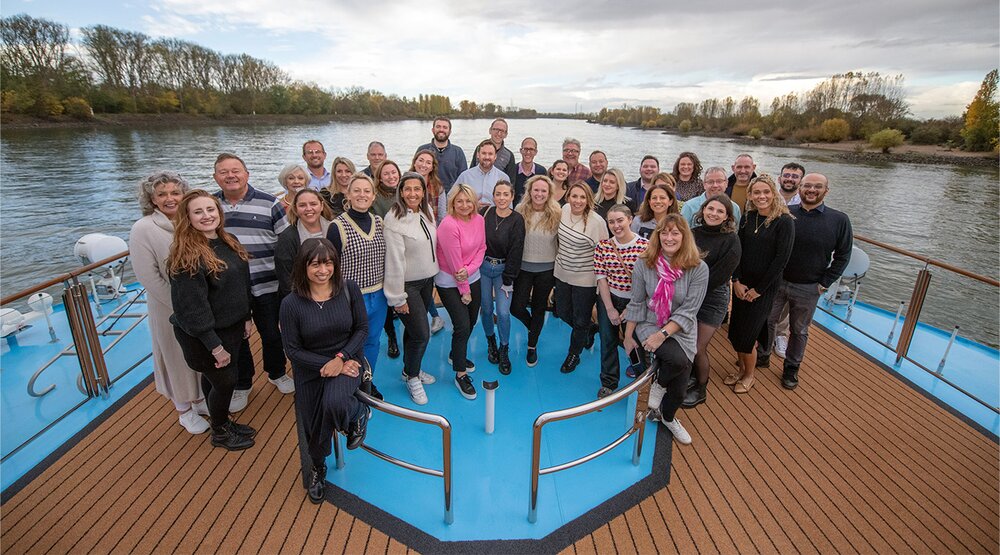 Adventures on the Rhine
But Strasbourg is just one of many European city gems on AmaWaterways' Enchanting Rhine river cruise, a leisurely, seven-day sailing from Basel to Amsterdam. Sampling the Basel to Frankfurt leg, our home for five days is AmaMora, one of the line's newer river ships. Built in 2019 and sister ship to AmaLea and AmaKristina, the vessel's biggest draw is its twin balcony staterooms, which encompass both a French balcony off the living area and an outdoor balcony from the bedroom – perfect for clients seeking outdoor space.
The vessel features 78 staterooms, of which 12 are family cabins, six are connecting and four are suites. The suites are a worthy investment, offering ample space to relax in, with a larger sitting area, expansive bathroom including a bathtub and separate shower, and a bed facing the river. Elsewhere, there's two dining options, the Main Restaurant and The Chef's Table, and amenities including a pool with a swim-up bar, a sundeck (and outdoor walking track), a compact fitness room with treadmills and weights, a small spa, and a fleet of bikes for in-port exploration.
The heart and hub of the ship is the Main Lounge, which offers everything from champagne and cocktails to afternoon tea and tempting tapas – and plays host to evening entertainment and excursion briefings.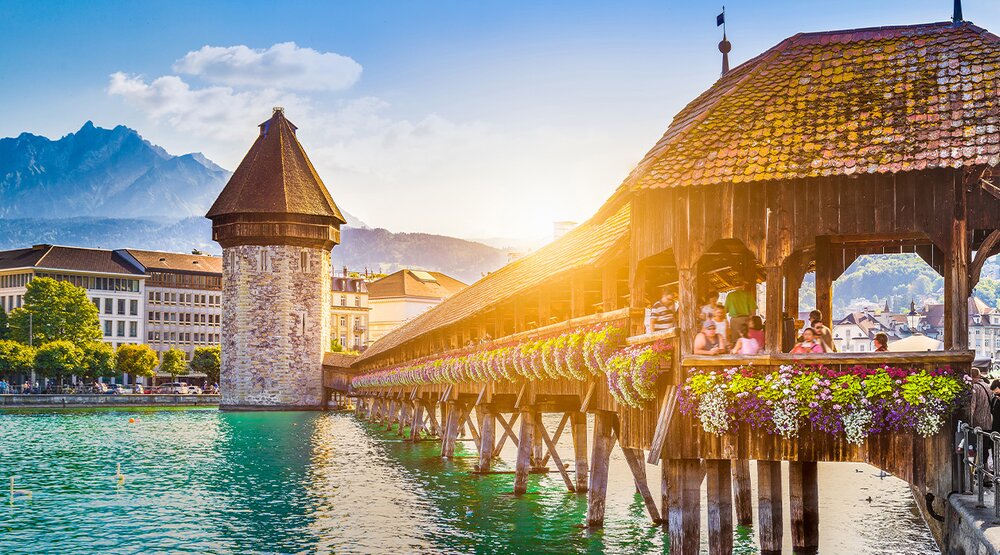 Old Meets New
Our itinerary begins in Basel, Switzerland's third most-populous city. It's namely known as the home of Art Basel, the world's leading international art fair, and the birthplace of tennis legend Roger Federer, but a jaunt around the city proves there's plenty more to it than that. Basel is a contrast of old and new architecture, with modern buildings such as the Roche Towers and the Basel Exhibition Centre rubbing shoulders with the well-preserved medieval Old Town.
The latter is centred around Marktplatz; its main resident, the City Hall, resplendent with a bold red façade. Wander the city and marvel at the Mittlere Brücke bridge, one of the oldest Rhine crossings between Lake Constance and the North Sea; the 800-year-old Basler Münster (Cathedral), an icon of Basel's cityscape; and viewing terrace Pflaz, which serves up long-ranging vistas of the city and the Black Forest and Vosges mountains beyond.
RELATED:
Get 30% off for every guest with Royal Caribbean
Search all available cruises at the Connecting Travel Cruise Hub
Enjoy 35% discount on all NCL cruises
Visitors shouldn't miss a ride on one of the city's river ferries that transport guests from one side of the Rhine to the other using the power of river currents alone. A stop (or stay) at the city's grande dame, Grand Hotel Les Trois Rois, is also a must. Founded in 1681 as a gentlemen's inn and rebuilt in 1844 as a hotel, it's one of the oldest city hotels in Europe. A member of The Leading Hotels of the World, it boasts a three-Michelin-starred restaurant and a clutch of gorgeous and historic suites, including Federer's favourite, Suite Les Trois Rois, which comes with a private roof terrace and Jacuzzi overlooking the city.
While docked in Basel, guests have the option to make the 90-minute drive to the charming Swiss city of Lucerne. Best explored with a hot chocolate in hand, Lucerne is a city for strolling: along the banks of Lake Lucerne, a glassy disc of ultramarine flanked by snow-capped peaks; across Chapel Bridge, the world's oldest surviving truss bridge; and into the traffic-free Old Town, home to meandering lanes, picturesque squares, tall painted houses – and more chocolatiers than you'll know what to do with.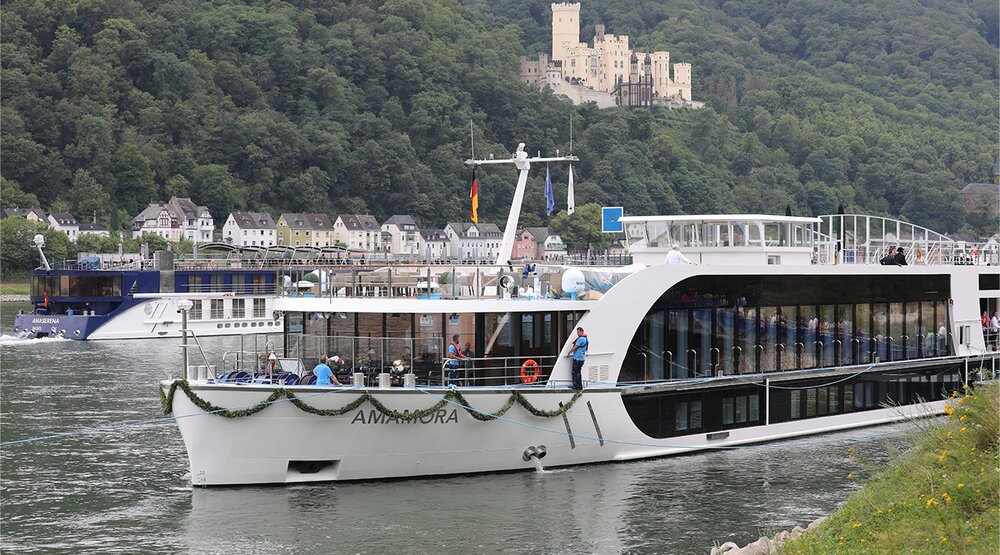 Sailing Onward
Back on board, AmaMora sets sail for France, stopping in Strasbourg for the day, before heading north onto Germany. Here, our next stop is Ludwigshafen, a bleak, industrial port that acts as a springboard to a range of nearby cities: Heidelberg, Speyer and Ladenburg, to name a few. Most are enticed by handsome Heidelberg, known for its romantic location between the lazy Neckar River and the foothills of the Odenwald forest.
Visitors usually make a beeline for fairytale-esque Heidelberg Castle, an imposing sandstone structure restored from the 13th-century that sits atop a hill, the colours of autumn unfolding around it.
We tour the courtyards and corridors of the famous castle, admiring, among other things, the huge barrel residing in its wine cellar. Constructed from 130 oak trees with a capacity for 221,726 litres, it's thought to be the largest barrel in the world.
Torrents of driving rain cut our tour short and there's only one thing for it: hot drinks and pastries in the Old Town before heading back to our floating home. The rain stops by the time we reach our final port of call: Rüdesheim, a sleepy village in the heart of Germany's Rheingau region, famous for its boozy coffee. Rüdesheimer Kaffee is impossibly sweet and alcoholic, made with Asbach German brandy, hot coffee, three sugar cubes and lashings of whipped cream.
We watch in astonishment as staff in a tiny restaurant, occupied by no one else other than ourselves, churn out coffee after coffee at an impressive rate, visibly full of pride for their favourite drink. The tipple might not be for everyone, but it's impossible to leave without trying it – and, like the astronomical clock in Strasbourg, yet another curious delight on our enchanting Rhine adventure.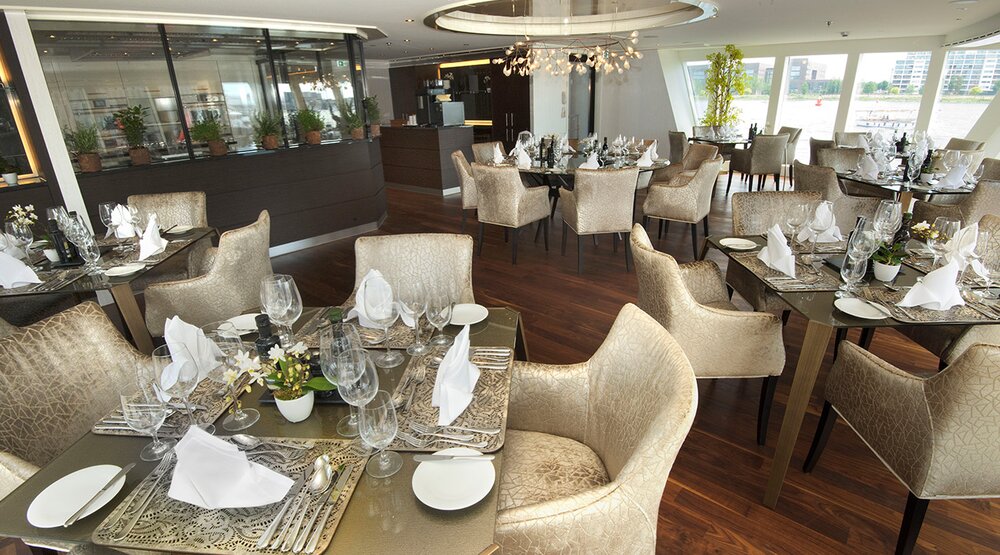 ---
Agents' Views
Hannah Vincent, Select World Travel: "The Retreat is an excellent way to build business relationships and make new ones. Combined with the hosted destination and product, it is a really informative few days away. I returned with different ideas for future marketing, gained product knowledge and made new friends and business connections. My highlight was the bike tour in Strasbourg. It was great fun whizzing through the beautiful French city, without realising you are still talking business!"
Dave Allen, Andara Travel: "Hosting The Retreat on the lovely AmaMora was an inspired choice. I had quality time with a wide range of luxury operators while enjoying a range of activities with them and fellow luxury agents in the Swiss Alps and in spectacular locations such as Strasbourg. The whole event was seamlessly organised and I came away having learned so much!"
Sheena Sumner, Wonderluxe Travel: "I had the pleasure of attending another well-planned and fun-filled Aspire Retreat – this time on the warm and inviting AmaMora. There is nothing Aspire doesn't think of when planning The Retreat, and the event continues to be the perfect blend of activities, downtime and supplier meetings. It was great to see Europe from the water and riversides. I had some very valuable meetings with new and existing suppliers. Thanks again for a cracking trip."