Gili Lankanfushi's GM explains how to respect the Maldives' cultural, social and environmental climate
The innate desire that all of us have to travel, discover different parts of the world, interact with new people and learn more about new societies and traditions, is what makes the travel and tourism industry such a special one.
But this shouldn't come at a cost. With the pressing issue of climate change and the pressures from the international community and consumers alike, it has never been a more crucial time than right now for hotels to incorporate sustainability into their business models and truly demonstrate their commitment to ecotourism.
Travellers, especially within the Gen Y and Gen Z groups, are becoming more conscious of the environmental impacts of how they choose to live. This includes everything from the products they purchase, the brands they endorse and, of course, where they choose to stay when travelling. Therefore, lip service or 'greenwashing' is, quite rightly, no longer an option.
RELATED:
Comment: "Consumers trust other consumers"
Comment: 6 ways to impress post-pandemic hotel guests
Comment: Naim Maadad on making Gates Hospitality more sustainable
According to multiple reports from NASA and the US Geological Survey, with the current rate of global warming, almost 80% of the Maldives – the group of islands we call our home – could become uninhabitable by 2050.
Gili Lankanfushi has consistently proven that luxury travel and eco-responsibility can exist simultaneously. We pride ourselves on our laid-back service philosophy, rustic and yet elegant design and pristine natural surroundings, and are well known for ethical, sustainable and barefoot luxury in the Maldives.
Coral monitoring
Collect data
The hospitality industry can't improve what it doesn't measure. And while it can be challenging to calculate the environmental impact of a resort, for us it's important that we do so. Hoteliers who measure their hotel strengths can then benchmark against developments, whether on a monthly or annual basis. In turn, this information can show how green, eco-friendly initiatives can be integrated throughout the business model and how they can constantly be improved to progress towards a more sustainable future. Also, this will undoubtedly encourage healthy competition within the industry and attract eco-conscious travellers along the way.
Gili Lankanfushi strives to achieve international best practices in terms of sustainability. We have achieved Silver Certification by EarthCheck, the leading certification program used by the travel and tourism industry to help businesses reduce their impact on the environment while reducing operational costs. It's our job to collect data from around the resort to ensure we're on track for our annual benchmarking assessments, and we are also developing various policies, including an environmental monitoring system and a sustainability action plan, to keep us on the right path.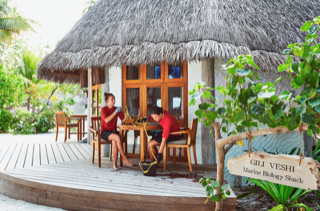 Gili Veshi
Communicate
Secondly, to build trust and generate guest loyalty, hotels need to be able to clearly communicate their story. Brands that are truly trying to make a difference should be able to find openings to share their sustainable practices, whether that's highlighting green certifications, showcasing volunteer experiences through blog posts, or reporting how much waste the resort has avoided in greener practices. At Gili Lankanfushi, we have a dedicated Marine Biology Shack called Gili Veshi, as we have made a commitment to the rich marine biodiversity that encircles our island.
Since 2012, we've employed marine biologists who manage the resort's coral reef, spread environmental awareness, support guest experiences and keep our management informed of any ecological issues. Communicating a resort's sustainability goals, efforts and achievements through social media and on the main website can support in developing confidence with consumers, and therefore we keep our followers and guests up to date with everything that we do.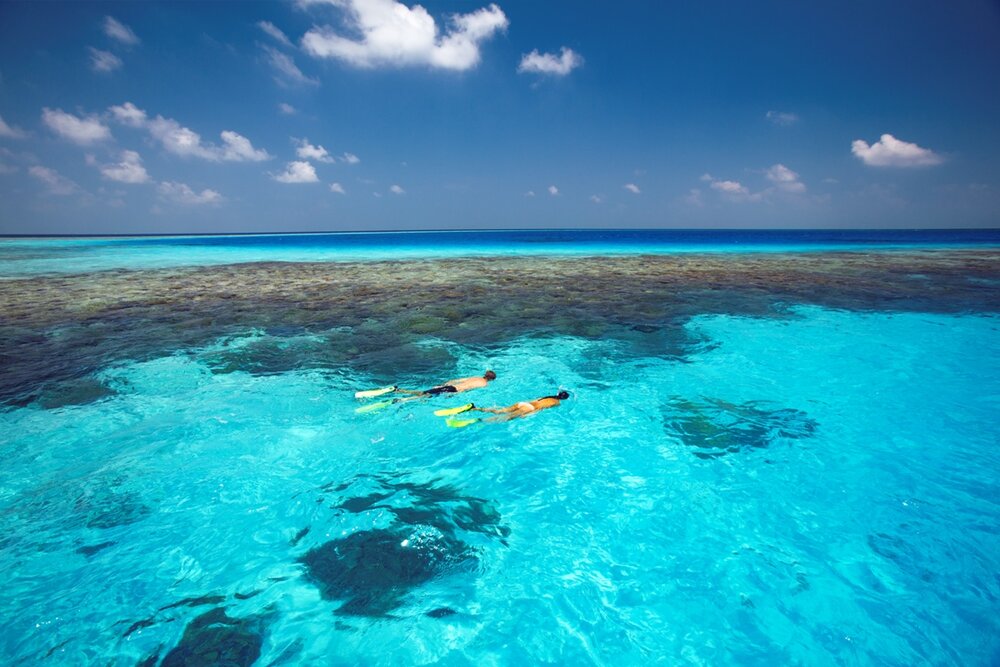 Guests snorkelling in the lagoon
Let guests participate
Lastly and most importantly, hotels should be able to offer guests the chance to get involved with their sustainable initiatives first-hand, educating them on what it is we do, why it's important and how they can continue the sustainability drive long after they have left the island. At the resort, we inform and engage guests through biweekly presentations on manta rays and turtles, and constantly host guided snorkelling trips with an educational twist.
GET YOUR FREE 48-PAGE GCC TRAVEL & HOSPITALITY REPORT HERE
As part of the resort's Coral Lines' project, the resort is currently home to 330 coral lines, deployed to help breathe new life into the island's natural environment and surrounding lagoons. As the first resort in the Maldives to work on low-tech, high-efficiency coral reef recovery techniques with rope, the one-of-a-kind project nurses the corals in the lagoon for one year before transplanting the ropes. Guests can have an unforgettable close-up encounter with coral: from guided snorkelling trips with the Marine Biology team, having the chance to be hands on and make their very own coral line, or even donating their very own coral line as a parting gift to the island's beautiful, blossoming ecosystem.
For more information, visit www.gili-lankanfushi.com