Travel industry leaders reveal their career path to the top and the lessons learned along the way
Ultimately, the man responsible for delivering the Rotana brand promise of creating 'Treasured Time' for guests, Guy Hutchinson is involved in every aspect of Rotana's portfolio, which includes more than 100 properties across 24 cities throughout the Middle East, Africa, Eastern Europe and Türkiye.
What does a typical day in your current role involve?
A great thing about the hotel business is that there is no such thing as a typical day. It involves a lot of travelling to meet the teams and our partners as well as visiting properties in operation and under development to ensure we are on track with our expansion plans. As CEO, I'm involved in every aspect of the business.
As the group continues to grow its footprint, I remain focused on looking after the team and ensuring seamless communication across the company to continue delivering our brand promise of 'Treasured Time'.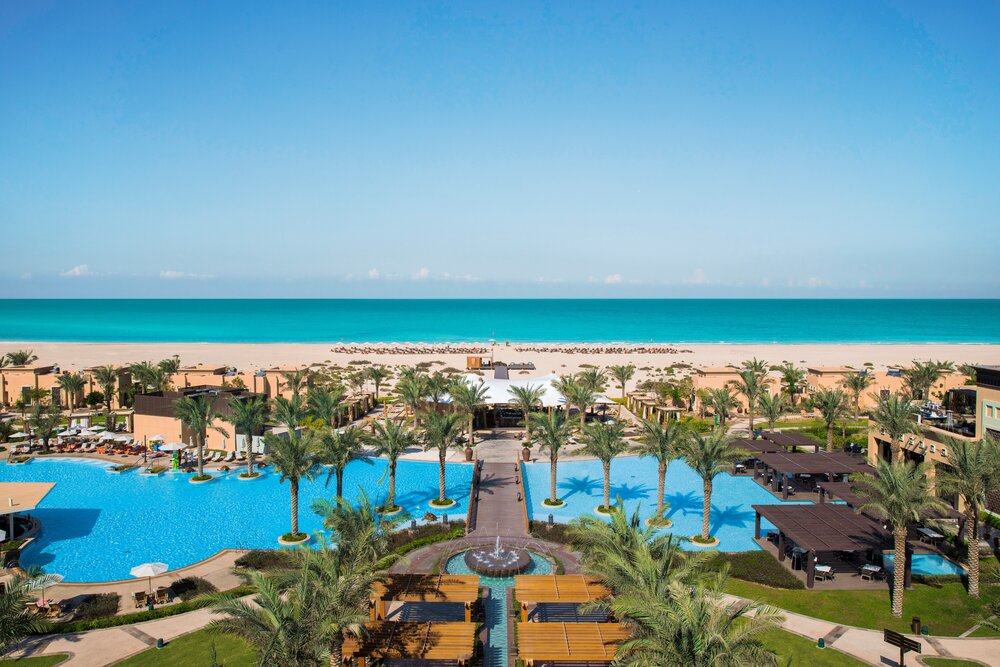 Saadiyat Rotana Resort & Villas, Abu Dhabi
What was your first job in travel?
I started my career in the hospitality industry as a young management trainee in the UK for a big hotel group. After that, I pursued a career in hospitality and travelled the world, including markets as diverse as the Middle East, Japan, Australia, China and India. I joined Rotana as Chief Operating Officer in January 2014 to further drive the company's credentials in global markets, ensuring the scalability of its business model and increasing shareholder value.
In 2020, I assumed the role of President & CEO after serving a year as Acting CEO of the company
What advice would you give your 20-year-old self?
In my 20s, I worked incredibly hard and while those are the years to give it your all, I would advise my younger self to find a better balance between work and leisure. Dedicating time to taking care of oneself is very important to stay energised and continue doing what you love.
What has been your biggest career mistake?
A mistake I've made in the past was leaving the hospitality industry. I went into consultancy for three years before I realised how much I missed the hustle and bustle of hospitality, eventually leading me back to it.
Have you ever had a mentor?
I was fortunate to have a number of mentors that left a remarkable impact on my career. One is Roberto Payer, who was – back then – one of the general managers of a hotel in which I worked, and from whom I learned a great deal. Another one is Des Pereira, who helped me gain more understanding and in-depth knowledge of company and financial structure, shaping my strategic thinking skills.
RELATED:
How I got here: Jochem-Jan Sleiffer, Hilton president, Middle East, Africa and Turkey
How I got here: Tim Cordon, COO of Radisson Hotel Group, Middle East & Africa
How do you continue to develop and expand your skill set?
Wherever you are in life, I believe it's important to keep learning every day. I have always been a believer in structure, and I implement it into my personal and professional life. Improving your skill set and continuing to learn is fundamental, and if you don't structure it in your daily life, it won't be sustainable. For instance, one of the things I do every day is read for thirty minutes.
Which moment in your career would you most like to relive?
There are so many memorable moments, but if I have to choose one; it would be when I opened the first hotel for an international hospitality group in the UAE.
Would you advise others to enter the travel industry today?
Absolutely. Working in the hospitality industry is incredibly rewarding. You work hard; however, you are also in a position to unlock a lot of opportunities to travel the world.
At Rotana, learning and development is a key priority for the group. We encourage young graduates and industry professionals to join the team and we deliver curated training programmes and mentoring to support them throughout their careers. We have an incredibly talented and diverse team and we are committed to creating a purposeful and inspiring work culture.
Working in such a diverse and dynamic industry will also introduce you to a variety of people coming from all walks of life, which is priceless
What is your strategy when hiring staff?
We are looking for people who are passionate about the industry and who share our values. At Rotana, we ensure the hiring process remains structured and the requirements brief is clear to select the right candidates. I always keep an open mind as we never know where we will meet great people.
Which countries have you most enjoyed working and living in?
I've been lucky to have had the chance to live and work in several parts of the world. I loved being in Australia and Shanghai, but Japan is also one of my favourite countries. Nevertheless, I have always felt a deep connection to the UAE; I lived here from 1998 to 2002, returning in 2014, and I love it.
What's your favourite holiday destination?
One of my favourite vacation spots for unwinding is the Maldives. I love being near the water and the Maldives is the perfect mix of relaxation and thrilling underwater activities.
GET YOUR FREE 48-PAGE GCC TRAVEL & HOSPITALITY REPORT HERE
Favourite restaurant?
That's a difficult one, but if I had to choose, I'd say State Bird Provisions in San Francisco in the United States, which when it opened set new and different dining standards. It has a rustic-urban storefront and serves American small plates dim sum-style; a great combination of authenticity and modern flair.
Favourite hotel?
Again, there are so many stunning hotels, but one that I really enjoy is Rawah Ranch in Colorado in the United States. It's an incredible authentic dude ranch [cattle ranch converted into a holiday centre] and fishing lodge with nine cabins, situated in a beautiful and unspoiled valley.
If you've thought about retirement, what's your plan?
I can't say that I've given it much thought, but if retirement were imminent for me, I'd settle here, in the UAE.
What would you most like to be remembered for?
I'd love to be remembered as someone who added value to what he's doing. Whether it's related to businesses or people, I always aim to create value and try to leave a positive impact wherever I can.