The group general manager on working with the trade, launching in Zurich and being a disruptor
A homegrown Dubai brand, FIVE Hotels and Resorts has established itself as a culinary and nightlife destination in the UAE, catering to a globetrotting Millennial audience. In 2022, it expanded into Europe, launching FIVE Zurich. In doing so, it joined the ranks of UAE-born brands to successfully expand overseas, showing the world what Emirati hospitality is made of. Connecting Travel talked to group general manager Akshay Bajaj about how 2022 was a defining year for the brand and how it intends to work with the travel trade in 2023.
Connecting Travel: How does FIVE plan to support the travel trade in selling FIVE Hotels and Resorts in 2023?
Akshay Bajaj: FIVE will participate in key international travel trade exhibitions, roadshows and events that are focused on the GCC market. In addition, we also have great relationships with our travel partners and will continually engage with them at events. We host them at the hotel so they can experience the vibe at FIVE first-hand and invite them for team events and catch-ups to maintain these long-term partnerships.
CT: Having successfully expanded into Zurich, what were biggest challenges of launching the hotel?
AB: Staying true to the brand's DNA, FIVE Zurich is an experiential entertainment-cum-dining destination for business and leisure travellers alike. All new launches bring a new set of challenges; how one adapts to these challenges is what makes all the difference. With FIVE Zurich, we have carefully curated our gastronomic events and entertainment offerings to suit the discerning Swiss audience and introduced new concepts, along with our signature FIVE-styled events for our audience based in Europe, complete with "FIVE-star" customer service. FIVE Zurich has a 9/10 rating on Booking.Com, demonstrating FIVE's early approval from guests.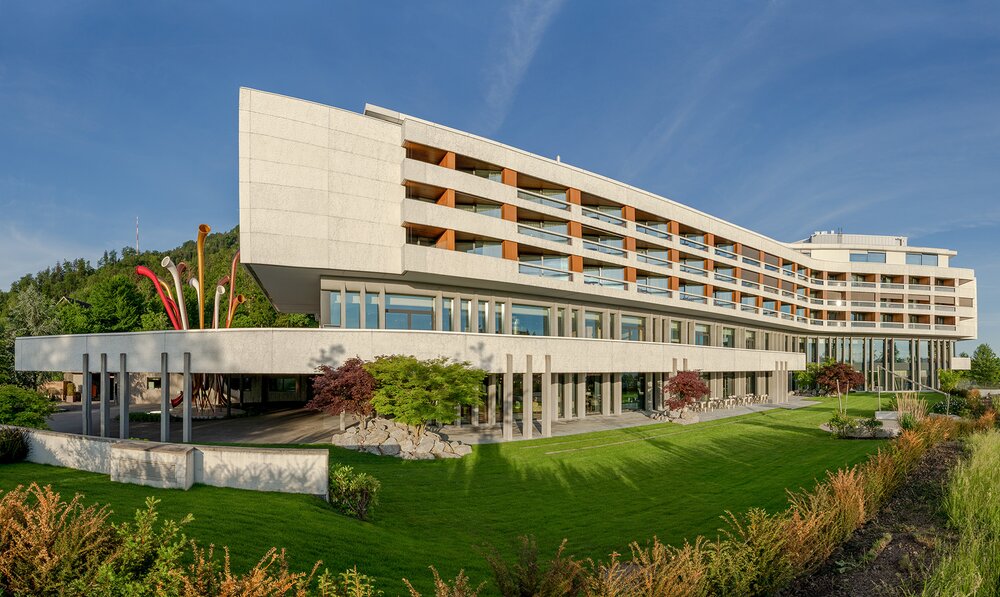 FIVE Zurich
CT: The property has a famous history as a hotel under different management. Can you tell us about that?
AB: FIVE Zurich has a rich, storied history. Several celebrities have previously stayed at this phenomenal property, including Muhammad Ali to Elton John, Freddie Mercury and Rihanna. Since its launch as FIVE Zurich, it has been visited by the likes of Brandon Mayers and Gabby Dawn Allen, Lost Frequencies, Topic, Joel Corry and Farhana Bodi. We wanted to tell a story of this impressive legacy through art at FIVE Zurich. We commissioned famous Swiss street artist REDL to create a 43-square-metre multiple portrait composition at the entrance of the hotel. The piece pays homage to the famous people who once stayed at the property.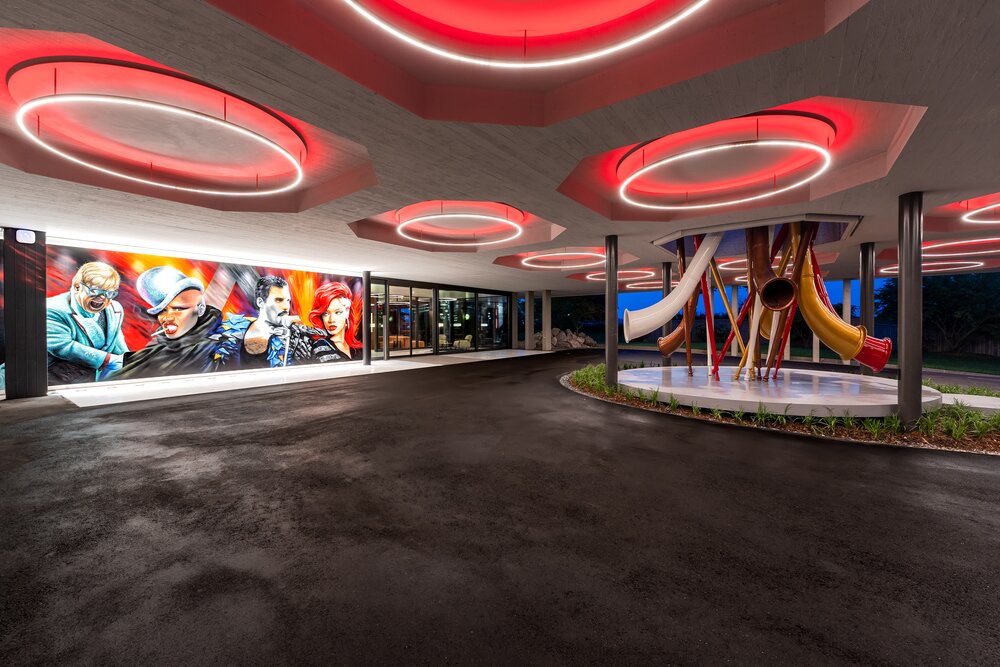 REDL's mural
CT: The hotel's pillars include art and music. How do guests experience these pillars?
AB: Music lies at the core of FIVE's ethos and inspired by that, we designed a grand glass chandelier, framed by FIVE Zurich's central staircase. Stretching from the rooftop to the ground floor, the chandelier is a visual illustration of how the human brain reacts to music. FIVE Zurich showcases art pieces that were created specifically for the hotel by local artists to honour the hotel's heritage. Empowering emerging talent, we've also partnered with Fine Art students at the Zurich Centre for Creative Economics (ZCCE) to create customised art works for every suite – all of which are beautifully inspired by Zurich's greatest commemorative moments
CT: What are your target markets?
AB: FIVE Zurich is a much-loved travel destination for visitors from the UAE, Kuwait, Saudi Arabia, Qatar, the UK, the US, Germany, France and the Netherlands. Zurich is a preferred destination for GCC travellers and the GCC is a key market for FIVE, contributing 27% of our total bookings.
FIVE Zurich is perfectly positioned for skiers headed to the slopes, the city visitor in search of a local hangout, the leisure traveller looking for a luxe haven or the business executive on a layover.
CT: How are you leveraging the Dubai brand to attract international markets?
AB: A significant percentage of European travellers stay at FIVE Hotels and Resorts in Dubai – FIVE Palm Jumeirah and FIVE Jumeirah Village – amounting to 34.4% of our visitors, of which 1.23% are Swiss nationals. We offer the very same vibe at FIVE in Europe while building upon its existing fame in the European market.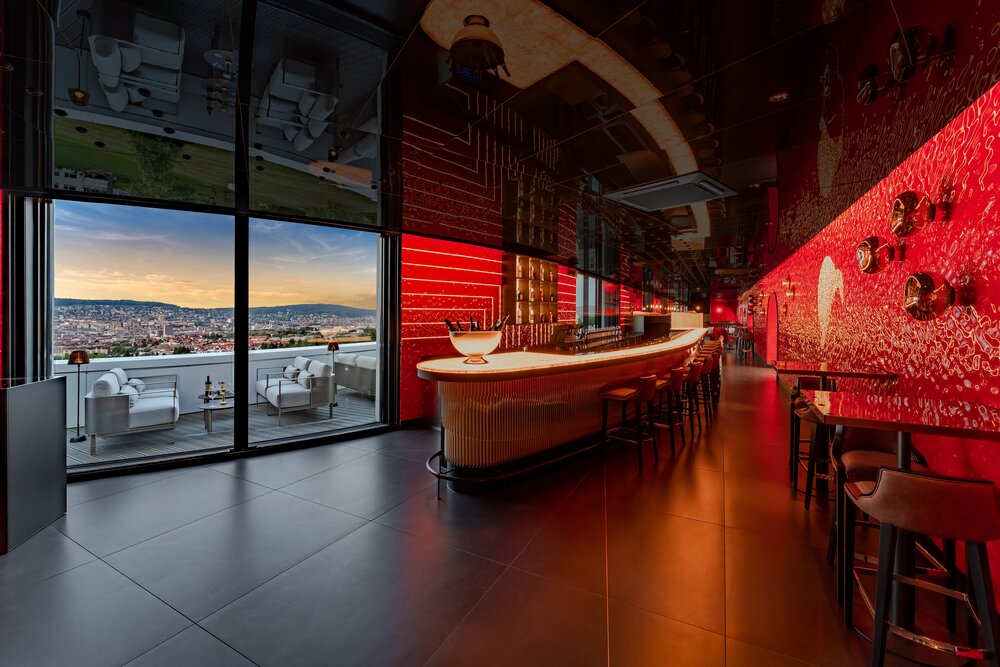 The Penthouse, FIVE Zurich
CT: You describe FIVE Zurich as a disruptor in the city's hospitality market. Why is that?
AB: FIVE Hotels and Resorts are not just hotels, they're luxury lifestyle destinations. Each of our hotels are designed around the ethos of offering guests a 360-degree vibe at FIVE. FIVE Zurich is home to seven culinary and nightlife destinations that come alive with the "Sound of FIVE", playlists by our resident DJs, as well as internationally renowned artists such as Lost Frequencies, Topic, Tube & Berger, Raffa, Afro bros, Regard, Korolova, Burak Yeter and Joel Corry.
FIVE Zurich also invites diverse gastronomic experiences in Instagrammable settings, from the incredible rooftop at The Penthouse Zurich and authentic Chinese favourite, Maiden Shanghai Zurich with a glamorous terrace, to Soul St Zurich, which features street art from well-known artists and The Vault Wine Bar and Cigar Lounge. ReFIVE Spa with a mountainside indoor pool and jacuzzi, rounds off the FIVE Zurich experience.