Melia Desert Palm GM discusses the importance of small touches in a niche hotel
Growing up in a family of hoteliers in Prague, Pavlina Tarabova Alghamdi began her career as a housekeeper in her family's properties before progressing to leadership positions in Europe and the Middle East, working with international chains such as Ritz-Carlton and JW Marriott Marquis.
Her passion for people, diversity, and nature, particularly horses, eventually led her to her current role as the general manager of Melia Desert Palm in Dubai. This unique urban resort has a strong connection to horses, polo and nature, which she says perfectly aligns with her interests.
Connecting Travel: What makes you a good hotelier?
Pavlina Tarabova Alghamdi: Starting from the bottom and respecting every role in the hotel's seamless organism has taught me the importance of staying humble. Through my journey in hospitality, I have come to appreciate that success can only be achieved when teams work together. This has given me valuable insights into positive leadership and the importance of holistic and collaborative organisations.
RELATED:
Interview: Katya Herting on increasing hotel occupancy and revenue
Interview: One&Only's Craig Storkey on meaningful partnerships
Interview: Jean-Philippe Moser on attracting Middle East markets
CT: What are the USPs of your property?
PTA: No matter how many times I arrive at the resort, the thing that always strikes me is the sight of lush greenery, with the sight of 65 acres of nature that's far removed from the city landscape of Dubai. Part of this is our four polo fields and a riding school, which makes it a paradise for equestrians and nature lovers, with peacocks freely roaming the grounds. Our villas too are a particular highlight, each with a private pool, offering ample space and comfort and making them the perfect place to unwind and recharge.
CT: What are your key source markets?
PTA: Our source markets vary with the season. During the summer months, when the heat is at its peak, we cater mainly to GCC clientele. However, from October to April, when the polo season starts in the UAE, we welcome guests from all over the world. Our leading source markets during this period include the UK, EU and US, as well as Argentina, owing to the country's rich history and love for polo. Our property is a hub of activity during this period, as guests from all over the world come to experience the thrill of polo and the beauty of our resort.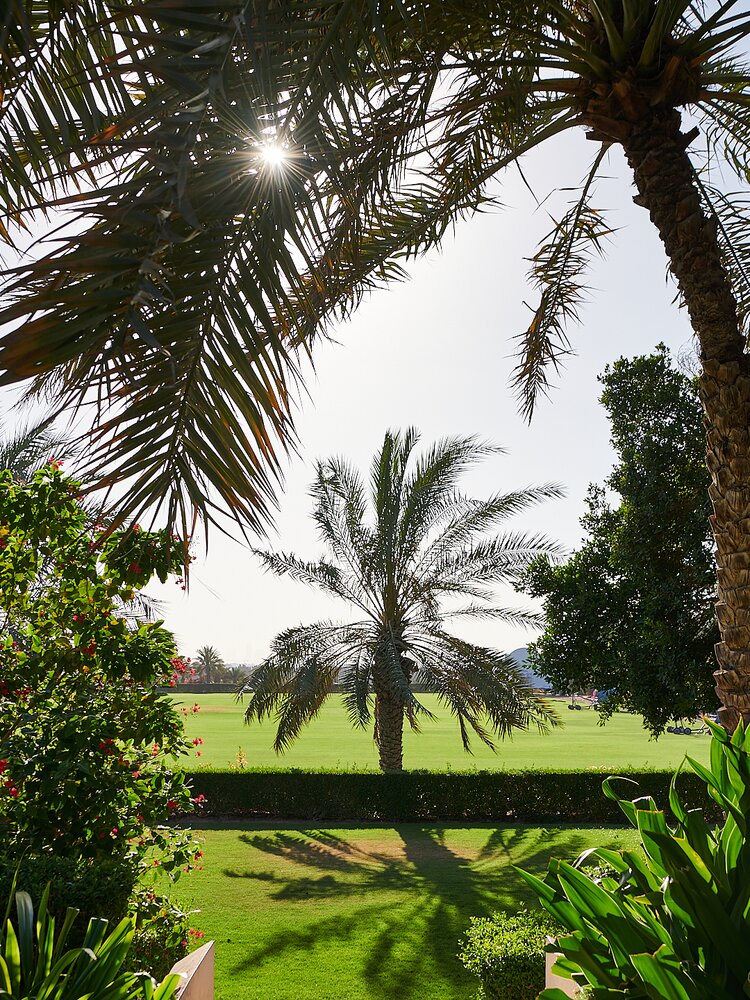 CT: How do you attract and cater to guests from the GCC?
PTA: Our GCC clientele is well-travelled and discerning, and Dubai is rightfully regarded as one of the best destinations in terms of service levels. Understanding the specific needs and preferences of different nationalities is vital to creating an exceptional guest experience.
Effective communication, managing expectations and being flexible are all key to ensuring our guests have a memorable stay. The diversity of our guests is what makes our work exciting and dynamic. Every day is a new challenge, and we take pride in our ability to cater to the unique needs of each guest. Our commitment to providing exceptional service is what sets us apart, and we are constantly striving to exceed our guests' expectations.
CT: Are guest expectations changing?
PTA: In my opinion, the key game changer in the hospitality industry is the shift from tangible aspects of the guest journey to non-tangible ones. Today's guests seek truly holistic experiences and genuine connections with the destination and its people. What matters most are the memorable moments shared with loved ones.
Hiring the right talent is crucial to success in this new paradigm. We seek individuals who understand that hospitality is all about being hospitable, present and focused, and who can deliver exceptional service with a genuine smile. Simply ticking off the boxes on a service checklist is no longer enough.
We hire for attitude, emotional intelligence, and integrity, valuing these traits over purely technical skill sets. It is this approach that enables us to create truly exceptional experiences that leave a lasting impression on our guests.
CT: How do you support and incentivise the travel trade?
PTA: At our property, we believe that commercial relationships, like any other, are a two-way street. To maximise long-term gains, it is important to understand the business and objectives of our partners fully.
As part of The Melia Collection, we are focusing on strengthening our presence in international luxury markets and our sales and marketing department is continually seeking out new partnerships and opportunities to attract more customers to our unique and luxurious property. For sales inquiries, please contact mutaz.mousa@melia.com.
GET YOUR FREE TRAVEL & TOURISM INSIGHT REPORT PRODUCED IN ASSOCIATION WITH DELOITTE
CT: Any upcoming developments that you can share?
PTA: As part of our commitment to providing our guests with the best possible experience, we are embarking on a comprehensive refurbishment of our hotel pool area. This project involves creating a beautiful and functional space that blends seamlessly with the Mediterranean-style design of our estate.
Our guests can look forward to an extension of the sunbathing area and the shisha lounge, as well as the addition of a new al fresco cocktail bar and outdoor dining area. These upgrades will transform our pool area into a luxurious and vibrant hub of activity, perfect for relaxing and socialising, where guests can enjoy the breathtaking views of the Dubai skyline as they soak up the sun or unwind with a shisha or refreshing cocktail in hand.
For more information, visit www.melia.com/en/hotels/united-arab-emirates/dubai/hotel-desert-palm-melia-collection