With wellness travel on the rise, standing out from the competition requires authenticity and positive energy, say Kamalaya's founders
Kamalaya is a successful wellness resort and spa on the coast of Koh Samui, one of Thailand's luscious green postcard islands. Its founders, John and Karina Stewart – a warm, welcoming, spiritual couple with a wealth of wellness knowledge – live just up the road. They are very hands-on.
Open since 2005, the backstory of Kamalaya Wellness Sanctuary & Holistic Spa, to give its complete title, is unique – and highly marketable.
Originally from Canada, having left home at 16 to travel the world, John lived as a monk in the Himalayas for 16 years under the tutelage of a Himalayan master embracing a traditional yogic monastic lifestyle while building an ashram.
Mexico-born Karina garnered more than 30 years of experience in Asian healing after studying to become a doctor of Traditional Chinese Medicine in the US.
ALSO READ: Review: Kamalaya Wellness Sanctuary & Holistic Spa, Thailand
The location of their wellness resort – a dream they formed when they first met at a meditation retreat hosted by John's yogi master – is built around a sacred cave once inhabited by Buddhist monks. Filled with offerings, Arjan Cave is accessible to guests who can meditate in the small, still, candle-lit space. Other activities at the retreat include yoga and Qi Qong, a practice that optimises energy flow within the body, in addition to three- to 21-day wellness programmes featuring multiple massages, infrared sauna sessions and traditional Chinese medicine.
Connecting Travel met with the couple to chart their wellness journey into hospitality and find out what the future holds for the Kamalaya brand.
Connecting Travel: How did your time as a monk prepare you for hotel ownership?
John Stewart: Without my time as a monk, I could not have done hotel ownership. The day I met my guru, when I walked into the jungle, I was his guest. And the next morning, I became his host. And I took care of everyone who arrived from that day forward for the next 16 years. From the very first day, my teacher taught me that true happiness comes from serving people, and I also learned the discipline of hard work.
We didn't use architects. My teacher would say, "I'd like a building there and I want a window here and a door there", and, in that process, I learned how to how to build things
We built beautiful temples and medical buildings, and I learned that the most important thing is the what's under the foundation; the infrastructure that holds the whole thing it what makes it work and become a living building. And because we built without architects, I learned every possible mistake you can make, so I insisted on architects and engineers to construct Kamalya.
Karina Stewart: The mistakes are the great teachers.
CT: The international wellness retreat space is fiercely competitive. How did you propel an unknown brand name to global recognition?
KS: Six months after we opened, I was pulled into on-the-ground operations, which I was not trained for, and I had to recruit for wellness with zero contacts. In the beginning, it was really difficult. We had to try to explain what the brand was to every person we hired. But there came a moment when there was enough of that core energy from core team members to create the momentum to move forward and started growing. The tipping point was maybe two years in when people who are part of the core team started referring Kamalaya to their networks, and because we had a core of the right people, it gathered momentum. We're very appreciative. And, of course, I believe in energy; Chinese medicine is all about energy. Once you gather the right kind of energy, it magnetises more.
JS: We also very quickly built a reputation and became influencers in the world of wellness because of the authenticity of what we do. And then people started to find us – team members as well as guests. People who come to work here also need a change in their lifestyle. We're very well-known employers in Thailand. When you empower people, they become great.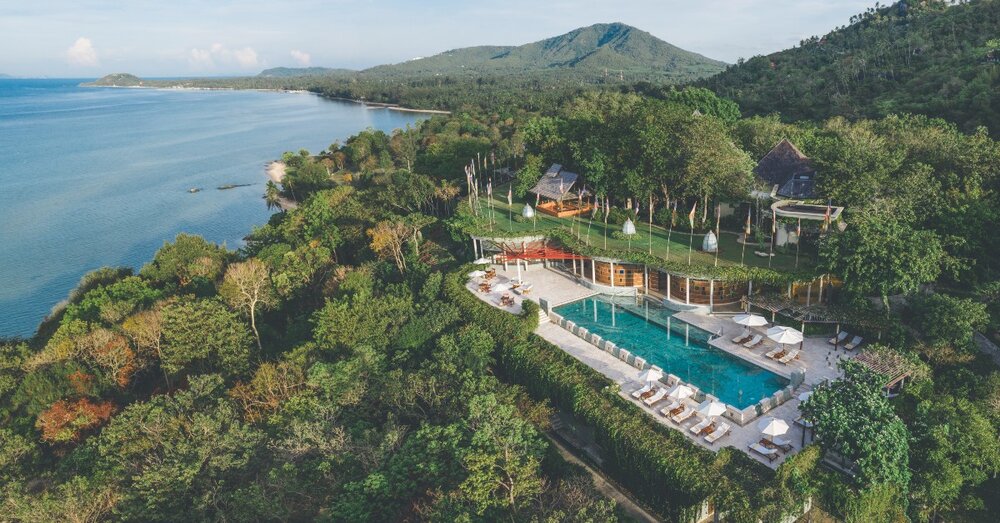 Kamalaya
CT: How did the pandemic impact business?
JS: In July [2021] when the government opened domestic markets, we pivoted and used social media to reach out to the Thai market. Our team developed a social media strategy, and we held weekly meditation and mindfulness classes online and hired a PR agency in Bangkok. We were virtually unknown in Thailand beforehand and became a sensation here. Wow! Our return rate with Thai guests in one year was over 60%. Everybody who came said what a hidden jewel it was and they just kept coming back and referring other Thai locals and foreign expats.
KS: These expats of medium and upper level incomes, would normally be travelling all over the world with their means and interests, but they couldn't travel and so they discovered us.
Some guests stayed for months and months and they spread the word. We are so grateful. Without them, we could not have stayed open
CT: What other marketing tactics have you had success with?
JS: We're now doing some tie-ups with local fashion brands that are very connected in the luxury markets. The designers have stayed here and we stock their collections in our boutique.
CT: What were your key markets pre-Covid and what are your target markets now?
JS: We're thrilled with the growth of the domestic market in Thailand and pre-Covid our key markets were the UK and Europe, Nordic countries, Australia, the US, Singapore and Hong Kong. That was our basic base, and we had some people coming from the Middle East, so our next focus is now the Middle East. We've built a whole plan around bringing in the Middle East market and expanding around Asia, China and Taiwan.
KS: Yesterday, we had a guest from Bahrain who extended his stay for another month because he loves the rain. He said, "I don't want to leave, it's so magnificent."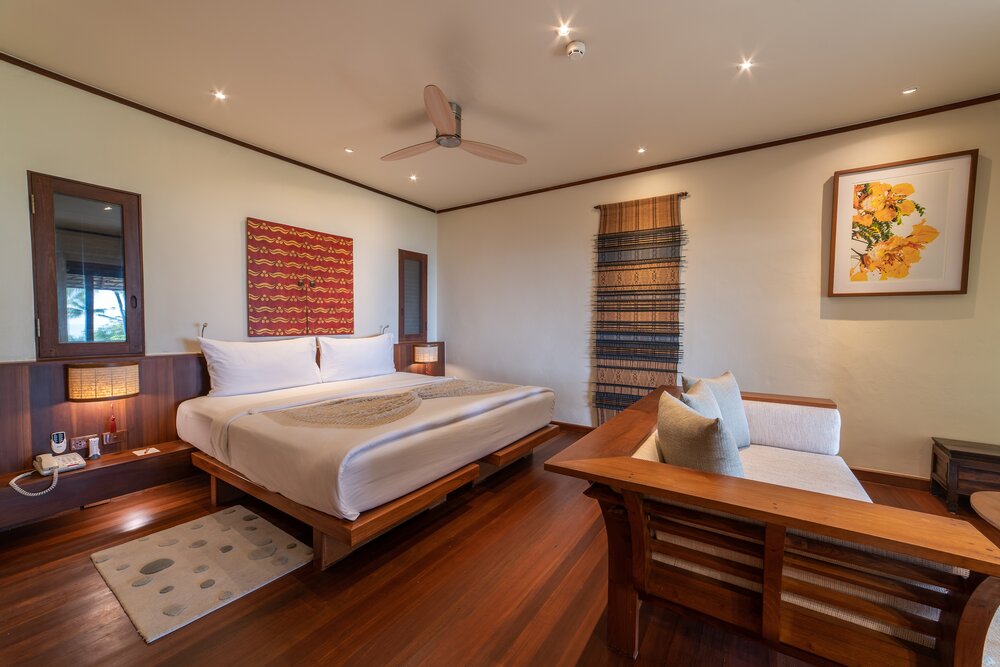 Sea View Suite
CT: What kind of clientele visit Kamalaya?
KS: I'll start with a woman. She was a very powerful businesswoman in Europe, and extremely driven. Each time she came, she loved it and kept growing and growing. It took eight or nine times before, all of a sudden, something profound happened inside of her. It was like she cracked open and, in a beautiful way, all of a sudden, she understood what Kamalaya was about. She went back to Europe, completed all her business commitments and became an executive coach. It was time for her to move into a life that had more purpose and meaning.
ALSO READ: Thai resorts reopen offering post-pandemic wellness programmes
A man, also from Europe, came thinking he was going to give up smoking, that was his big goal. At the end of his very first visit, he did quit smoking – and he also quit his job. He came from the banking world, and he realised he had done it for long enough. He had more than enough wealth, so he decided to embark on some cultural projects in Africa.
JS: We also had the CEO of one of the world's largest companies. He was CEO for 14 years and he came here and completely changed his life. He went from selling energy to becoming one of the biggest voices against global climate change.
CT: What's the average length of guest stays?
JS: Nine days. Or you could say, half of our guests stay a week and the other half stay two weeks. Now that we have the Thai market, we'll have more shorter stays moving forward, because many of them can come for three or four days. So that will lower that average, but our international guests will remain nine days.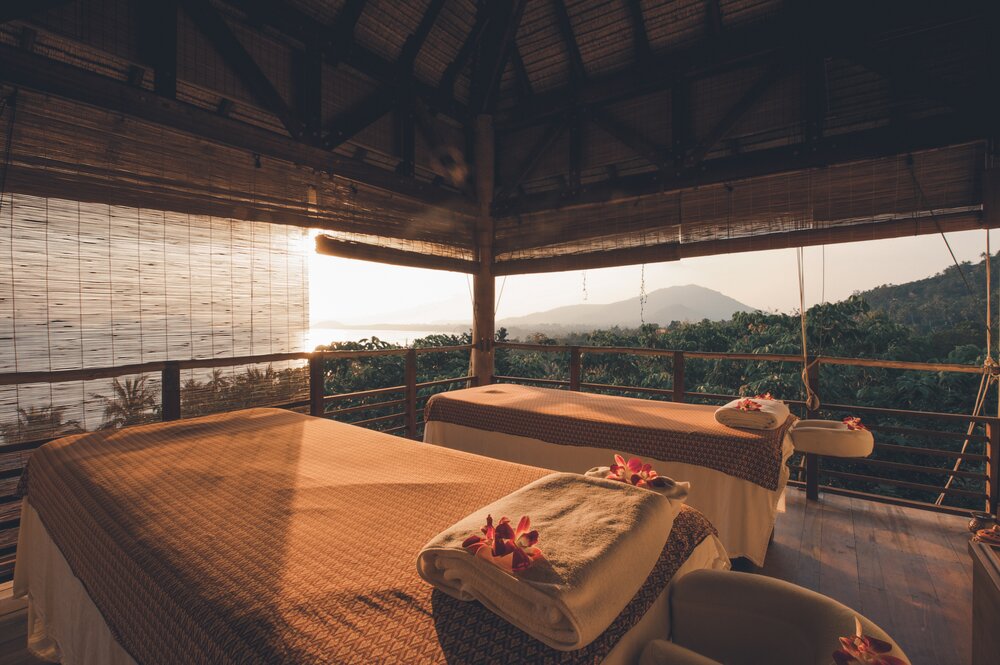 Massage pavilio
CT: Have you any future plans to open more branches of Kamalaya?
JS: Yes, we're looking at expansion. We had the idea that the world needed three Kamalayas and now we're in a situation where we can start looking at number two and three. We would like these to be close to Europe and America to make the retreat available to travellers in those markets who might not want to make so many long-haul flights.
CT: And, finally, what lessons have you learned from creating a hospitality business and what will be its legacy?
JS: The big lesson I've learned is that I could do it. I felt, coming from a background of spirituality, it was important to learn how to live in the world properly. And we have really made the idea of how business can be a healthy part of a community a reality. In creating a community, we have so much loyalty – you know, 45% return guests internationally and 65% locally – and we have created a business where people thank us every day for affecting them in a positive way.
KS: I think that John also learned that even when there was no visible way to continue because it looked like all the doors were closed, he still got up and did what he needed to do. He didn't give up when things fell apart. He did his meditation, chanting his prayers, and then he faced whatever was in front of him. His capacity for perseverance went beyond even what he thought he was capable of.
Room rates start from 4100 Thai Baht (US$125) per person per night (double occupancy), and 6600 TB (US$200) per person per night (single occupancy) for a Hillside Room in low season (11 April to 31 Oct), with a three-day minimum stay. Wellness programmes are priced separately. Three-day programmes cost from 43,614 TB (US$1,330). For more information, visit kamalaya.com