Adrenark Adventure is primed to open in H1 2023
Adrenark Adventure is the latest attraction to be announced at Al Qana, the UAE's capital's waterfront destination, joining The National Aquarium and Pixoul Gaming.
Adrenark Adventure is a physically interactive and immersive indoor adventure park with a wide range of entertaining facilities.
Located next to virtual reality and Esports hub Pixoul Gaming and spread across 54,000 square feet, the largest adventure park in the region features 20 activities, including climbing walls, rope courses, thrill rides, stunt bag jumps and – for the first time in the UAE – a multi-level E-karting track that climbs three floors inside the building.
RELATED:
The tour guides who've changed the way visitors see Abu Dhabi
Flexibility is the travel buzzword for 2023
Comment: Forget golden lobbies and think about how hotel guests really feel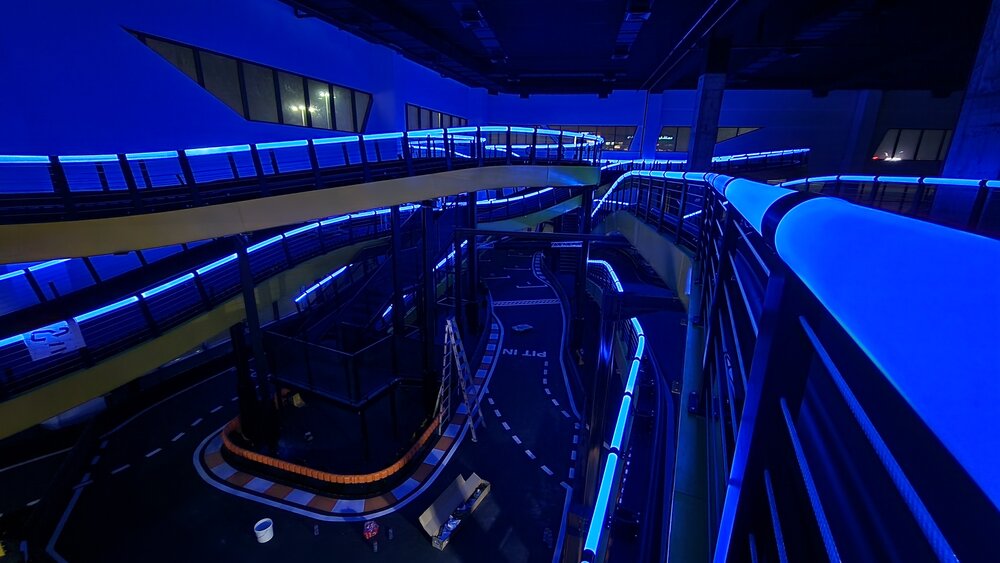 Adrenark Adventure's E-karting track
Aimed at visitors of all ages, Adrenark Adventure will also offer other attractions such as roller gliders, the latest in zipline technology, LED slides, treasure caves and bungee trampolines. Younger visitors can enjoy the soft play area and mini rope courses.
Al Qana is also home to Cinemacity, Abu Dhabi's largest stand-alone cinema.
For more information, visit www.alqana.ae