"The scale of this event is like nothing Bali has ever seen before" says GM
Dior has opened its first retail space in Bali, with a partial buyout of Sundara Beach Club at Four Seasons Resort Bali at Jimbaran Bay, open daily from now until 12 August 2022.
Sundara's entire dining and beach club space, extending across two storeys and more than 1,300 square metres, has been transformed into a showcase for the new Dioriviera Collection 2022.
The temporary redecoration includes a 57-metre-long underwater art installation running the entire length of Sundara's pool which took scuba divers four days to install.
RELATED:
Four Seasons announces new Doha property
Four Seasons announces luxury seaside resort in Oman
Inside Four Seasons' new experiential tented resort
Commenting on the news, Four Seasons Resort Jimbaran Bay resort manager Nicolas Senes said: "The scale and high-profile nature of this event is like nothing Bali has ever seen before. Four Seasons and Dior are icons of luxury sophistication, and we are proud to demonstrate the creativity, craftsmanship and world-class experience we offer. This is super exciting for Bali as a destination."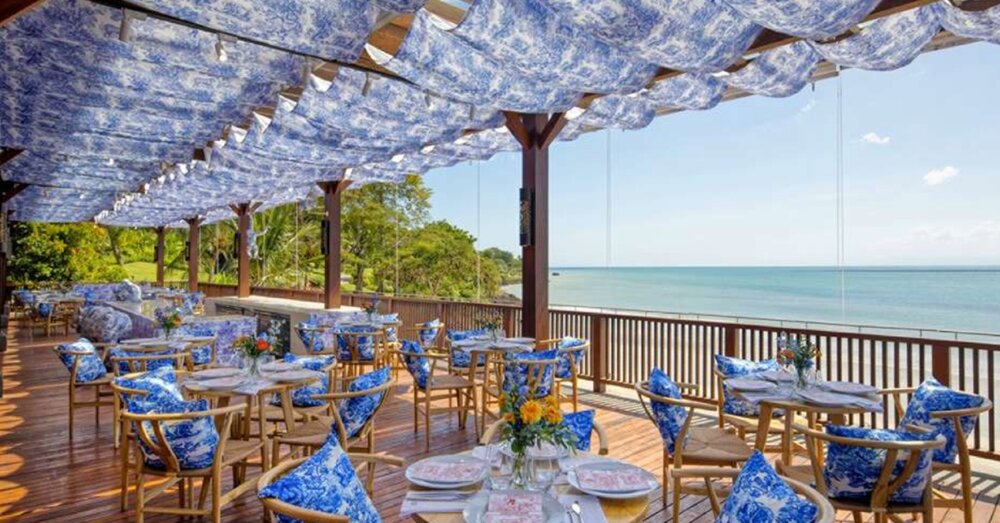 Dior Cafe
A dedicated entrance to the pop-up store on Sundara's Mezzanine level sets the tone for the Dioriviera 2022 Collection's lush jungle theme, as life-size sculptures of wild animals emerge from tropical foliage. Even the walls, ceilings and poolside daybeds have been covered with Dioriviera's toile de Jouy monochromatic tapestry for the duration of the six-week-long event.
Dior Café on the Mezzanine welcomes diners for breakfast, lunch and dinner with 180-degree ocean views, and a private bar, while Sundara continues to serve its modern international and smoky barbecue flavours in the main dining areas on the ground level.
Dior's Mediterranean-inspired menu was created by Four Seasons executive pastry chef David Peduzzi and Sundara chef de cuisine David Gavin who drew on their French training and experience to meet Dior Paris' culinary guidelines and precise requirements for each dish.
GET YOUR FREE 48-PAGE GCC TRAVEL & HOSPITALITY REPORT HERE
Four Seasons Resorts Bali senior director sales and marketing Mathilde Adam said: "The scale of this high-end lifestyle event is a first for Bali, resulting from a landmark collaboration between Dior and Four Seasons Jimbaran Bay based on shared goals of delivering excellence in service and attention to detail.
"The timing is also significant: it is the first major event since Bali opened its borders to the world after more than two years. We are thrilled to be selected as the venue for Dior's first pop-up store and concept café in Indonesia, reflecting the renewed confidence of the international luxury market as Bali re-emerges with optimism, open arms, and the once-in-a-lifetime experiences that our resorts offer."
Dior at Sundara is open from 10am to 8pm daily. The Dioriviera pop-up store is open by appointment only for consultations with Dior stylists and guests of Four Seasons Resorts Bali have priority access to Dior Café. For more information, visit www.fourseasons.com