More than 23 million passengers arrived via road, sea and air
According to newly released data from the Dubai Media Office, visitor traffic in Dubai nearly doubled last year, with the number of travellers arriving through various ports reaching more than 23.5 million.
During the last 12 months, 23,672,468 passengers passed through the emirate marking an 89% increase in inbound traffic compared to the previous year.
RELATED:
Comment: Use UAE New Year's Eve celebrations to sell 2023/24 festive holidays now
Dubai's RTA launches tourist buses to Hatta
Eco tourism on the rise across MENA
The bulk of the traffic, totalling 21,817,022, passed through Dubai's airports, while more than 1.6 million passengers arrived through the Hatta Border Crossing and 242,700 travellers entered via the emirate's sea ports.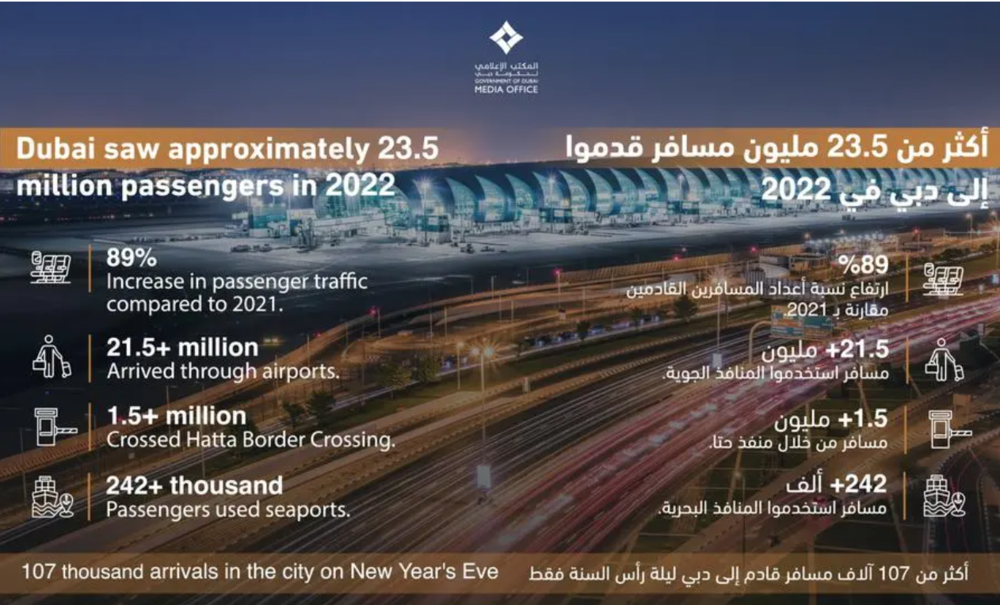 The emirate saw more than 107,082 visitors on 31 December 2022 alone, with 95,445 travellers passing through Dubai Airports, 6,527 arriving via Hatta Border Crossing and 5,010 arriving via marine ports.
Dubai International was one of the busiest airports in the world last year and Dubai came second in Euromonitor's Top 100 City Destinations Index 2022.
For more information, visit www.mediaoffice.ae