Resident chef Grégoire Berger will collaborate with Natsuko Shoji, famed for her fashionable cakes
Ossiano has announced the second instalment of its culinary collaborations series where, on Friday 5 and Saturday 6 August, Grégoire Berger will host Asia's Best Female Chef, Natsuko Shoji, of Japan-based restaurant Été.
Taking place over two nights, the collaboration will see the chefs unite to serve a 10-course menu titled 'The Genesis'.
Diners can expect dishes from Berger that include a colourful eel, nori and orange tartlet and the chef's much-loved black truffle croque monsieur. Shoji's dishes will include an uni tart, an ayu (sweetfish) taco with fruit salsa and a decadent caviar mille feuille, which expertly utilises pastry techniques in a savoury dish.
RELATED:
Atlantis' Gregoire Berger to collaborate with Michelin restaurant chef Morales
Dubai's first-ever Michelin star winners revealed
F&B Industry leaders on the impact of the new Michelin Guide Dubai
A darling of both the fashion and culinary cognoscenti and crowned Asia's Best Female Chef at the 10th annual Asia's 50 Best Restaurants awards, Natsuko Shoji is known for her show-stopping pastry dishes that draw inspiration from haute couture.
After spending her formative years training under Hiroyasu Kawate of Florilège (ranked number 39 in The World's 50 Best Restaurants 2021), at the age of 24, Shoji opened her first 'cake lab' in Tokyo in 2014.
For the last five years, Shoji has operated one of Tokyo's most difficult-to-book restaurants, alongside a thriving luxury cake business. In 2019, she relocated her pocket-sized, single-table Shibuya eatery and pastry shop, Été, to a new home, expanding into a six-seat restaurant that serves an intricate 10-course menu of savoury courses as well as her signature desserts.
One of a series of culinary collaborations taking place at Ossiano, executive chef Grégoire Berger said: "For the next in our series I wanted to pay homage to women in the industry and a country that I hold dear to my heart, Japan. After meeting Natsuko earlier this year and being blown away by her talent and global accolades, I wanted to introduce diners in Dubai to someone I personally feel is one of the most talented female chefs anywhere on the planet.
"In 2016 I flew to Japan to embark on a culinary journey that has ultimately marked, inspired and influenced who I am as a chef today. After experiencing some of the best dining moments of my life, I look forward to collaborating with Natsuko to bring forth the best of the country's produce, food culture, discipline, and way of life to Dubai."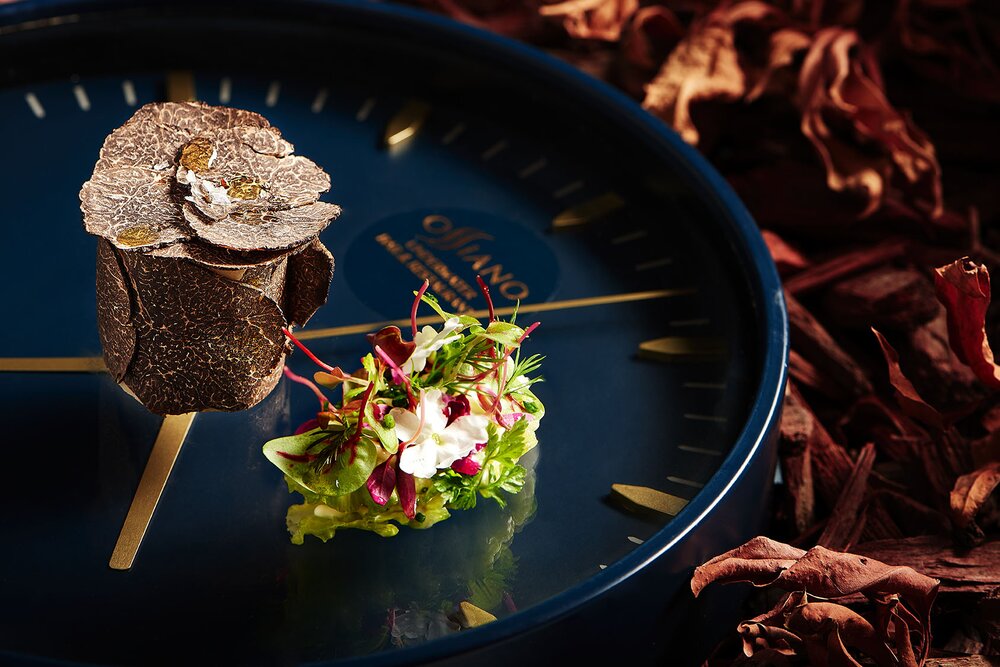 Ossiano Croque Monsieur
Natsuko Shoji added: "It's such an outstanding opportunity and honour to work with Chef Grégoire. As a Japanese chef, I've learnt a lot about the finest seafood, but his deep understanding of the sea environment and seafood inspires me a lot. My last visit to Dubai was in January, and I was amazed by the diverse food culture and how passionate and sophisticated the diners are."
Offering a progressive fine dining cuisine, the one-Michelin starred Ossiano pays homage to the riches of the ocean and coastal land. Guided by Berger's memories of travel and his childhood in Brittany, each dish embodies the chef's lifelong respect for seasonality, terroir and sea foraging, with all ingredients sustainably sourced from the oceans or within 50km of a coastline.
GET YOUR FREE 48-PAGE GCC TRAVEL & HOSPITALITY REPORT HERE
At 34 years old, Berger has already made waves on the global culinary stage with his cutting-edge, unconventional dishes refined with traditional French technique that has become his signature. The youngest and only chef in the country to be featured in the top 100 in the Best Chef Awards for five consecutive years, Berger has set himself apart in the busy Dubai dining scene with his visionary approach to pairing ingredients and application of beauty and art to food.
August's culinary partnership with Natsuko Shoji is the second in a series of exciting and debut collaborations between Grégoire Berger and some of the world's leading chefs. Dubai diners can expect more big names in fine dining to take to the Ossiano stage throughout 2022.
Grégoire Berger and Natsuko Shoji's The Genesis degustation costs AED1,250 per person; 6pm to 10pm, Friday 5 and Saturday 6 August. For more information, visit www.atlantis.com/dubai/restaurants/ossiano or call + 971 4 426 2626