Data shows Dubai is the most popular onward destination
A new study by travel data company FowardKeys shows that more than 100 times as many flight tickets from the UAE to Qatar have been booked during the FIFA World Cup when compared to the same period in a standard year.
The data also showed how the UAE and other Gulf states will benefit from passengers travelling on to other destinations from Qatar after the matches, with Dubai being the most popular onward destination from Qatar during the World Cup.
RELATED:
Non-ticketed fans can now enter Qatar during FIFA World Cup
Data shows a surge in one-way Russia-Dubai flights
Rotana to open two more hotels in Qatar ahead of FIFA World Cup
According to ForwardKeys, 65% of those going to Qatar during the World Cup period and then travelling on to another destination will be heading to Dubai. This is followed by Abu Dhabi, which will benefit from 14% onward passengers, then Jeddah in Saudi Arabia with 8%, Muscat in Oman with 6% and Madinah in Saudi Arabia with 3%.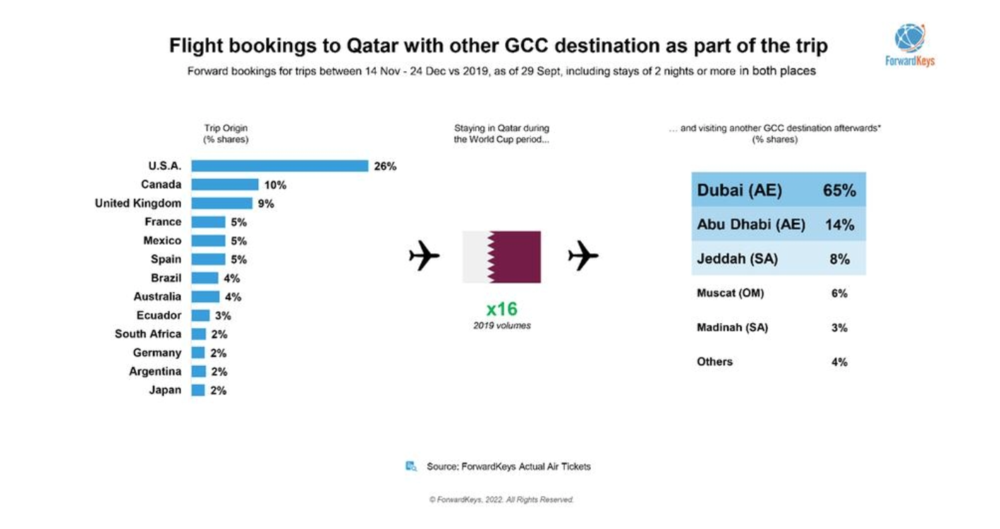 Commenting on the findings, ForwardKeys VP Insights Olivier Ponti said: "As global events go, the FIFA World Cup is one of the most attractive drivers of travel there is, so much so, that other destinations in the Gulf will benefit, not just the host nation. In tourism promotion terms, the World Cup will throw a media spotlight on Qatar and help it become a more established destination, and not just a major hub for intercontinental air traffic."
GET YOUR FREE 48-PAGE GCC TRAVEL & HOSPITALITY REPORT HERE
Ponti added: "The UAE will also benefit substantially from the tournament because it has much more hotel accommodation than Qatar, and two global hub airports in Dubai and Abu Dhabi."
For those travelling on to another country after Qatar, the largest source market is the USA at 26%, followed by Canada with 10%, while the UK, France, Mexico and Spain each account for 5%.
For more information, visit www.forwardkeys.com