See the full list here
Middle East & North Africa's 50 Best Restaurants 2023 was revealed in Abu Dhabi on 30 January.
Orfali Bros Bistro in Dubai, UAE, was named Best Restaurant in Middle East & North Africa 2023 and, by default, Best Restaurant in the UAE.
The list included winners from 14 different cities across the MENA region, from Marrakech and Tunis to Riyadh and Kuwait City. While Qatar and Oman failed make the list, the UAE topped it with 18 restaurants featured. Israel followed with six establishments, one of which is in the top 10, George & John, sixth on the list and winner of The Best Restaurant in Israel. Following close behind are Egypt and Jordan with five restaurants each, with Fakhreldin (number eight) named Best Restaurant in Jordan, and Zooba on Zamalek Island (number nine) was named Best Restaurant in Egypt.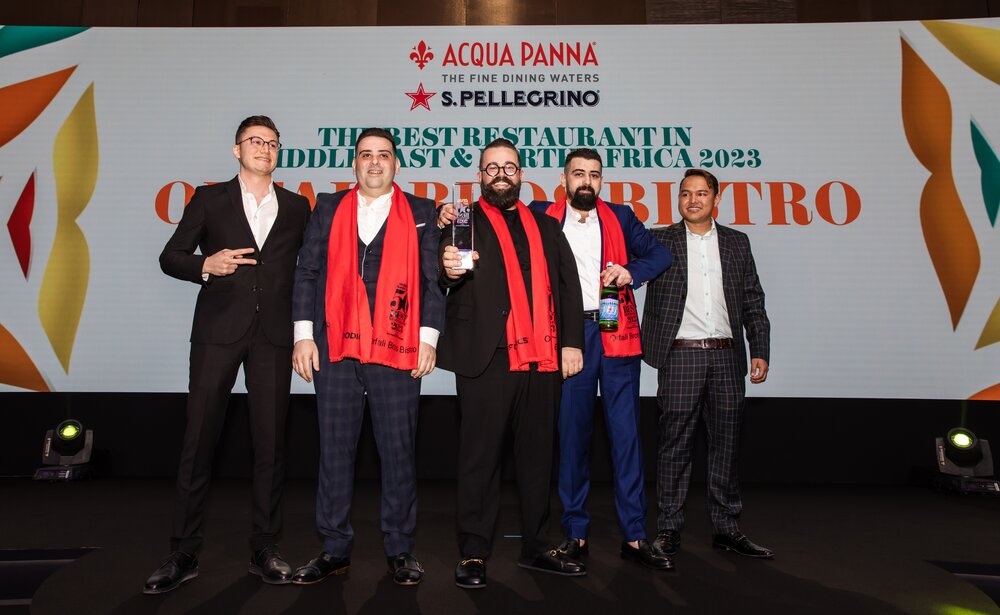 The Orfali Bros team on stage
In addition to placing on the MENA'a 50 Best list, OCD Restaurant in Tel Aviv, Israel, was awarded the Sustainable Restaurant Award. Em Sherif in Beirut, Lebanon, won the Art of Hospitality Award. Chef Moustafa Elrefaey was voted by his peers as the winner of the Chefs' Choice Award. Karim Bourgi took home the MENA's Best Pastry Chef Award. Fusions by Tala in Manama, Bahrain won the Highest Climber Award, rising 36 spots to number three. Ossiano in Dubai won the Highest New Entry Award after landing at number four.
The number one winner, Orfali Bros Bistro – an unlicensed gastronomic bistro in Dubai's Wasl 51 neighbourhood – was founded in 2021 by three brothers originally from Syria, Mohammad, Wassim and Omar Orfali (pictured). The menu features dishes with a core Middle Eastern theme paying homage to the brothers' Aleppian roots, while capturing the multiculturalism spirit of Dubai.
Dishes include croquettes, shish barak à la gyoza and the corn bomb and the kitchen is led by charismatic head chef Mohammad Orfali. Brothers Wassim and Omar, both pastry chefs, work from an elevated pastry kitchen overlooking the main dining room.
RELATED:
Israel's Opa wins MENA's 50 Best Restaurants One To Watch Award 2023
Middle East & North Africa's Best Female Chef award goes to a Dubai-based former school teacher
Dubai scores a hat-trick at World's 50 Best Bars 2022
The fine dining Indian restaurant Trèsind Studio on Dubai's Palm Jumeirah, headed by chef Himanshu Saini, claimed the second spot. Fusions by Tala in Manama came in third place, as well as being named The Best Restaurant in Bahrain and the Highest Climber Award 2023.
The list was compiled by the Middle East & North Africa's 50 Best Restaurants Academy, an influential group of 250 key leaders in the restaurant industry across the region, each selected for their expert opinion of the Middle East and North Africa's restaurant scenes.
The Academy is divided into six regions: The Gulf; Saudi Arabia; Levant-plus; Israel, North Africa (East) and North Africa (West). Each region has its own panel of members, including an Academy Chair to head it up. The panel is made up of food writers and critics, chefs, restaurateurs and highly regarded gourmets. Each MENA Academy member voted for seven restaurants, with at least one of these located outside the country where they're based.
MENA'S 50 Best Restaurants 2023:
Orfali Bros Bistro, Dubai, UAE

Tresind Studio, Dubai, UAE

Fusions by Tala, Manama, Bahrain

Ossiano, Dubai, UAE

3 Fils, Dubai, UAE

George & John, Tel Aviv, Israel

Kinoya, Dubai, UAE

Fakhreldin, Amman, Jordan

Zooba, Cairo, Egypt

Moonrise, Dubai, UAE

Reif Kushiyaki, Dubai, UAE

Kazoku, Cairo, Egypt

Zuma, Dubai, UAE

OCD, Tel Aviv, Israel

Lowe, Dubai, UAE

Baron, Beirut, Lebanon

Gaia, Dubai, UAE

Myazu, Riyadh, Saudi Arabia

Tawlet Mar Mikhael, Beirut, Lebanon

Em Sherif, Beirut, Lebanon

LPM, Dubai, UAE

Sachi, Giza, Egypt

Marble, Riyadh, Saudi Arabia

A by Yuval Ben Neriah, Tel Aviv, Israel

CUT by Wolfgang Puck, Manama, Bahrain

Hoseki, Dubai, UAE

La Grande Table Marocain, Marrakech, Morocco

Coya, Dubai, UAE

Shams El Balad, Amman, Jordan

Sachi, Cairo, Egypt

Masso, Manama, Bahrain

Animar, Tel Aviv, Israel

Coya, Abu Dhabi, UAE

La Closerie, Tunis, Tunisia

11 Woodfire, Dubai, UAE

Sufra, Amman, Jordan

Iloli, Casablanca, Morocco

LPM, Riyadh, Saudi Arabia

Sesamo, Marrakech, Morocco

Milgo Milbar, Tel Aviv, Israel

Alee, Amman, Jordan

White Robata, Kuwait City, Kuwait

Zuma, Abu Dhabi, UAE

Jun's, Dubai, UAE

Reif Kushiyaki, Cairo, Egypt

+61, Marrakech, Morocco

13C Bar in the Back, Amman, Jordan

HaBasta, Tel Aviv, Israel

Hakkasan, Abu Dhabi, UAE

Bonjiri, Salmiya, Kuwait
For more information, visit www.theworlds50best.com/mena/en