Design elements have been inspired by the classic Pullman Sleeping Cabin
Pullman Hotels & Resorts has announced that Pullman Singapore Hill Street will welcome guests from 1 October 2023.
Centrally located and comprising 350 rooms, Pullman Singapore Hill Street is poised to become a gathering point for "modern nomads" with three restaurants to choose between and interesting design details.
Upon arrival, guests will be welcomed by Pullman Porters and a reproduction of a classic Pullman Sleeping Cabin, which functions as a luggage holding area. The lobby's marble and wood-clad walkway is flanked by a floor-to-ceiling installation of vintage carriers and leads the way to antique-style elevators.
RELATED:
Accor's Pullman brand debuts In Singapore
Singapore Airlines introduces unlimited WiFi for premium class passengers
Accor to open first Pullman hotel in Doha, Qatar
After a check-in at automated kiosks or at the front desk, a hallway of custom carpets depicts a map of Singapore and leads guests to the rooms and suites offering.
Rooms overlook Fort Canning, the hotel swimming pool or Marina Bay. Modelled after private railroad cabins, each one comes furnished with plush bedding, an open-concept wardrobe, dedicated workspaces, and a modular armchair that extends into a single bed.
Harking back to the brand's railroad origins, polished brass fixtures against dark wood recalls a sense of adventure travel. All rooms are also equipped with smart technology to customise functions from lighting to temperature, Nespresso machines and a Grohe faucet for filtered water.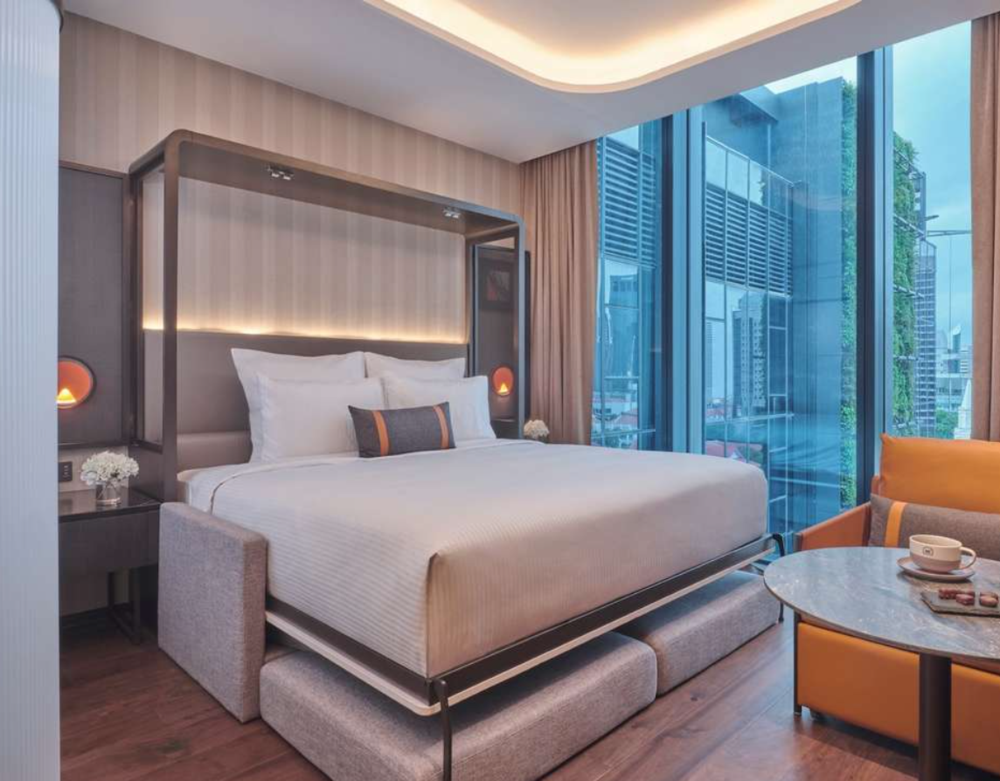 The use of Murphy beds, which fold away into walls, will offer guests a flexible space that can transition seamlessly from a living area to a bedroom. Executive Suites combining a Studio Suite with a Murphy bedroom as well as connected family rooms will also be available.
The hotel's outdoor swimming pool is surrounded by cabanas and a Jacuzzi, while the Power Fitness gym is equipped with machines by Concept 2, with the option of personal training and physiotherapy with experts from Strength Clinic Academy.
BUILD YOUR OWN TRAVEL BUSINESS. JOIN TRAVEL COUNSELLORS' NEXT EVENT TO FIND OUT HOW
Pullman Singapore Hill Street has a strong commitment to sustainability. Solar panels are installed on the roof to power corridor lights and an irrigation system will ensure efficient water management to maintain pockets of landscaping.
Eradicating single-use plastics across all interactions, every room includes water filters and refillable bathroom amenities, along with fully digitised self-check-in and paperless transactions. Upon detecting guest exits, in room sensors will automatically reverse into energy-saving mode that switches off lights, television and activates aircon temperature control.
To minimise food waste, the hotel has also partnered with food rescue group Divert for 2nd Life, which will redistribute surplus food to its network of beneficiaries.
For more information, visit www.pullmansingaporehillstreet.com