Developer Miral has announced that the construction of the upcoming theme park has reached 90% completion
Yas Island's latest mega-development is due to open in 2023 and includes the UAE's first dedicated marine research, rescue, rehabilitation and return centre.
Located next to the marine-life theme park, the research and rescue centre will open this year. It will support regional and global conservation efforts, providing an advanced knowledge hub with a focus on indigenous Arabian Gulf and marine life ecosystems.
The centre will be led by a team of marine scientists, veterinarians, animal care professionals, rescue experts and educators who will collaborate with peers, environmental organisations, regulators and academic institutions to impact long-term conservation efforts in the region. The rescue team will also be available to support the authorities 24/7.
RELATED:
Abu Dhabi and Miral to launch new Saadiyat Island strategy
Abu Dhabi unveils plans for Natural History Museum
Abu Dhabi rolls out training calendar for travel professionals
SeaWorld Abu Dhabi will house more than 150 species of marine animals, including sharks, schools of fish, manta rays, sea turtles, reptiles, amphibians and invertebrates, in addition to hundreds of birds including penguins, puffins, murres and flamingos.
The park's animals will be cared for by a team of dedicated zoologists, veterinarians, nutritionists and specialists who share a passion and commitment to maintaining the health and wellbeing of the animals in their care.
Built on five indoor levels with a total area of 183,000 square metres, the marine-life theme park will offer guests rides and immersive experiences.
The purpose-built habitats and ecosystems for the animals have been designed using the latest technology to provide residents with a dynamic environment that replicates their natural habitat.
The marine-life theme park will also feature interactive exhibits to educate guests. The central "One Ocean" realm of SeaWorld Abu Dhabi links six distinct marine environments throughout the park, all of which tell a unified story based on the interconnectivity of all life on earth and in the ocean.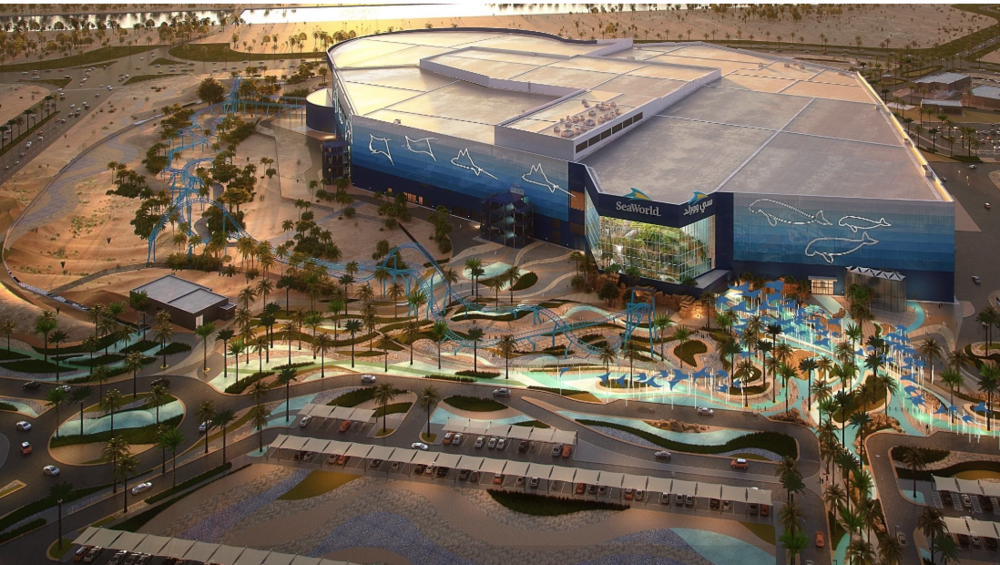 A render of a completed SeaWorld Abu Dhabi
Commenting on the park, Miral chairman Mohamed Khalifa Al Mubarak said: "Abu Dhabi and the UAE have delivered longstanding marine conservation, and SeaWorld Abu Dhabi signifies the start of a new chapter in regional and global marine life knowledge, conservation and sustainability.
"Our partnership with SeaWorld Parks & Entertainment to bring this next-generation marine-life theme park to the capital will help further position Abu Dhabi as a global tourism hub and contribute to its economic growth and diversification vision."
GET YOUR FREE 48-PAGE GCC TRAVEL & HOSPITALITY REPORT HERE
SeaWorld Parks & Entertainment chairman Scott Ross added: "We are honoured for the unique opportunity to be a part of Abu Dhabi's innovative vision for economic diversification and growth, as well as the emirate's commitment to marine-life conservation.
"SeaWorld brings a legacy of inspiring love and conservation for the ocean and marine animals, and we cannot be more excited to extend our global conservation network and mission to protect marine animals and their habitats in the sea and gulfs surrounding the UAE."
SeaWorld Abu Dhabi will further support Miral's vision to position Yas Island as a leading global destination offering an attractive portfolio of tourist attractions and experiences.
For more information, visit www.seaworldabudhabi.com