Travel Lingual research reveals the best destinations for sun seekers
Research by Travel Lingual has revealed Europe's top 10 sunniest cities.
Based on historical weather data from World Weather Online, the list aims to aid sun seekers in finding the best European destination for them
Topping the list, Alicante, Spain, offers visitors an average of 4,188 hours of sunshine per year, perfect for seaside fun, vibrant neighbourhoods, and picturesque beaches.
GET YOUR FREE TRAVEL & TOURISM INSIGHT REPORT PRODUCED IN ASSOCIATION WITH DELOITTE
Spain features heavily on the list taking six of the top 10 spots, making it the sun-seekers' top country of choice. Italy is the second highest ranking country for sunlight hours with the ancient port city of Catania in Sicily the sunniest spot nationwide.
The top 10 sunniest cities in Europe, ranked by annual sunshine hours, are: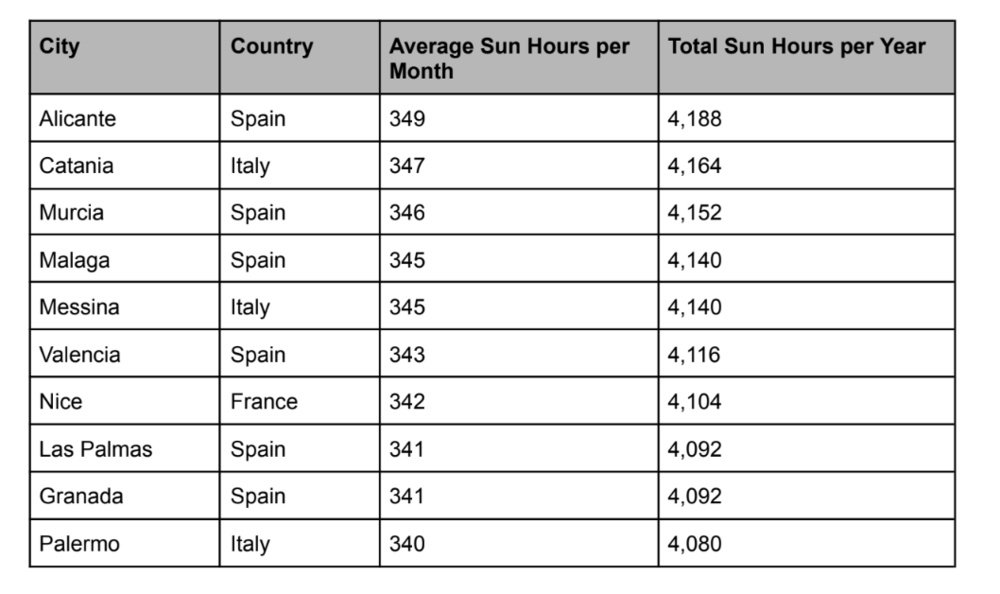 Source: Travle LingualRELATED:
Dubai ranks high on Scott Dunn's Vitamin Vacation list
UNWTO data points to full recovery for tourism sector
Europe hotel rates see inflated spike
Travel Lingual owner James Smith said: "This data serves as a fantastic starting point for planning a sun-filled vacation while discovering the diverse beauty of Europe. These sunniest destinations in Europe offer fantastic weather, rich cultural experiences, stunning landscapes and mouth-watering cuisine."
Smith added: "The diversity of these sun-drenched cities provides travellers countless opportunities to create unforgettable memories. Whether wandering through historic sites, indulging in local gastronomy or simply lounging on beautiful beaches, Europe's sunniest destinations cater to every traveller's desires."
For more information, visit www.travel-lingual.com