Every key performance indicator exceeded 2019 levels
The UAE-headquartered Global Hotel Alliance has reported robust 2022 results, indicating the travel sector's continued post-pandemic recovery.
Room revenue generated by the 23 million global members of the GHA Discovery loyalty programme exceeded 2019 levels from mid-November 2022 onwards, driven by higher average daily rates (ADR), and soaring by 50% in the last two weeks of the year.
Meanwhile, repeat stay room revenue was consistently ahead of 2019 levels from June onwards, up almost 80% by the end of 2022.
Room nights, which had lagged behind earlier in the year, also surpassed pre-pandemic levels by the end of Q4.
WANT A NEW CAREER IN TRAVEL? CLICK HERE
In comparison to 2021 when domestic stays were popular due to pandemic-related restrictions, international stays by GHA Discovery members picked up significantly in 2022, accelerating in Q4 to surpass 2019 levels by 40% in the December holiday period, with Singapore, the Maldives, Thailand, Mexico and the Caribbean leading this recovery. Domestic stays also exceeded 2019 figures throughout most of 2022.
The UAE has retained its top spot as the most preferred destination among members, delivering US$32 million in room revenue in Q4 alone and reflecting GHA's growing presence in the country.
With the recent opening of NH's first hotel in this market, NH Collection Dubai The Palm, there are now 28 GHA properties in the UAE under nine brands.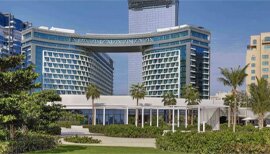 NH Collection Dubai The Palm
Spain took second slot on the companies list of the 'Top 15 Countries for Stays' in Q4, generating US$31 million in room revenue and indicating the success of Madrid-headquartered NH Hotel Group joining GHA in June 2022, bringing with it more than 350 hotels and 10 million loyalty programme members.
The top feeder markets in Q4 were the US, delivering US$43 million in room revenue, with 80% of members in this market travelling internationally, reflecting the strength of the US dollar, followed by the UK (US$28 million), Spain (US$26 million), Germany (US$24 million) and Australia (US$19 million).
RELATED:
8 Global travel trends that will shape the market in 2023
Dubai named among world's top cities in new ranking
Dubai International ranked among top 10 airports in the world for a layover
GHA CEO Chris Hartley (pictured) said: "GHA's 2022 results are phenomenal, not only for our partner hotel brands, but for the global travel and tourism sector as a whole, with significant improvements across every key performance indicator pointing to a full industry recovery and perhaps the end to pre-pandemic comparisons at last.
"This rebound to levels exceeding the 2019 'old normal' not only reveals a bullish travel sentiment, but the true power of GHA Discovery, bolstered by new hotel brands and members coming on board and with the entire ecosystem fully leveraging cross-brand stay opportunities, as the figures clearly reveal."
For more information visit www.globalhotelalliance.com