Waldorf Astoria Cairo Heliopolis is home to Brasserie Ayda, Peacock Alley and Bar Raa
Waldorf Astoria Hotels & Resorts has expanded into Egypt and the African continent with the opening of Waldorf Astoria Cairo Heliopolis.
Located in the ancient city of Heliopolis, Waldorf Astoria Cairo Heliopolis is close to Egypt's main presidential palace, Downtown Cairo, Khan El Khalili Bazaar and the upcoming Grand Egyptian Museum.
Drawing on influences from the city's history, the rebranded and renovated property features ancient Egyptian references interpreted in a modern way.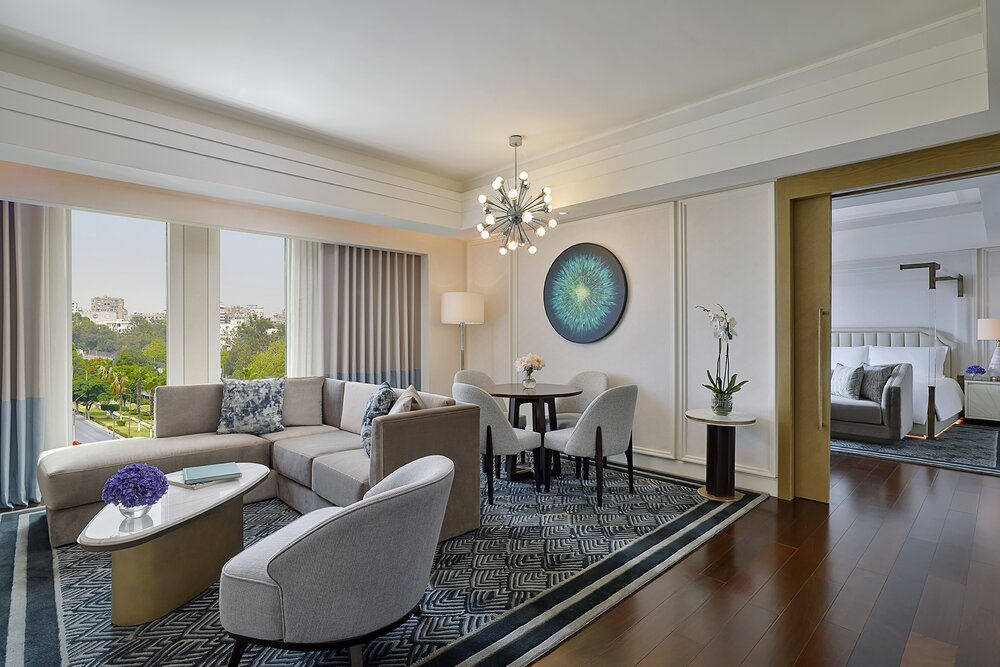 Premier one bedroom suite layout
Newly 252 refurbished rooms and suites feature wood floors and floor-to-ceiling windows. Booking clients into a Rosetta room or suite gives them access to the Rosetta Club, offering guests complimentary food and drinks.
Waldorf Astoria Cairo Heliopolis' signature restaurant is Brasserie Ayda, serving a Mediterranean menu. The hotel also features Peacock Alley, the brand's signature lounge found at Waldorf Astoria properties worldwide; Bar Raa, named after the ancient Egyptian sun god, and Le Jardin Pool Bar.
RELATED:
Waldorf Astoria Kuwait now open
Waldorf Astoria to open first Seychelles property
Morocco's first Waldorf Astoria to open in Tangier
Opening later this year, the Waldorf Astoria Spa will provide four state-of-the-art treatment suites, each providing a full guest bathroom and private relaxation zone, and one multipurpose treatment room.
Hilton Luxury Brands senior vice president and global category head Dino Michael added: "As the first Waldorf Astoria property to debut in Egypt, Waldorf Astoria Cairo Heliopolis signals Hilton's commitment to expanding our luxury portfolio to the world's most sought-after destinations."
Hilton president of Europe, Middle East & Africa Simon Vincent added: "Egypt welcomed 11.7 million tourists in 2022, up 46% on the previous year, and with Cairo often being the starting point for travellers' journey to discover Egypt, we're delighted to bring the world-renowned luxury of Waldorf Astoria to this sought-after destination."
For more information, visit www.hilton.com/en/hotels/caiwewa-waldorf-astoria-cairo-heliopolis