The line aims to reimagine slow travel with the launch of new luxury barge
Belmond is set to launch a new luxury barge, its seventh vessel, called Coquelicot, A Belmond Boat, Champagne.
From May 2023, Coquelicot will take guests on a personalised journey through Champagne, a region made famous by the bubbly drink.
Designed by Humbert & Poyet, Coquelicot will feature three decadent double cabins, an outdoor top deck with two seating lounges, a dining area and an open kitchen, and an indoor dining space and champagne bar. Coquelicot's namesake, the red poppy, is present in subtle design references from the hand-cut red marble side tables to the hand-painted petals that line the hallway.
Prices for Coquelicot, A Belmond Boat start from US$74,400 and helicopter transfers from Paris are available upon request.
GET YOUR FREE 48-PAGE GCC TRAVEL & HOSPITALITY REPORT HERE
To elevate the guest journey, Coquelicot will partner with Maison Ruinart, the world's oldest champagne house, founded in Reims in 1729. Guests will be treated to a private tasting lunch by Maison Ruinart's chef in residence Valérie Radou and Coquelicot head chef aboard the new barge.
As part of the collaboration, Coquelicot guests will also discover the brand's latest sustainability initiatives during private guided tours of the historic Taissy vineyard. Following the tour, guests will head back to Coquelicot for lunch comprising five seasonal dishes inspired by regional cuisine and paired with prestigious cuvées such as Dom Ruinart Blanc de Blancs and Dom Ruinart Rosé.
"Framed by the idyllic landscape and in the comfort and privacy of their own luxury boat, guests will delve deep into the world of Maison Ruinart, as their ambassador reveals the story, characteristics and technical aspects of each bottle,' says Belmond's PR team.
RELATED:
Four Seasons announces entry into luxury cruise sector
Avalon Waterways to launch new Douro river ship
Oceania Cruises reveals longer sailings for 2025
With the help of guest experience executives, Coquelicot guests can craft their own itinerary by selecting activities suggested specifically for them by the Belmond expert team. Whether it's an art-focused tour of Champagne, a historic voyage through the mighty castles, an active adventure on two wheels or a series of epicurean visits to Europe's most celebrated and secret wine producers, guests will have the liberty to design their own journey and explore at their own pace.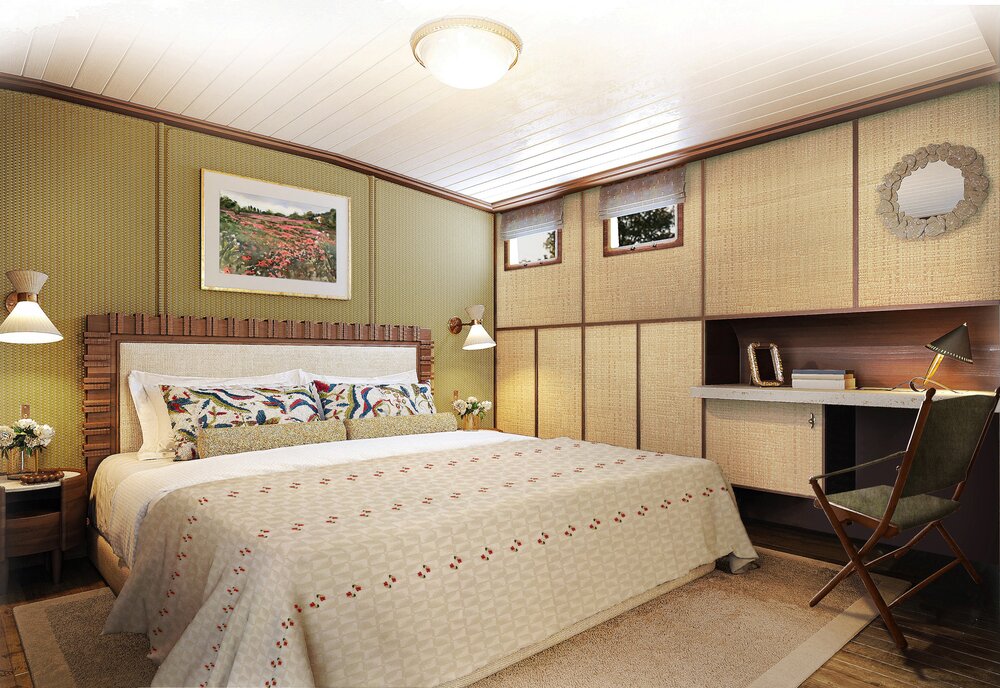 Interiors designed by Humbert & Poyet
Coquelicot, a Belmond Boat, Champagne is part of Les Bateaux Belmond, the brand's collection of boats in France. The fleet includes Alouette, a Belmond Boat, Canal Du Midi; Pivoine, a Belmond Boat, Camargue; Napoléon, a Belmond Boat, Provence; Amaryllis, a Belmond Boat, Burgundy; Fleur De Lys, a Belmond Boat, Burgundy; Lilas, a Belmond Boat, Burgundy.
To book or for further information, visit www.belmond.com