The directory is part of Connecting Travel's Cruise Hub designed to inspire more cruise bookings by Middle East markets
Connecting Travel, the Middle East's leading travel trade publication, has launched an online cruise directory for travel agents.
Part of Connecting Travel's popular Cruise Hub, the directory features a complimentary search facility, powered by Widgety, allowing travel agents to search through all the latest available cruise itineraries.
Specifically designed to help travel agents find the right cruise for their customers, the search function provides accurate and up-to-date availability on more than 800 ships offering 30,000 worldwide itineraries.
Visit the Cruise Hub today at connectingtravel.com/cruise-hub
Alongside the directory and cruise search facility, travel agents can get all the latest cruise news and features, direct links to cruise lines' regional sales directors and access to cruise agent training via each cruise line's dedicated page – all in one online hub.
Connecting Travel's featured cruise partners – which include industry leader NCL, expedition specialist Hurtigruten and new luxury game-changer Explora Journeys – all have dedicated cruise search engines on their own pages in the directory where they also share up-to-the-minute information, news and features aimed at the region's travel agents and their discerning clientele.
Examples of featured cruise partner pages can be seen here:
For more information, or to be featured on the Connecting Travel Cruise Hub, please contact: Abbie Downes, abbie.downes@jacobsmediagroup.com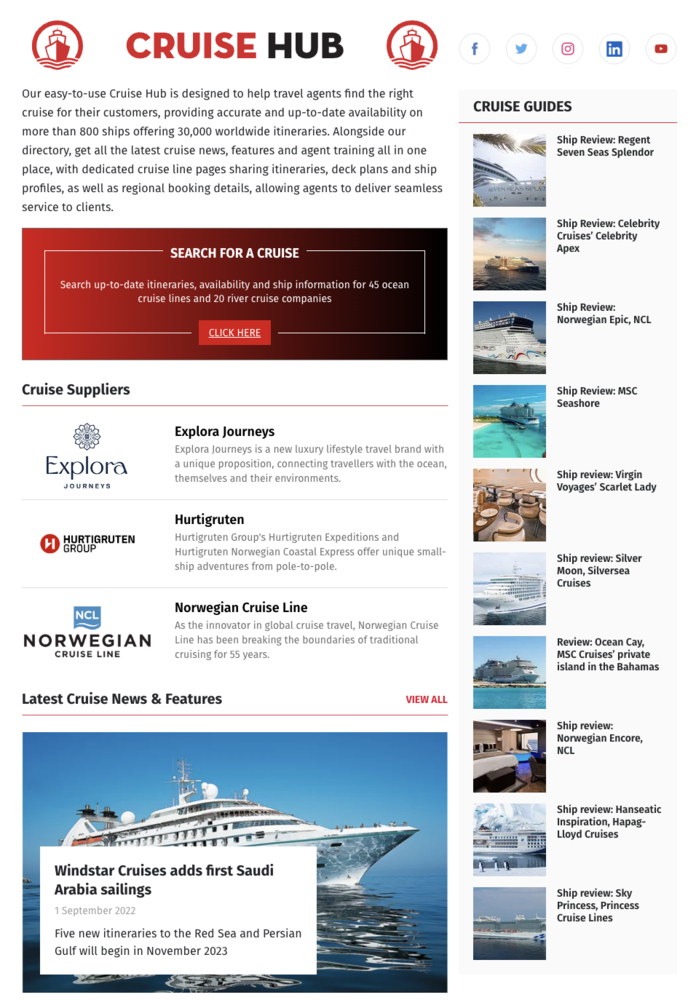 The Connecting Travel Cruise Hub directory