Guests can expect indoor and outdoor gym facilities, as well as programmes to improve sleep and boost immunity
New luxury cruise line Explora Journeys, set to launch in 2023, has announced that guests on board Explora I will have access to treatments geared towards the holistic improvement of sleep, relaxation, mindfulness, energy and immunity.
Speaking about the programme, Spa Operations senior lead Julanda Marais said: "The philosophy behind Ocean Wellness is deeply rooted in Explora Journeys' origins. We've long understood the powerful effect of water and waves on body, mind and soul. This is the inspiration for Ocean Wellness. We want to give our guests a feeling of refined simplicity, relaxed luxury, and complete mental and physical replenishment."
The innovative cruise line intends to harness the power of what it calls an 'Ocean State of Mind'; neuroscience studies have shown that the effects of the ocean can calm the mind and boost the immune function.
Experiences, programmes and spaces designed to enhance the ocean's influence on wellbeing help guests achieve inner and outer calm. From sleep to nutrition, a selection of treatments have been curated to ensure that guests achieve a feeling of renewal during their journey and beyond.
RELATED:
Explora I unveils gourmet attractions ahead of inaugural cruise
Interview: Martha Waslen on leveraging technology to sell luxury experiences
Travel and wellbeing "essential" for most consumers
Spa Facilities
Ocean Wellness – The Spa will be well stocked with cosmeceuticals by Dr Levy, Switzerland, 100% natural Dutch brand The Tides Wellness and luxury British brand Aromatherapy Associates, while facilities will include:
11 treatment rooms, including two Private Spa Suites with their own outdoor relaxation areas; and one double and seven single treatment rooms.
The Beauty Studio for all grooming requirements including hair treatments, manicures and pedicures
Sensorial Therapeutic Circuit, a thermal wellness area including a hydrotherapy pool, steam room, Finnish sauna, salt cave, experience shower, ice fall and heated marble loungers
The Spa
Fitness Facilities
Explora Journeys has partnered with Technogym, and will offer Technogym's connected smart equipment allowing guests to plug in and monitor their workouts digitally. Technogym kit also provides personalised fitness programmes on the latest high-performance equipment.
The Technogym Artis Line provides a cardio experience includes Run Artis for indoor running and Artis Synchro elliptical trainer. Outdoor deck facilities include Technogym's Skillrow, the first all-in-one rower designed to improve anaerobic power, aerobic capacity and neuromuscular abilities. Also on deck, Group Cycle bikes are positioned to take advantage of sea views.
Guests also have the option of training in their suites with the Technogym Bench, the strength-training station with enclosed tools, and Technogym Case Kit with its QR code access to a digital library of guided video exercises with trainers who act as virtual coaches.
On board fitness facilities include:
Fitness centre
Fitness studio
Open-air fitness facilities
Running track
Sports court
In-suite fitness facilities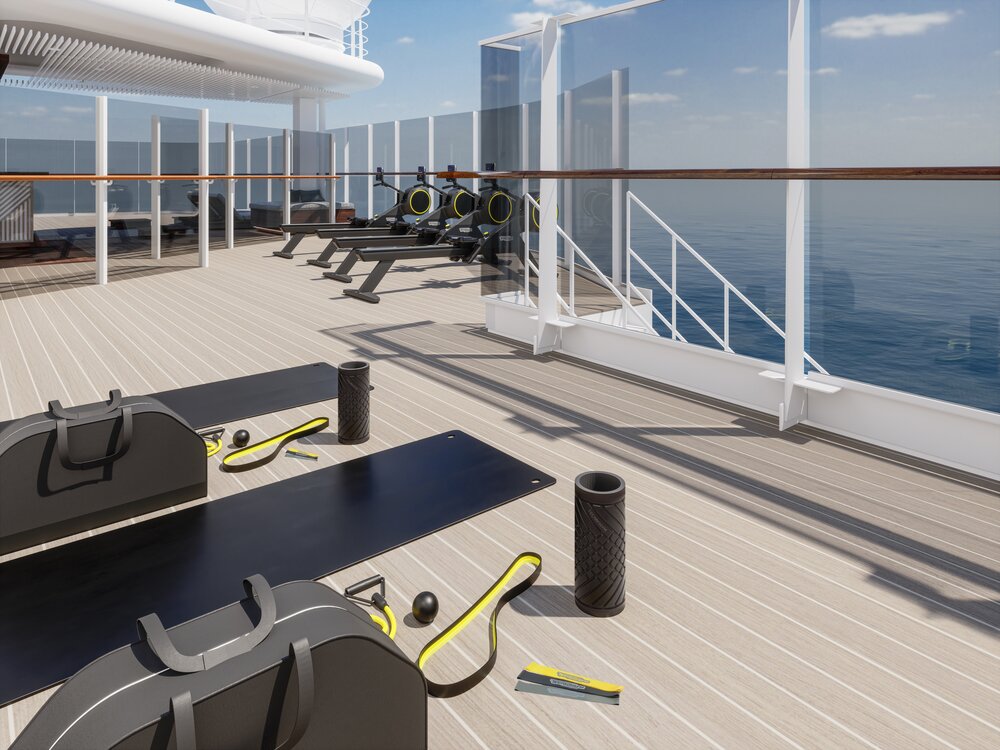 Open air fitness
GET YOUR FREE 48-PAGE GCC TRAVEL & HOSPITALITY REPORT HERE
Wellbeing Programmes
Guests will be introduced to a range of programmes focused on improving sleep, boosting the immune system and elevating nutrition. In addition, guests can discover the benefits of yoga as a way of regulating the nervous system and its response to stress.
Yoga programmes include:
Energy flow power classes to replenish stamina and strength
Mindfulness training and meditation to anchor the body and mind
Pranayama breathing techniques to support health and reduce anxiety via pranayama breathing techniques
To learn more, visit www.explorajourneys.com