More than 86 million passengers expected to transit through DXB
Propelled by strong growth throughout the first three quarters of the year and anticipation of an exceptional surge in guest numbers in the final quarter, Dubai International Airport (DXB) passenger traffic has been forecasted to surpass 2019 traffic reaching 86.8 million.
The second half of 2023 saw average monthly traffic reaching 7.6 million, tracking pre-pandemic levels throughout the third quarter with 22.9 million passengers in Q3 – the highest quarterly traffic since 2019 – taking the total year-to-date traffic for the first nine months of the year to 64.5 million passengers, up 39% compared to the same period in 2022 and 1% above 2019.
RELATED:
Dubai International named region's most connected airport
Dubai named among world's top cities in new ranking
Dubai International ranked among top 10 airports in the world for a layover
Dubai Airports CEO Paul Griffiths said: "We're thrilled but not entirely surprised that DXB is all set to surpass the pre-pandemic milestone well ahead of our initial projections by almost a year.
"Our outlook for the remainder of this year and the next remains optimistic. Teaming up with our strategic partners, we're ready for the challenge to continue to exceed guest satisfaction amid the continuous surge in traffic."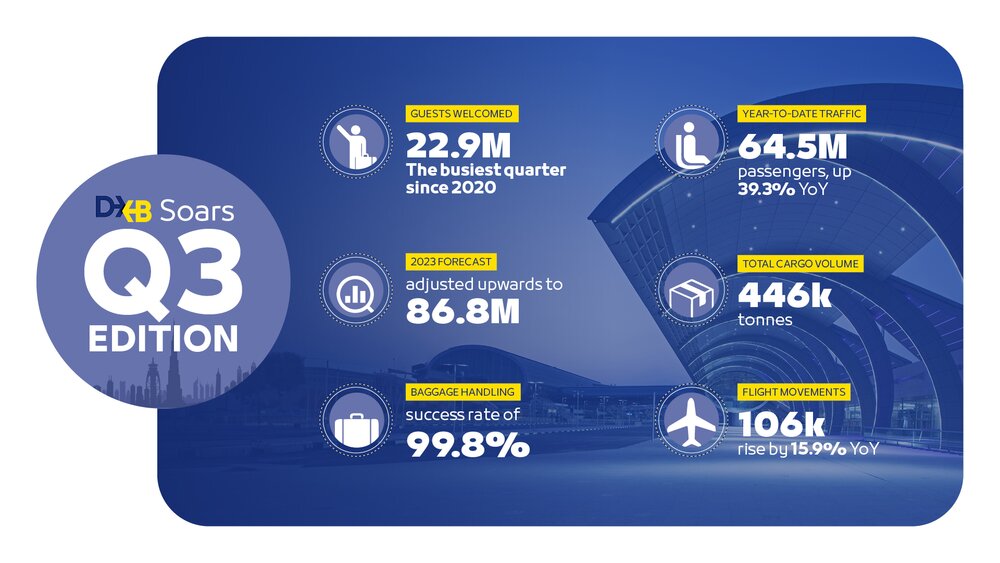 Dubai Airports is expecting record-breaking numbers to continue beyond Q4 into 2024. To accommodate growth and revolutionise the guest journey at DXB, Dubai Airports is undertaking a strategic project to expand infrastructure capacity while enhancing operational efficiency.
BUILD YOUR OWN TRAVEL BUSINESS. JOIN TRAVEL COUNSELLORS' NEXT EVENT TO FIND OUT HOW
With a current capacity of 100 million passengers per year, innovative technology, expansion, refurbishment and more efficient use of space and resources is expected to propel the airport's capacity to 120 million.
For more information, visit www.dubaiairports.ae