The surreal attraction uses light, sound and graphics to create another world
Launched by Future Forward Entertainment company HyperSpace, Dubai's newest attraction, AYA, is the first of its kind.
With 12 themed zones, from 'Drift' to 'Flora' spread over 40,000 square feet, the immersive entertainment park located in Wafi City Mall combines cutting-edge digital technology, mirrors, light and sound to create an other-worldly experience for guests.
CEO of HyperSpace Alexander Heller said: "We chose Dubai as the destination for AYA, our first immersive entertainment park, as it is a city invested in future culture, with a demanding and digitally active tourist and resident market."
Highlights within the attraction include:
1. Drift: Find a spot on the sloped 'hillside' and lie-down as a peaceful landscape projection plays above you. A gentle vibration and surrounding audio add to the relaxing atmosphere.

2. The Falls: Droplets of water seem to defy gravity as they drift upwards. Sensing movement, the water parts and opens a doorway allowing visitors to step into a void and be surrounded by the special effects.
3. Flora: A bioluminescent garden surrounds visitors as a nine-minute-long show transforms the vivid space with different colours, fauna and flora as the story unfolds.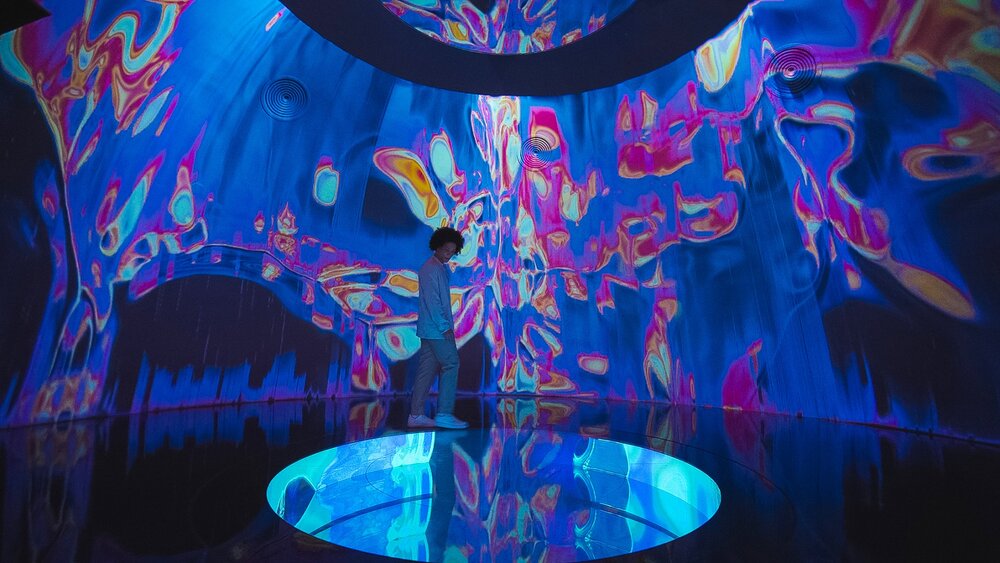 The Pool at AYA
4. The Source: The heart of the installation, this 3,250-square-foot zone has digital pools and a touch-reactive dome that responds to visitors movements. Take a seat to immerse yourself in the six-minute story, divided into six chapters, with the room continuously evolving with a mix of hues, sounds and graphics.

5. Abundant Instagram opportunities: AYA is primarily aimed at explorers seeking experiences that can be posted on social media, illustrating how much investment is being made into attractions with Instagrammable settings.
In addition to the attraction, the Wafi City mall location offers visitors retail facilities, and adjacent hotels include Sofitel The Obelisk and Raffles Dubai.
HyperSpace has plans in motion to take this concept to other destinations, and HyperSpace is due to open a second gaming and content-based attraction, House of Hype, at The Dubai Mall in 2023.
Tickets cost from AED99 per person. For more information, visit www.aya-universe.com