New study compares cost per sunshine hours in leading hotspots
Dubai isn't often associated with good value holidays, but a new survey conducted on behalf of findmycasino.com has framed the expensive emirate in a new light.
Comparing the cost per daily hours of sunshine to reveal where travellers can get the most winter sun for your money, data showed that a holiday in Dubai will cost AED1,015.86 for every hour of sunshine gained, with visitors enjoying almost seven hours of sunshine per day. This makes Dubai the sixth best value winter sun destination on the list.
Based on average cost and sunshine hours, a holiday in Dubai is 43% cheaper than in the Seychelles, where the price per sunshine hour gained is AED1,784.99, despite the island having 0.76 hours less sun per day.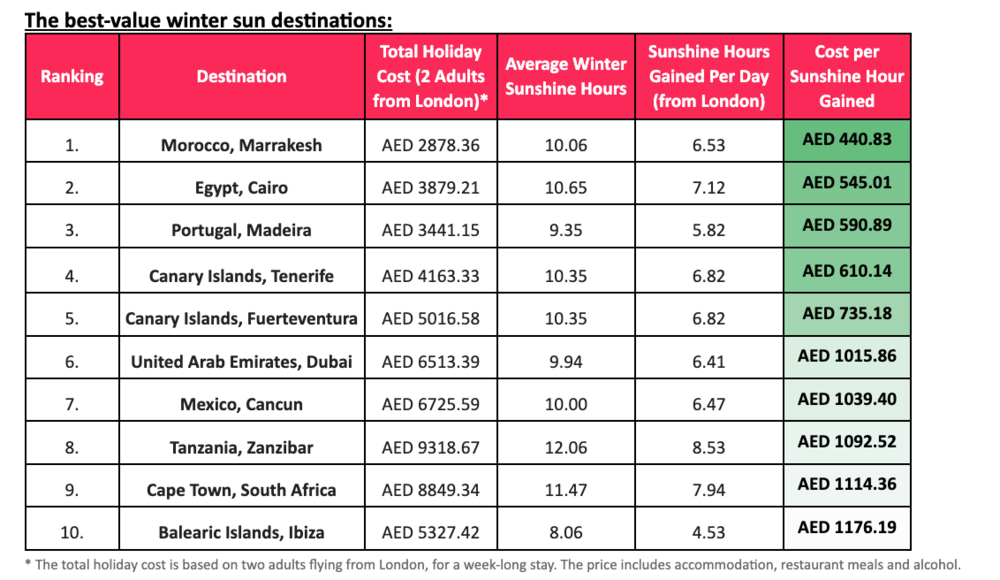 Marrakesh in Morocco is the city where travellers have access to the most sunshine hours for their money. The average cost of a holiday to Marrakesh is AED2,878.36, the lowest priced destination of all cities analysed.
Tourists in Marrakesh will experience 10.06 hours of winter sun per day. The price per hour of sunshine gained is just AED440.83, making Marrakesh the best-value winter sun destination.
RELATED:
Dubai named among world's top cities in new ranking
Dubai International ranked among top 10 airports in the world for a layover
Skyscanner reveals winter travel trends for UAE and Saudi Travellers
Cairo, Egypt ranks second, where tourists will pay AED545.01 for every hour of sunshine gained. This is almost half the cost visitors can expect to pay (AED1,015.86) per hour of sunshine in Dubai.
On the other end of the spectrum, Barbados, the Caribbean and San Diego, California are the most expensive winter sun destinations respectively.
The average cost for a holiday to Barbados is AED13,499.25 for just over 5 (5.35) hours of sunshine gained each day. As a result, tourists will pay AED2,521.83 per hour of sunshine gained — the highest of all destinations analysed.
For more information, visit www.findmycasino.com/most-winter-sun-for-your-money