The launch of the airline's new menu will coincide with World Vegan Day on 1 November
Emirates responded to heightened demand from passengers for plant-based cuisine with a multimillion-dollar investment in developing new vegan menus on board.
The new vegan menu in First and Business Class was one year in development at Emirates Flight Catering, informed by contributions from diverse cuisine specialists, undergoing multiple presentations and tastings. The tasting panels included both vegan and non-vegan chefs to ensure an inclusive approach.
The menu features koftas made with plant-based products from Beyond and desserts created using organic dark chocolate with 60% raw cocoa ingredients, sourced from the Dominican Republic.
RELATED:
Qatar Airways signs SAF agreement with Gevo
Etihad launches 'carbon neutral' Economy Space seats
Emirates to conduct test flight with 100% sustainable fuel
In Economy Class, the vegan menus are refreshed every month, and current passenger favourites include a creamy spinach and avocado mousseline, with marinated tofu, blanched snow peas, radish, asparagus, pomegranate seeds, courgette ribbon and sriracha oil, and multi-coloured quinoa with caramelised pear and celeriac purée, roasted cauliflower, glazed carrots, sautéed kale and lovage pesto. Vegan desserts include dark chocolate custard cake, a zesty lemon tart with coconut cream and a rich chocolate tofu cheesecake.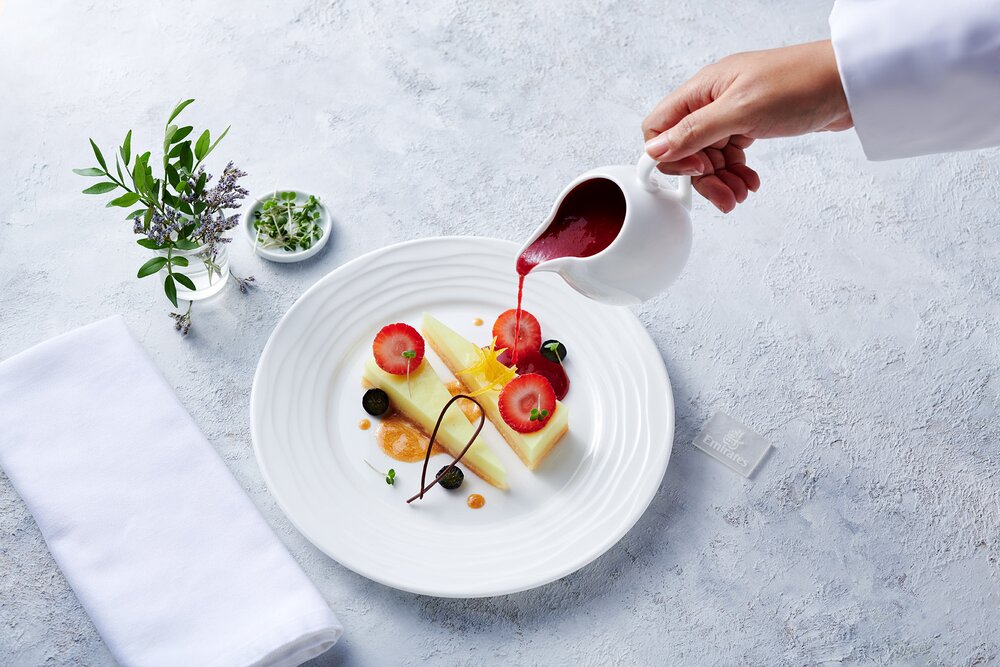 The airline offers a wide variety of vegan desserts
Already rated as the best airline for vegan travellers in polls on websites including VegNews, Emirates currently has more than 180 plant-based recipes catering to vegan customers.
Vegan options onboard Emirates are nutrient-dense and rich in fruits and vegetables, largely sourced from UAE-based suppliers. Bustanica, the world's largest hydroponic vertical farm, supplies the airline's culinary team with locally grown kale and lettuce and is the result of a US$40 million joint venture investment through Emirates Flight Catering. A continuous production cycle ensures the produce is fresh and grown without pesticides, herbicides or chemicals.
GET YOUR FREE 48-PAGE GCC TRAVEL & HOSPITALITY REPORT HERE
Although Emirates has been serving vegan meals onboard since the Nineties on specific routes to accommodate religious requirements, vegan dishes are now rapidly gaining popularity, with Emirates noting a sizeable increase in interest in vegan dishes over the last decade.
The airlines says that routes with the most passengers showing increasing interest in vegan meals include Beirut, Cairo and Taiwan.
For more information, visit www.emirates.com