The guest chef's menu will be available from 17 July to 25 September 2023
Explora Journeys, the luxury cruise line brand of the MSC Group, has announced its partnership with world-renowned Italian chef Mauro Uliassi to curate a culinary experience for guests onboard Explora I.
Mauro Uliassi is famous for his innovative approach to Italian cuisine, and his culinary creations have earned him worldwide acclaim. His restaurant Uliassi in Senigallia near Ancona on the Adriatic coast in Italy has been awarded three Michelin stars.
As the first guest chef at Anthology, one of 11 culinary experiences onboard, Uliassi and his team will showcase an artful blend of tradition and modernity in Italian cuisine.
RELATED:
MSC announces new family entertainment on board Euribia
MSC Meraviglia cruise ship arrives at New York homeport
Partner with cruise lines at the CT Cruise Hub
Explora Journeys head of product Jason Gelineau said: "We are thrilled to welcome Chef Uliassi onboard Explora I and offer our guests the opportunity to indulge in his truly exceptional culinary creations. Balancing contemporary techniques and creativity with a deep respect for regional culinary history, our chefs have one aim: to enhance the memories that guests take with them long after their journey has ended."
Explora I's Anthology restaurant is defined as a culinary stage for guest chefs to curate menus in collaboration with Franck Garanger, Explora Journeys head of culinary, showcasing global cuisines, along with wine pairings.
SEARCH ALL EXPLORA JOUREYS CRUISES HERE
Mauro Uliassi also expressed his enthusiasm for the partnership, adding: "I am excited to collaborate with Explora Journeys and to bring my culinary creations to the guests onboard Explora I.
"Having known the group for many years, this collaboration truly is close to my heart. It is a unique opportunity to showcase my interpretation of Italian cuisine and celebrate the beauty and sustainability of the sea. Inspired by the endless treasures of the ocean, I look forward to creating a truly multi-sensory experience for guests dining at Anthology."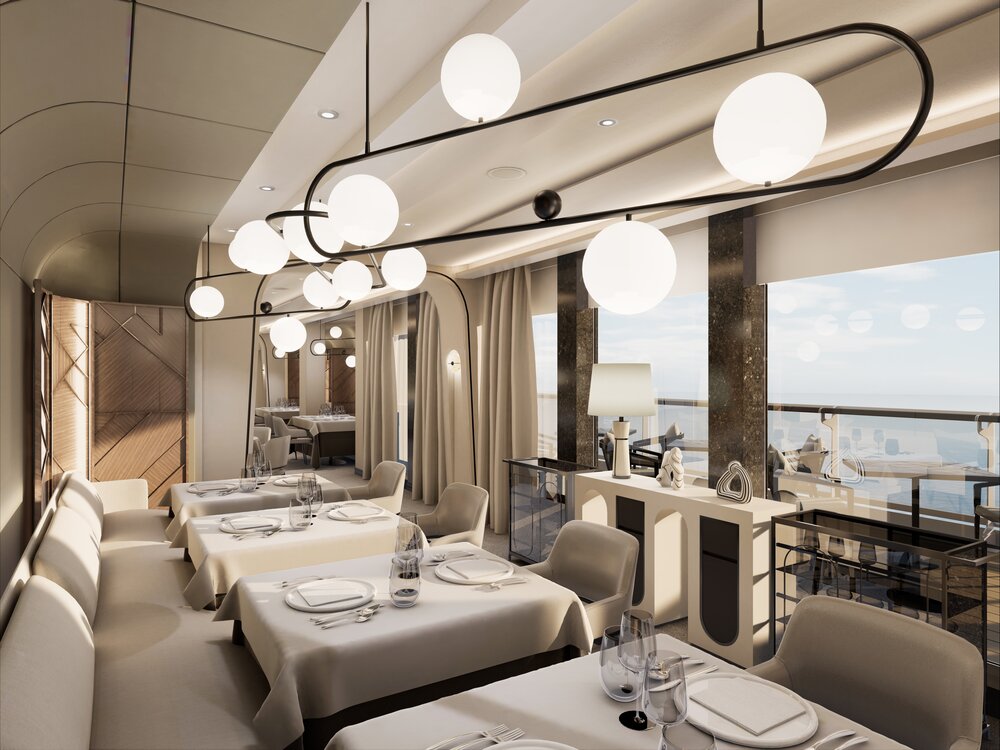 The restaurant will welcome guest chefs throughout the season
Dining at Anthology is not part of the inclusive culinary experiences. The tasting menu is priced at US$190 per person with wine pairing an additional US$75 per person.
The naming ceremony for Explora I will take place in Civitavecchia near Rome, Italy on 8 July 2023, followed by her maiden journey departing on 17 July from Southampton, UK for a 15-night sailing into Norwegian fjords and the Arctic Circle to Copenhagen, Denmark.
For more information, visit www.explorajourneys.com