Switzerland's leading wellness destination is gearing up for January's detox travellers
Clinique La Prairie, the luxury wellness destination in Switzerland, has launched a new scientific approach to healthy weight management, called Healthy Weight.
Supervised by medical and nutritional experts, the redesigned Healthy Weight programme has a duration of 14 days and focuses on achieving an optimal weight in a balanced way by combining physiological, biological, genetic and psychological tests to build a totally personalised service.
Multidisciplinary Approach
Clinique La Prairie claims its genetic-led diagnosis makes it possible to treat the underlying and sometimes indirect causes of excess weight. The Healthy Weight programme offers an individualised approach that includes a DNA test to investigate the metabolic absorption capacities and identify risk factors related to gaining weight.
Guests undergo a complete medical check-up, with a highly detailed and personalised medical evaluation, as well as the clinic's screening technology for micro-inflammations and hormonal imbalances that play a role in weight gain.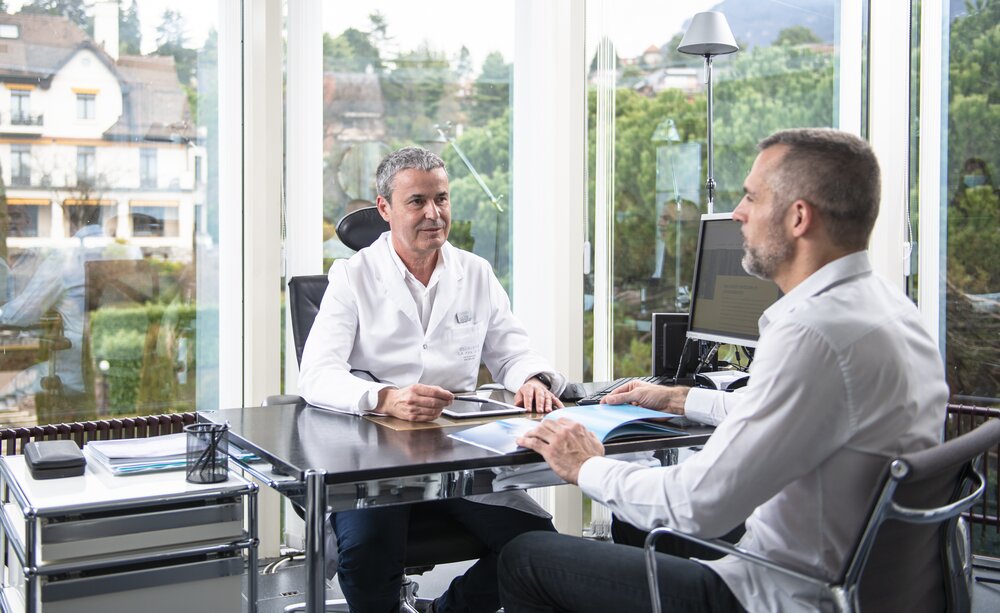 All guests undergo a medical evaluation
5 Key Areas
The Healthy Weight programme addresses five key areas: medical and genetic; nutrition; mind-emotional; movement; beauty and well-being. The programme targets each of these areas with scientific treatments and advanced technology, including genetic profiling, to restore physical and mental balance.
Clinique La Prairie's philosophy is to disregard the traditional diet concept, and instead create a lasting and positive relationship with food and exercise to build mental wellbeing. During the programme, dietary specialists will teach guests how to establish healthy long-term habits.
RELATED:
Jumeirah Muscat Bay launches Oman's first Bastien Gonzalez salon
Travel and wellbeing "essential" for most consumers
Could your travel clients benefit from a menopause wellness retreat?
Exercise Plan
Guests also benefit from a personalised exercise plan that may include breath work, hiking the Swiss mountains or biocircuit training, among other activities. Fitness trainers perform an analysis of the body to determine the level of physical exercise required, discovering the body's most active time of the day, to maximise weight loss.
Additional Treatments
Throughout the 14 days, technology is also used in other ways to help burn calories and reduce fat, with treatments such as cryotherapy, far-infrared dome sessions and Silhouette coolsculpting.
Psychological aspects, such as self-confidence and stress management, including the measurement of our main stress hormone cortisol, are integrated into the programme.
GET YOUR FREE 48-PAGE GCC TRAVEL & HOSPITALITY REPORT HERE
Speaking about the programme, Clinique La Prairie CEO Simone Gibertoni said: "We are thrilled to relaunch the next level of the tailored Healthy Weight programme to help our guests understand their metabolism and genetic background. At Clinique La Prairie, it is our mission to enhance our bodies and minds through scientific measures, and through this programme guests will benefit from advanced diagnostics and technologies to achieve a healthy weight, allowing for a permanent and positive lifestyle change."
Prices for 14-day Healthy Weight start from US$33,030 with a luxury room, full access to the fitness and wellness centres, including the swimming pool, sauna, steam room, zero-gravity floating bed and vitality pool.
For more information, visit www.cliniquelaprairie.com/en